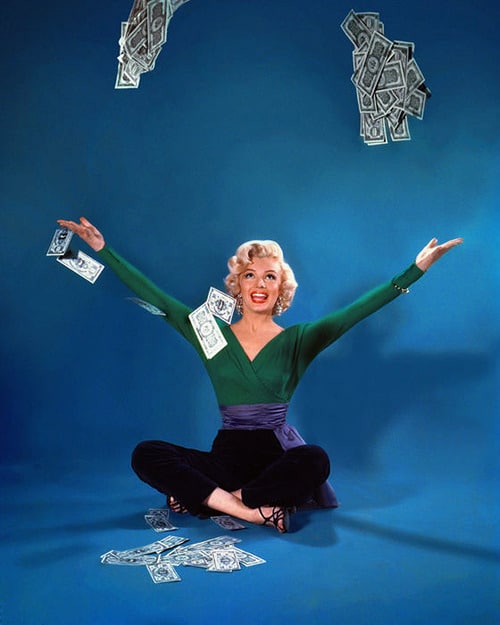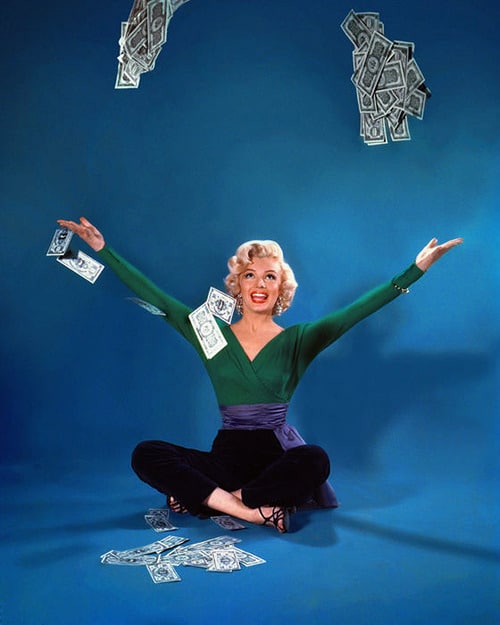 Although she passed away more than 50 years ago, Marilyn Monroe is still as popular, and as profitable, as ever.
According to ABC News, Monroe's latest profit venture was an auction including some of her most personal possessions.
Earlier this month, several high bidders walked out of Julien's Auctions in Beverly Hills, Calif., with a unique and rare piece of the icon's history, many of which were sold for far beyond expectation. A post-auction release stated that a letter written to Marilyn by Joe DiMaggio after learning of his impending divorce sold for $78,125; a silk overcoat described as one of her favourites went for $175,000; and a black dress, originally estimated to go for anywhere from $40,000 to $60,000, was purchased for $93,750.
But the item that garnered the most interest leading up to the auction wasn't the gelatin print of the portrait Cecil Beaton took of Monroe in 1956 or the Arthur Miller typed manuscript—it was her brassiere. The piece, which was part of The Lost Archive of Marilyn Monroe collection, was given the following item description: "A Marilyn Monroe nude-colored underwire brassiere with mesh-lined cups. Label reads "Hollywood/ Vassarette/ V-Ette/ Debutante/ Style1225/Size 36C/ Price $5.95."
Originally expected to fetch for between $6,000 and $8,000, the winning bid ended up being an astounding $20,000.
Although the profit from the auction seems high, the reality is that it will only contribute to a very small percentage of the starlet's yearly earnings. Forbes.com lists her as the sixth-highest-grossing dead celebrity, as she earned $17 million over the course of the last year. She was outweighed only slightly for the number-five spot, which was held by reggae singer Bob Marley and his $20 million. She held the same position (as did everyone else in the top 5 spots) in 2013, when she grossed $15 million.
Most of her money is made through her image being used on different products. NPR.org stated that the Authentic Brand Group bought the rights to Monroe's image in 2011 for somewhere between $20 and $30 million, and they've have been trying to build the brand up ever since.
Her face can be seen on everything from coffee mugs and phone covers, to handbags and nail decals. The Monroe clothing line at Macy's is also doing well, recently adding a line of lingerie to the brand. Of course, there's the thousands of posters and other paraphernalia that are devoured by university girls with the start of every semester. In addition, her persona was utilised for other brand endorsements, including a recent Dior perfume commercial and a line of cosmetics from M.A.C.
She even has a game at casino.betfair.com. Far from the mindset of something like Kim Kardashian: Hollywood, Monroe's game is slot-based and tasks players with the chance to win money by making the correct matches. The game uses some of the most famous images of Monroe, and even throws in some occasional flirty sound effects with her voice. The look is very "old Hollywood," with neon signs and a city street backdrop, and it's all set to the tune of some sultry jazz.
The auction just serves as another reminder to Monroe fans that while she may have passed some time ago, she's still very present in all outlets of entertainment and fashion. She continues to outshine some of the brightest entertainers today and remains one of the most iconic sex symbols of all time.
Some would say that buying a star's old undergarments is a bit extreme, but to each their own. You can buy used underwear online from a stranger and you're probably going to get labeled as a freak. Buy used underwear at an auction for thousands of dollars and suddenly you're a collector of rare and fine goods. You learn something new everyday.