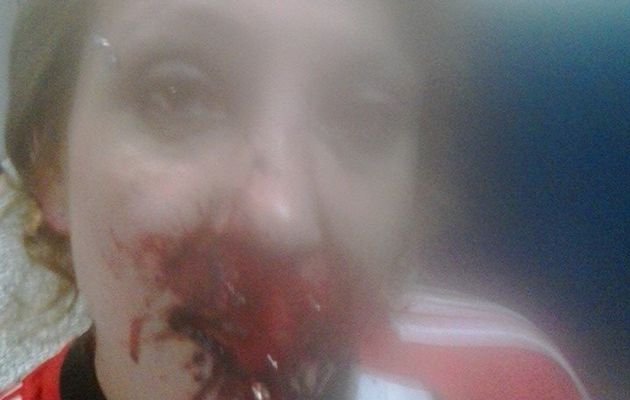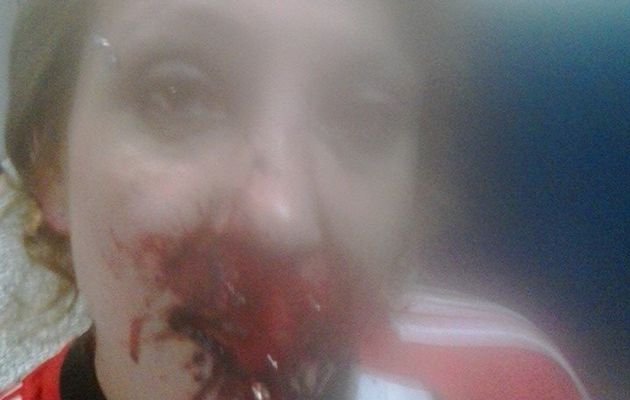 Images of Lorena Sabio, an Argentinian mother and fan savagely beaten at the hands of rival Boca Junior fans have stunned a nation after the River Plate fan was beaten in front of her eight year old daughter for simply wearing the wrong jersey.
At the time of the beating, Sabio, 33 and her daughter were returning home in the town of Tres de Febrero after watching their local home team play Boca when Miguel Ángel Zienzonok also known by his nick name as Kechup, a rival fan accosted her.
Told the woman via the UK's dailymail who has since been scared for life and who now finds it difficult to even eat:
'I had a great day with my daughter, our team won the match against Boca. 
'He [her attacker] came up to me and I couldn't believe it when he just punched me in the head.
'I was lying on the ground barely conscious, and he told me to stay there and warned me that if I went to the police, I would pay the price.'
Despite telling the police the identity of the man who attacked her, no arrests have been made, prompting the mother to post pictures of her horrific injuries on social media. 
According to local reports, the attack was unprovoked and is likely to leave Lorena Sabio scarred for life. 
Reiterated the mother: 'He has threatened me and his family have told me to stop the campaign, but what more can they do to me, they have already ruined my face. 
'I have difficulty even managing to eat, and will need dozens of operations that I can't afford to return my health. My daughter has nightmares. 
'The man is crazy, and unless somebody stands up to him he will probably carry on doing it and next time probably kill someone.' 
The images has since led to users on social media demanding retribution and the arrest of the hooligans with one commentator on the web writing the following:
I'm usually a non violent person. But when you read about injustices against people like this poor women and her daughter there is a side of me that thinks, if I was there and had a gun I would put a bullet in those thugs no problem.
Argentinian media now reports the woman's attacker has since gone into hiding fearing retribution…