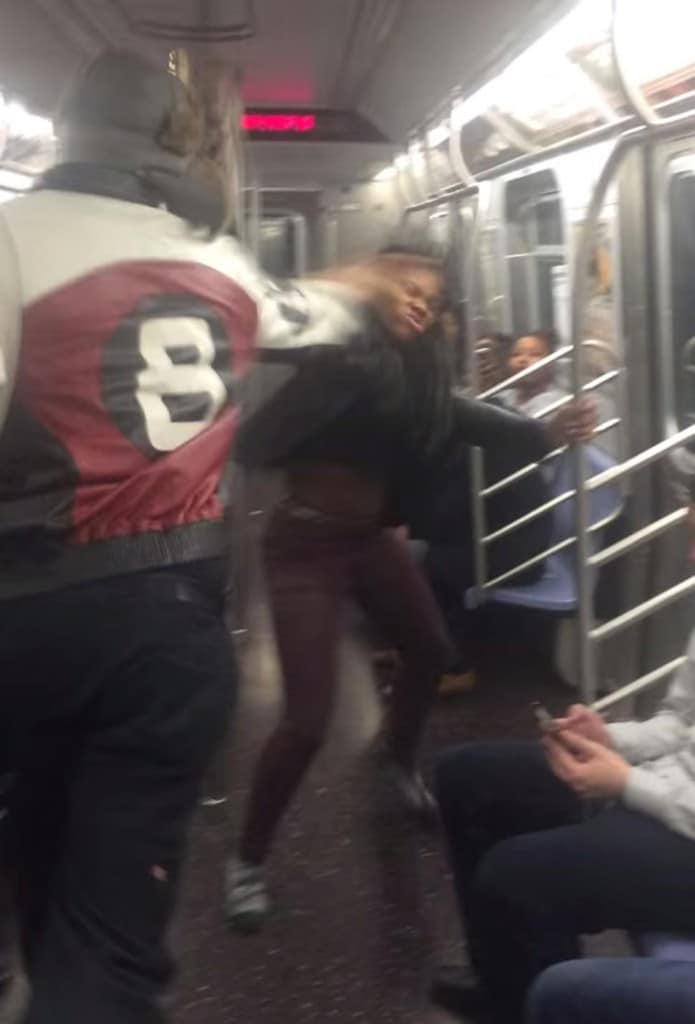 Jorge Pena, 25, the 6ft' 6' man at the center of the recent F train subway fiasco which saw an all out rumble after the man came to slap his tormentor Danay Howard is to spared criminal charges as it has now been determined the recent Dominican Republic man and bouncer acted in self defense.
Despite resorting to violence after Howard struck him on the back of the head with her high heel and drawing blood the man has told he is still willing to apologize to Howard as he believes a man should never strike a woman.
Offered Jorge Pena whose unique fashion sense caught the ire and fascination of his tormentors: 'A man is never supposed to hit a girl,'
'She put me in a position that I had no choice. She tried to kill me.'
Added the young father who works a variety of odd jobs to support his girlfriend and their 20 month old son: 'If see her I'm going to apologize to her because a man should never hit a girl.'
'I have never been in trouble before. I've never slapped someone," he said, adding that his arrest experience was horrible.'
'I am quiet man … I respect women. That's why I don't do nothing when she pushed me but when she hit me I had to do something. I had no choice.'
The milieu which came to be caught (see below kids) this past Saturday morning circa 4am on video came to be after Pena had just finished a 12 hour shift and was on his way home when Howard and her two friends mercilessly began to berate him.
Trying to retain his cool and smiling back at his tormentors, Pena without warning struck the woman in the face after she took to striking him with her high heeled shoes. The deafening slap would leave the woman dumbfounded and lead to others joining in the fracas would result in a viral youtube video (just on 5m hits) aptly titled, 'Man smacks the soul out of girl on the NY Subway.' Indeed.
The slap would lead to another woman jumping, Shanique Campbell, 21 jumping on Pena and beating him with her clutch purse along with another male passenger.
A lawyer for one of the other women arrested, Campbell has since told his client denied insulting Pena or getting involved in the altercation with him.
That said Campbell would go on to be charged with misdemeanor assault and disorderly conduct whilst her companion and instigator Howard was charged with felony assault and disorderly conduct.
Whilst Jorge Pena may have come to forgive the women who instigated the altercation, Pena's lawyers are hamming for a payout from the city for a false arrest. What do you think? Is Jorge entitled?