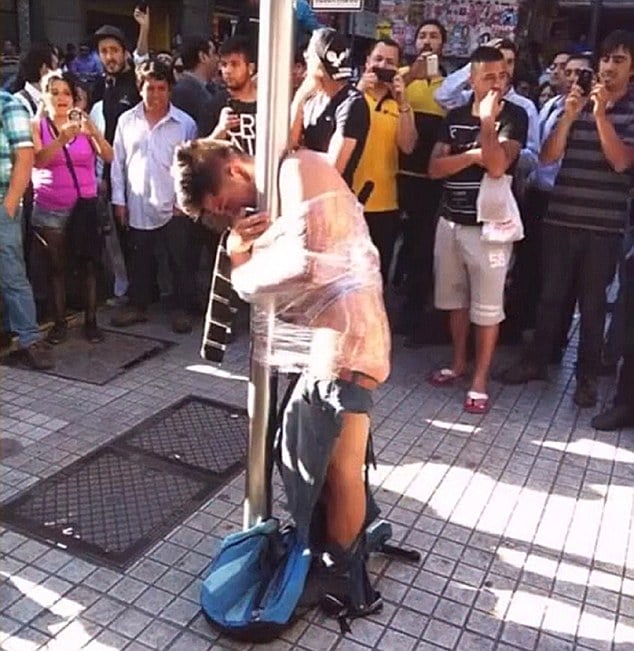 A Chilean man said to have allegedly attempted to rob an elderly man at knifepoint ended up being wrapped in clingfilm against a pole after being caught by a crowd mid way his robbery attempt.
The alleged thief, Valentino Abeyta Barrera, was caught by bystanders, disarmed, stripped naked and tied to a lamppost.
Upon being detained, gathering crowds tore the Chilean thief's clothes off along with puling his underpants down, before wrapping him in clingfilm in the capital Santiago.
Police would arrive after 20 minutes, yet when they asked the man what was going on, he refused to answer, only begging police to free him.
Upon being released and taken to the police station Barrera refused to file a complaint, and police said they had been forced to let him go because the alleged victim of the man's attack had also not made a complaint.
Told a police spokesman: 'Unless the man who was tied to the lamppost or his alleged victim want to file a complaint, there is not much we can do.'
The man's humiliation would come to be a talking point on social media after images and video of the incident were posted online where they went viral, sparking debate over vigilante justice. 
Many said that it made those giving the crook a beating as bad as the crook himself, while others said it showed the lack of faith in the police and the justice system.
Daniela Montoya Pazo said: 'They just had to arrest him, not beat him. 
'This kind of things put us at the same level as the criminals.'
But another, Daichi Yuka, said: 'I would like to do the same thing to the thief who threatened me with a weapon this morning.'  
And then there was this observation that made me wonder as well:
This is an interesting moral question.
On one hand, vigilante justice can be very dangerous. People make mistakes, apply 'justice' unevenly, all those sorts of issues.
However, by being wrapped to a pole, he avoided an arrest, perhaps avoided being fired (can't work from jail), and prevented a permanent blot on his record. — And it seems the victim felt justice had been done, and declined to press charges.
Society avoided the costs of prosecution and incarceration.
Which 'path' is better? What are the limits?