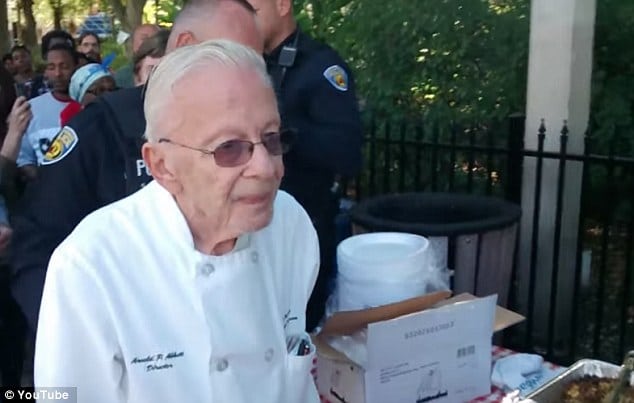 Arnold Abbott the 90 year old Florida charity worker resolute on feeding Ft Lauderdale's homeless has been arrested again one day after being arrested for the same offense which forbids the sharing of food in public.
Right decision? Arnold Abbott arrested feeding Fort Lauderdale homeless
Arnold Abbott's arrest on Tuesday comes off the heels of the church worker history of challenging other Ft Lauderdale ordinances with respect to the homeless.
Feeding the community's homeless since 1990 the church volunteer along with two ministers from the Sanctuary Church would come to be arrested once again after distributing hot food Tuesday night.
Deeming the newly passed city law as inequitable the church worker has to the chagrin of city officials vowed to press ahead in his bid to continue his charitable work.
Yet whilst some may hold Abbott in esteem others  including Ft Lauderdale mayor, Jack Seiler have told that the church worker's efforts has only served to conflate their efforts to regulate homelessness and public ordinance.
Told Seiler via  Local 10: 'Mr. Abbott has decided that he doesn't think these individuals should have to have any interaction with government, that they should be fed in the parks. We disagree.'
In his defense the church worker has told that the preemption of public feeding of the city's homeless would serve to effectively force many of the disenfranchised to dumpster dive, or starve, adding that there aren't adequate government services or food to deal with the homeless.
Reiterated the 90 year old church volunteer: 'What the city is doing by cutting out feeding is very simple — they are forcing homeless people to go dumpster-diving all over again,'  
'They will steal. That's what the mayor is forcing the homeless to do.'  
And many seem to agree with him, with Abbott saying he received calls from around the world on Wednesday.
Told the Ft Lauderdale church volunteer: 'I love the city. I live here, it's a beautiful place and I'd like to keep it beautiful, but you cannot sweep the homeless under a rug,' 
'There is no rug large enough for that.'
'We've heard from every continent,'
'The last I heard was from Kenya and Moscow.'
Adding: 'I am both enthused and humbled,'
'The good news is that there is pressure being put on the city of Fort Lauderdale to do something about a law that is not only unfair, it's repressive.'
Abbott is likely to face a $500 fine for each arrest and could be sentenced to up to four months behind bars.
Despite Abbott's arrest yesterday, the church volunteer Wednesday evening was at it again as he and a team of chefs set up shop dishing out free food to the homeless. Present during that meet were uniformed police who took to recording the public feeding.
Told the fearless 90 year old: 'They didn't have the gumption to move in on us. They were afraid, afraid of public opinion.'
The newly passed law has since led to heated debate on the web whilst other cities in the US, including Seattle, Los Angeles, Phoenix, Dallas, and Philadelphia considering exacting the law in their principalities. That though may depend on the will power of one 90 year old man.