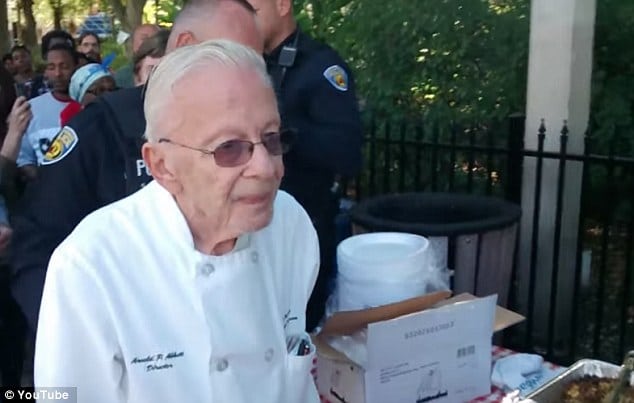 Disconcert has been caused with the arrest of 90 year old church worker Arnold Abbott after he sought to feed a group of homeless individuals at a park in Fort Lauderdale.
The arrest comes after a recent law which prohibits the people from sharing their meals with members of the public.
Who's right? Arnold Abbott, Florida charity worker arrested again for feeding homeless
If convicted, Arnold Abbot faces the prospect of $500 fine as well as two months jail.
At the time of the church worker's arrest outraged onlookers shouted 'shame on you' to arresting officers.
At one point an officers yelled at Arnold Abbott to 'drop that plate right now!' as if it were a loaded weapon.
Told the church worker viaNBC News: 'These are the poorest of the poor, they have nothing, they don't have a roof over their heads. How do you turn them away?'
'I don't do things to purposefully aggravate the situation,'
 'I'm trying to work with the city. Any human has the right to help his fellow man.' 
The issue of feeding the homeless has cropped up multiple times during Arnold Abbots tenure as a church worker.
In 1999 he sued the City of Fort Lauderdale after he was banned from feeding the homeless on the beach.
A court ruled that such a law was against the Constitution.
The new law which saw the church worker's arrest came into effect last week and is also being considered by other cities including Seattle, Los Angeles, Phoenix, Dallas, and Philadelphia.
Undeterred Mr Abbott, says he in planning to sue the city once again and intends to continue his kind-hearted deeds.
The new regulations require groups to be at least 500 feet away from residential properties and food sites are restricted to one per city block, but charities have criticized the rules as forms of implementing social cleansing.
Michael Stoops, community organised at the National Coalition for the Homeless, told NBC News: 'Economic development and tourism don't mesh well with homeless folks and the agencies that serve them.' 
And then there were these comments on the web that made me wonder:
I don't think he is going to win this time. Similar laws have been held up in Miami-Dade by the 11th Circuit already. I'm pretty sure (but too time crunched and/or lazy to google) Ft. Laud modeled the ordinance after the Miami one that was upheld to CIA.
It's just another form of gentrification, honestly. Some pretty rich white people don't like it happening in THEIR neighborhood so the city says "you cannot do that here, but you can do it there." Of course THERE isn't where the people who need food are…
This is happening all over the nation and is just another form of how we are making it harder to be homeless in America, as if they fucking need it.
My reading of the FLL law is that it allow him to feed the homeless on his own home, or his own front porch. If he does so, that's very Christian of him.
It's problematic if he went into other's neighborhoods and creating a nuisance without the consent or even consideration of the local residents.
I have to side with Fort Lauderdale on this one. Feeding the homeless is like feeding the pigeons and the squirrels.
Sure, you think you're doing something nice but what you're really doing is contributing to a growing vermin problem.