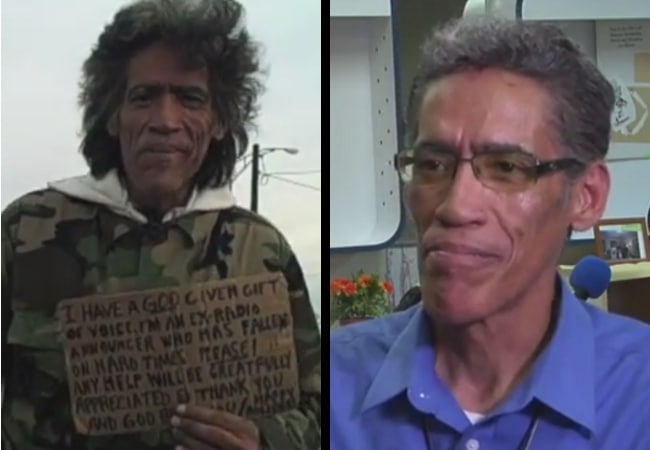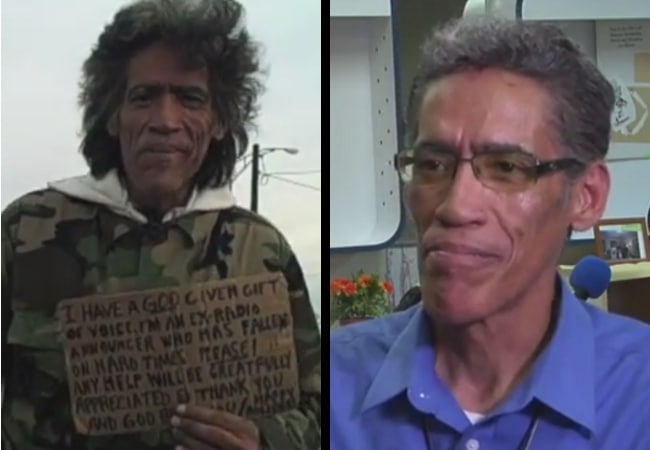 Homeless crack addict Ted 'Golden Voice' Williams first burst into our collective living rooms back in December 2010 when the then panhandling beggar's spectacular booming voice caught  us all unawares and wondering why he wasn't he waking us up with his brand of fabulousness.
Ted Williams wearing crisp new suit and glasses vows to become sober.
TED WILLIAMS WANTS YOU TO KNOW HE'S GOING TO TAKE A RAINCHECK ON REHAB.
TED WILLIAMS WANTS TO SHOW YOU EXACTLY WHERE HIS DAUGHTER PUNCHED HIM.
YES IT'S TRUE- TED WILLIAMS IS MORE POPULAR THAN SUSAN BOYLE EVER WAS.
IS TED WILLIAMS A HOMELESS BUM, THE NEW RADIO VOICE OF AMERICA?
What soon followed was a rags to riches story where the disheveled man who had seemingly dropped out of society (for 17 years after heralding a top-rated morning show in Columbus during the 80's before suddenly disappearing) was given a life reprieve and offered a bevy of opportunities that comes only round once in most people's lives. Naturally he jumped at the chance whilst at the same time trumpeting the notion that even a down and out rut can make it in America. Or can they?
Four years on, it seems Ted William's amazing fortune has somehow petered away, a $375K book deal pissed away and our collective hero admitting that he is broke once again, without any furniture or a car. That said, the former drug addict reckons he is still clean.
'I should have been a millionaire by now,' told our collective hero of sorts at the end of a Marion, Ohio weekly radio station via the Columbus Dispatch.
In explaining his sudden poverty status the still working dj tells how two money managers 'ripped' him off whilst signing off on stuff that he should never after reflection ought to have signed off on.
Interestingly the report asks if the 'struggling' radio host ever found himself falling off the wagon, which may in some part explain where the $375k went.
Responds Ted his response stilted: 'Last time I used?'
"Well that would be in August of 2011.'
Or was it?
Under contract with Kraft for another year Ted Williams admits he's a little worse for wear, telling since coming out of treatment he has taken to volunteering at a local soup kitchen on Fridays and now saving up to buy a car and cash to move into a low frill apartment hopefully in the months ahead.
Because we all want so desperately to believe in the American dream even if we all secretly wonder for some of us its a stacked game or a situation of being one's own worse enemy …