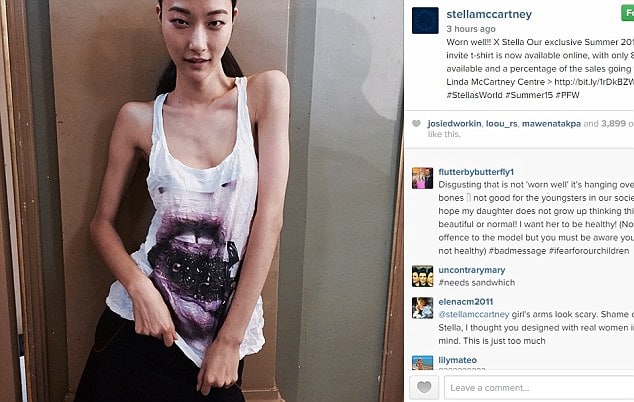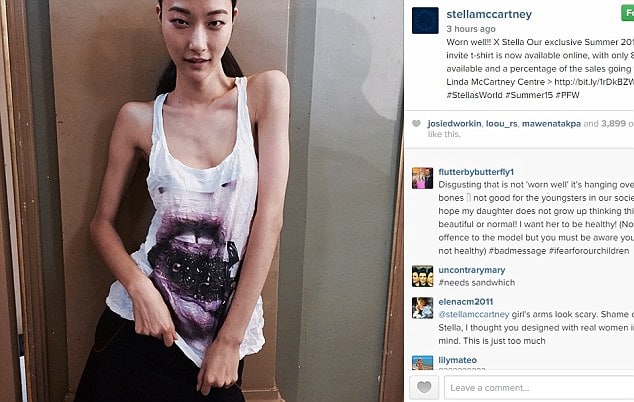 Fashion designer Stella McCartney has found herself embroiled in scandal after posting a picture on her instagram page featuring an emaciated model in a vest from her brand's Summer 2015 collection alongside the caption: 'Worn well! X Stella.'
The skeletal chic visage would instantly bring hordes to the fore expressing their unease with the posting.
Told one follower: 'Disgusting. That is not worn well, it's hanging over bones.'
Another added: 'Appalling image. This young lady is clearly very ill and the body image being used is all that is wrong with the fashion world.'
And another said: 'Shame on you Stella. I thought you designed with real women in mind. This is too much.'
So outraged had followers become, some of her over 1 million followers even began a campaign to 'unfollow Stella' , leading in the photograph being removed just hours after it was posted. It would be replaced with one of British model Malaika Firth in the vest.
The furore follows comments Stella made at her Paris Fashion Week show on Monday, suggesting strong women are unattractive.
She drew criticism from feminists after she revealed her latest collection 'was celebrating the softness of a woman, and her fragility. Strength on its own in a woman is quite aggressive and not terribly attractive at times'.
The designer has spoken out in the past about how she doesn't feel 'welcome' in the fashion industry when she was starting out.
'There is this sense that you're not good enough to really be part of this brand and maybe you're not thin enough and maybe you're not cool enough, and I picked up on that,' she has said.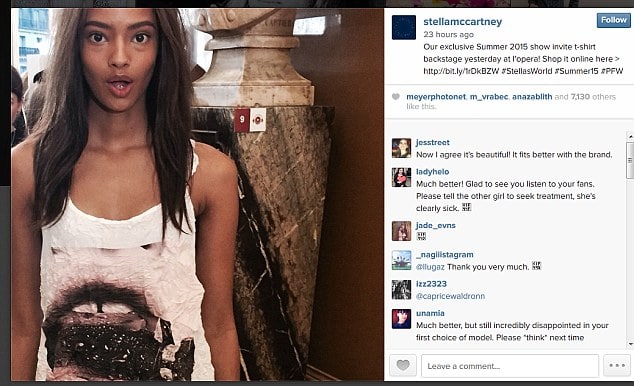 Claire Mysko, the Director of Programs at the National Eating Disorder Association reports Yahoo would also add: 'The fashion industry has long perpetuated the idea that ultra-thinness is equated with beauty and style. Thin women aren't the problem and shaming them or saying they aren't "real" won't solve anything,"
'The problem is that we only see thin women represented as the ideal. We need to see more body diversity in fashion and advertising. That's a solution that will make an impact.'
A representative for Stella McCartney also issued an apology, 'We are a house that celebrates all shapes, all sizes, all races and all ages,' according to UK's The Independent. 'We should have been more mindful… It was a quick snap done backstage that was misleading. We listened to our followers and we took it down and replaced it. We can only apologize if we offended anyone.'
Then there were these comments on the web that made me wonder:
Horrible, should not have to apologize for using this model at all. This is her body and no one knows what she did to get there. Could be natural, or not despite that it should not be criticized. These people are hypocrites in their own words and it's disgusting. This is her career, that model isn't trying to sell your kids, or the next generation anorexia for god sake. Stella apologizing for this, and replacing the model is just as inappropriate as well.
To the people saying that the woman who's picture was posted is not a "real woman", she freaking is. Just because you are fat and jealous that you are not as skinny as her (and I do think she appears as if she /could/ be unhealthily skinny, but that's NOT the point), does NOT make her a "fake" person. I wish fatties like you (and me, I am FAT FAT FAT, so chew on that) would STOP making such derogatory comments towards other women. Skinny women are real, fat woman are real. Women need to stop tearing each other down, but instead build each other up, regardless of differences.
People do not have the right to point out super thin models with possible eating issues without also admitting the larger women have an issue too. Thin shaming has been around for as long as fat shaming has…every time a bigger woman sees a smaller one she attacks verbally…Plus size models don 't represent me either physically so Im not going to take sides here but bigger girls usually start the entire skinny vs fat comments by making statements such as "real women have curves"….but to others their "curves" look more like rolls. They call thin women "Sticks" but it just looks more like a late blooming woman or one that simply was not meant to have a ton of body on herself. I have never looked at at overweight person and thought, 'Oh yeah thats how we are supposed to look'…eating disorders are not one sided.