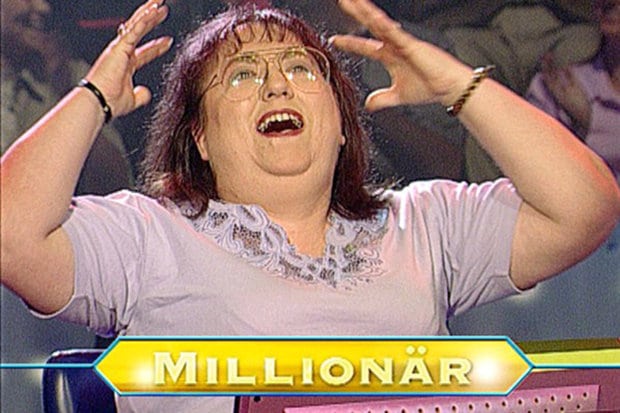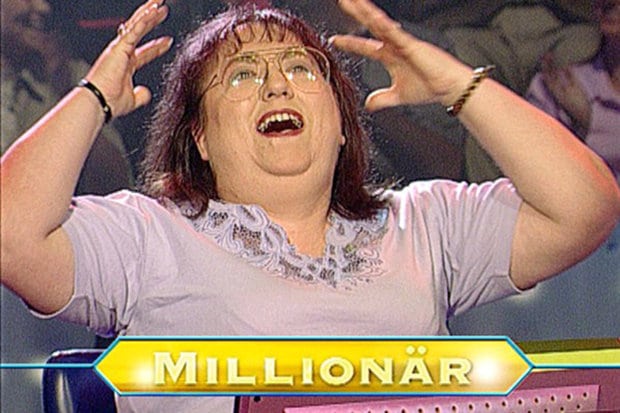 It seems being a millionaire is not what it's all cut out to be, perhaps to say pure misery and feelings of abject sense of worthlessness. Notions that Germany's Who wants to ba millionaire winner Marlene Grabherr might have thought to herself when she recently passed away penniless and all alone after coming across a swath of money  (a million marks) during a May 2001 appearance on the much heralded show.
At the time the then unemployed 48 year old woman had come to capture the imaginations of the nation after correctly answering a question about which of the Gibb brothers from the band the Bee Gee brothers were twins – Maurice and Robin.
It was natural to conceive winning her new bounty of cash and cache would change her life forever. It did. For the worse.
In future interviews the woman would tell how coming on the show and winning the prize fortune would ruin her life along with destroying her family.
She said her brothers and sisters had demanded more and more of the cash and had eventually ended up no longer talking to her.
This was despite her splashing out thousands on them for foreign holidays and luxury cars.
Told the woman during one interview a few years after winning: 'I have nothing left. Only the house that we built. Edgar My husband and I have to see how we make ends meet.'
By 2010 she admitted she was completely broke, her husband had left her and she had developed a non malignant tumour in her mouth which she could not afford to have treated.
She subsequently piled on the pounds and began to live in isolation.
Neighbour Frank Kirsch, 34, said: "I had no idea who she was until I read a small piece in the local paper about her saying she was the first female winner of the show and that she had died.
"I had seen her around but she very much kept herself to herself."
The German edition of the popular UK programme began in 1999 and is still popular on German TV with host Guenther Jauch.