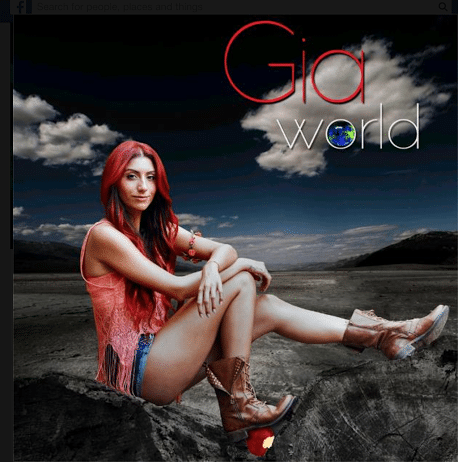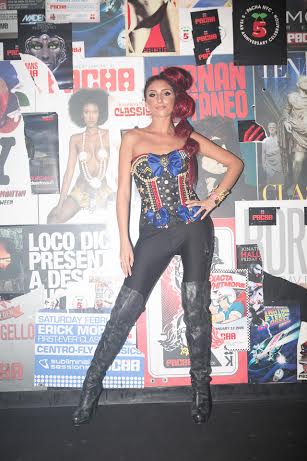 With her hot dance tracks dance beats, Global Groove Entertainment's signature act Gia (as she simply insists on being known) at 22 years old is set to be the one of the growing cache of pop/dance artists who will be controlling the billboards and our national conscience for years to come. In fact she already has as her latest hits, 'Bombs Away' have made her a dance anthem favorite not to mention her newest lp blockbuster 'World' as mixed by Erick Morillo.
Curious to find out more about what makes one a national anthem favorite and how one gets there I descended one recent evening into the studios of DJ Mike Rizzo and world master producer where the languid performer/dancer (she teaches all sorts of dance and owns her own dance company, Xtreme dance studio) had me wondering: Is she the next Ariana Grande (whom she has already opened up for along with Jennifer Lopez), the next Victoria Justice or as she insisted something simply out of this world and wholly unto herself. And you the listener.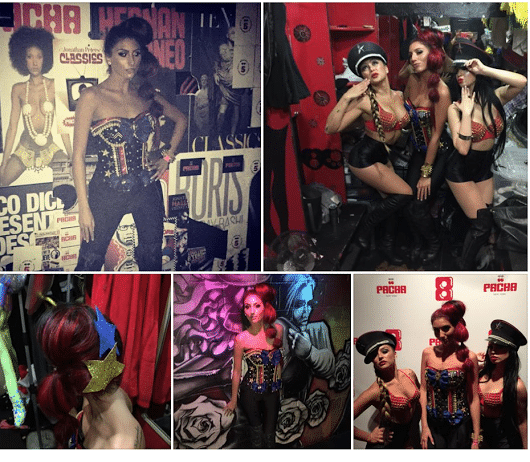 But before we get to the interview here's a primer:
Recent accomplishments :
BILLBOARD CHART charted & peaked #4 with single titled "Bombs Away "Dance and Electronic charts
Dj Stonebridge remixed it and his remix is heard on Sirrus radio BPM.
Played on ABERCROMBIE & FITCH PLAYLISTS and many other malls and stores.
Appeared in a roster of festivals in 2014 as hosted by FEDDE LE GRAND at Ultra Croatia, EDC Vegas, Tomorrowland, Ezoo and many other festivals! Also festival after parties by Sandro Siva DOD and Fedde LE GRAND. Has also been played on radio SLAM FM by BLASTERJAXX.
Has played at: PASCHA NYC where she opened for ICONA POP and has also opened acts at AURA LI NY
BLISS LOUNGE NJ
HIGHLINE BALLROOM NYC
EMPORIUM LI NY
MIAMI CLUB SET
HARRAHS AC NJ THE POOL AFTERDARK
KTU REMIX 30 COUNTDOWN 3 best new beats of the week with Hollywood Hamilton JUNE 2014
KTU BATTLE OF THE BEATS JUNE 2014 winner over Avici
KTUPHORIA at NJ IZOD CENTER JULY 2014- opening show for Ariana Grande and JLO
as well as other clubs and private events along with cat walking during the recent NY FASHION WEEK FOR RICHIE RICH.
Dj's she's already worked with: hold your breath kids: Dj Mike Rizzo, Erick Morillo, Dave Aude, Stonebridge from Bpm Sirrius radio, X-vertigo from musical freedom/Tiestos label, Sandro Silva, d.o.d, Mike Cruz, Skribbles and many more all superstar djs and remixers.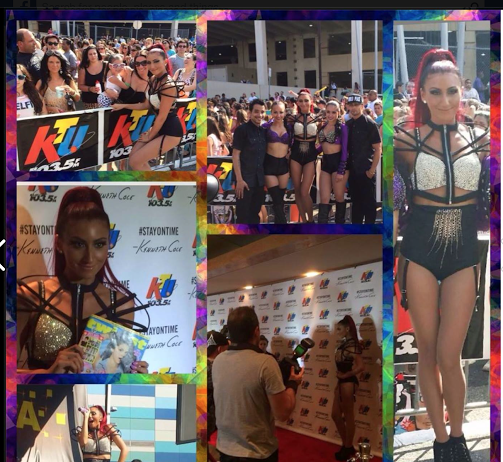 SCV: How did you get started in the business?
GIA: When wasn't I in the business?
I've been dancing and singing since I was 10 year old. I would be dazzled by anything, rap, latin, pop, dance, soul, mainstream.
I guess I went through a variety of interests that fused into my current genre of electronic dance.
I started dancing real young to the point where I become a full time dancer and opened up my own dance school whilst still at high school. But it wasn't until I was performing at Pascha here in NYC when I was 19 that I thought that I wanted to segue way into singing as well.
SCV: So people pay you to teach them how to dance?
GIA: And how (mischievous laugh).
Yeah I have a dance studio and we tour a lot, compete in contests and just try to have as much fun as possible.
SCV: Where have you toured and what type of genre did you perform?
GIA: I've always loved the passion of performance and feeling the vibe of the audience and being motivated to take it to the next higher level.
Style? I guess all sorts of genres. Latin, hip hop, ballet, mainstream dance.
I am certified Zumba, free style, adding on top of the classics and making the performance as original and my own as possible which is something I do now with all our live acts.
I dress the back up singers, I believe in style and themes and wowing the audience and of course I choreograph all our acts that fit with the energy of the groove or the act we're playing. But yes we've done well, travelled to Las Vegas, Miami, NYC, won awards and came first place at Dance Explosion.
SCV: Your first release, BOMBS AWAY did very well. Tell me about how that song came about?
GIA: I had collaborated with co writers Tab and Kev Rockhill. We were sure this song was on fire.
Dj Mike Rizzo consulted this project and put together a remix package of the most talented to execute the billboard hit
from the minute he put his hands on it it blew up n BOMBS AWAY!!!
SCV: Are you a positive person?
GIA: Well I have had my fair share of frustrations but yes absolutely I am very positive. It's about finding a way, about reaching beyond yourself and staying focused and remembering why you're out there. Just good vibes, being one with the world and working with the beat and rising and rising….
SCV: And I take it you've given your heart away once or twice?
GIA: Yes it's in my music. I try to feel everything and express it as it comes and yes in case you're wondering I am in love.
SCV: (brief pause) Tell me about some of your influences. Performers that you look up to?
GIA: Well I know you expect me to give you a long list of singers, and yes I am in awe of Gwen Stefani, JLO and I really respect what Taylor Swift has done but it's the dj scene where I really feel my musical home is.
SCV: Meaning?
GIA: Having started as a dancer I have always been exhilarated by the way a dj, someone like DJ Zedd who I adore can just carry an audience away and get the whole place to go nuts. And that's what I am aiming for, for the music, the beat, the performance live on stage to blow away the audience and play into that energy. I aim to leave an unforgetable performance and I think that's the key to success, is to be taken seriously as a performer, not as a gimmick.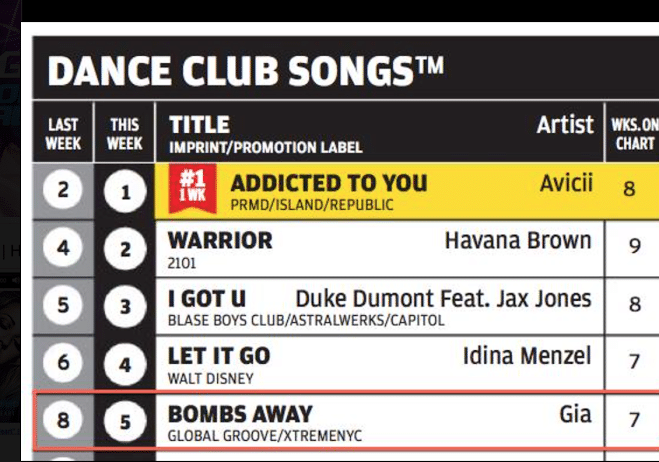 SCV: Speaking of what do you think of performers like Miley Cyrus who play into their sexuality on stage and whether that is just a front?
GIA: I think every artist has their way of expressing themselves but I find what's important for me is to just be me and that is what I want to put out there. I don't want to resort to flash or anything that isn't organic to the music that I am making and sharing. But between you and me when a performer starts resorting to twerking and what not I think they're out of ideas after all a captivating performance oozes sexuality, sensuality, spunk and intrigue. Why give it all away when it's there in the song for you to take away as you experience it?
SCV: Dream act?
GIA: Selling out Madison Garden. There I said it.
SCV: On being a celebrity?
GIA: I think I will always be a performer first before a celebrity. It's just me being me, and anyway who wants to deal with the paparazzi?
SCV: Is the music we hear on the airwaves forced, fabricated?
GIA: Some of it. The best music is timeless, what brings down a house and leaves audience members feeling good and going home thinking that was a memorable performance.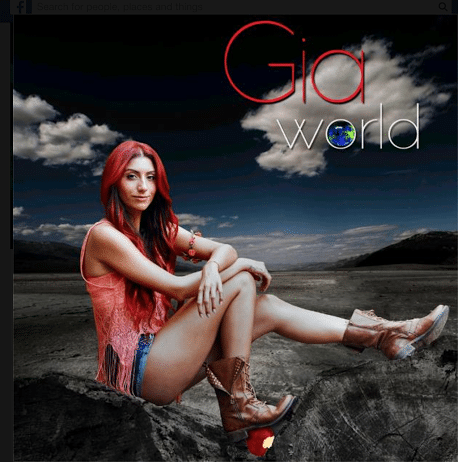 SCV: And your latest single, World?
GIA: It's coming out live Monday, and it's what the title suggests, the world, being in it and living with it and letting yourself be free to see how you choose, and I am excited to have had Erick Morillo remix included in this project. He is just a natural and I was very fortunate that Erick heard me sing and offered to come on board for my next project.
SCV: And your family how do they feel about you taking on being a performer?
GIA: They're totally behind me and have been very supportive and that is something good to know and that means the world to me.
SCV: And how were you raised? Strict or come devil as one may?
GIA: Catholic and to respect. I am very fortunate my family has always supported my endeavors to be an artist and fulfill my dreams! Love for you to see my new video World up soon so be sure to hit me on social media this video is wild.
SCV: Madison Square Garden you reckon?
GIA: Yeah I reckon so (pauses to reflect before beaming back): Yeah I have got the world right where I want it…
GIA can be found on social media:
INSTAGRAM @allwrappedup_
FACEBOOK Gia bella
twitter: @GiaOfficial
[soundcloud url="https://api.soundcloud.com/tracks/166269649″ params="auto_play=false&hide_related=false&show_comments=true&show_user=true&show_reposts=false&visual=true" width="100%" height="450″ iframe="true" /]