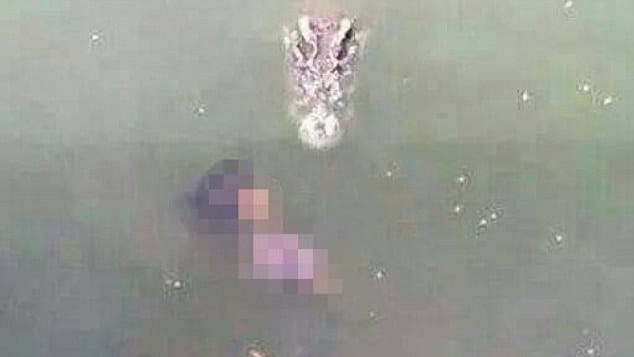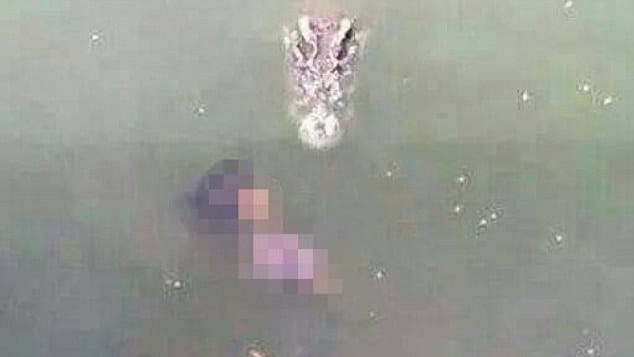 Local press is reporting that a 65-year-old Thai woman, Wanpen Inyai has committed suicide by leaping into a pond of crocodiles at a farm popular with tourists on Bangkok's outskirts.
The incident occurred during opening hours at the Samut Prakarn Crocodile Farm and Zoo, which doubles as a zoo and draws visitors who can feed the deadly reptiles from a walkway. The farm is an hour outside Bangkok.
Witnesses told the woman jumped on Friday from a resting point on the walkway into the middle of the pond – which contains hundreds of adult crocodiles.
Surveillance footage would show prior to the Thai woman's suicide, the woman taking off her shoes and neatly leaving them on a walkway before making the fatal jump.
Video footage showed the body of the woman falling into the concrete pond and lying still on the floor. As soon as someone  trying to use stick to pull her out, many crocodiles came and dragged her into the water and then torn up her body in two parts.
Pol Col Preecha Iamnui, Muang Samut Prakarn police investigator said when he arrived at the scene, farm owners and staff were trying to use long sticks to ward off dozens of crocodiles tearing at her body.
Told Preecha Iam-nui of the Samut Prakan police: 'Her sister said the victim was suffering from stress and depression.'
Sunan Tharmnat, Wanpen's sister, would tell the Bangkokpost that the victim had been depressed and did not talk to anyone for several days prior to disappearing.
She would disclose that along with family members, she had filed a missing-person's report with Rom Klao police the day she went missing, but were told to wait 24 hours, as required by law.
The post would also report that crocodile farm executives denying published accusations that they tried to cover up the suicide and asked Wanpen's family members to keep the incident quiet. The farm would also it was said demanded that no legal action be taken against them.
The suicide has since raised consternation with regards to lax safety rules imposed at Thai tourist attractions, which include tiger and crocodile farms. The Samut Prakan farm fences are just a few feet high to allow visitors – including children – to feed the reptiles.
Trainers also perform with the creatures, lying on top of them or thrusting their heads and arms into the reptiles' open jaws.
A picture of Wanpen's body being approached by a crocodile was circulated online over the weekend.