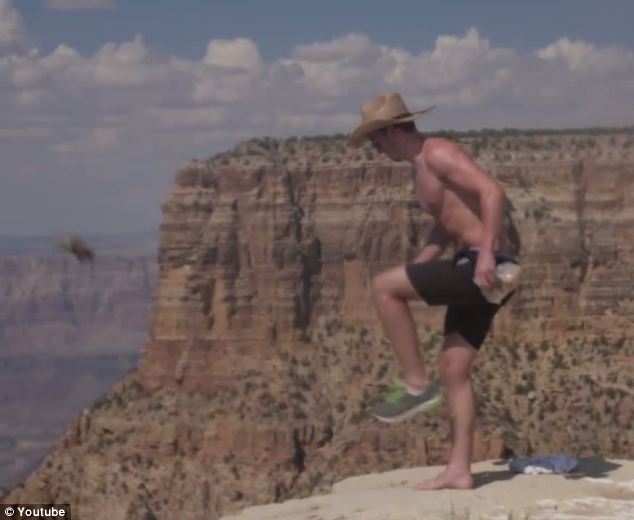 Animal rights group, PETA has issued a a £10,000 ($16 800 USD) bounty leading to the arrest and conviction of the individual responsible for the kicking of a squirrel over the Grand Canyon.
The incident which came to be filmed and showcased on youtube (see below) over the weekend has since led to furore as many attempted to understand the senselessness and cruelty of the act.
The video, believing to be a French man according to the poster who witnessed the incident came to occur after the shirtless tourist took to laying a trap for the unsuspecting squirrel, placing breadcrumbs on the edge of the cliff top before sneaking up behind the squirrel and kicking it over the Grand Canyon in one fell swoop. Upon kicking the squirrel, the man can be seen giddily relishing in his cruelty.
Told Jonathan Hildebrand who insists he only witnessed the incident:'I did not realize what was happening until it was too late,''I do not know who they are. All I know is that they were French.'
Reiterated PETA UK spokesperson Ben Williamson: 'It is imperative that any community faced with a sadistic and violent act such as this take measures to find the culprit or culprits and bring them to justice.
'Animal abusers are a danger to everyone – they take their issues out on whomever is available to them, human or non-human, and must be caught before they act again.'
If found, the man could face a charge that falls into a category of disturbing or harassing wildlife — a federal petty offense that carries a maximum six months in jail and/or a $5,000 fine.
However it is unlikely Rangers would pursue animal cruelty under a state statute because that would require them to retrieve the squirrel and prove that it was injured or had died.
Squirrels are known to be an everyday sight at the Grand Canyon and have become accustomed to visitors, climbing on their laps, begging for food and ransacking backpacks.
Park officials discourage visitors from petting or feeding wildlife because the animals can bite or attack.
Nevertheless despite PETA's attempt to hold the above men and similarly men accountable for their actions, it is not understood if such overtures will necessary make such offenders stop?
Authorities have since asked anyone with information to contact Grand Canyon Chief Ranger Bill Wright on +1 928-638-7888.