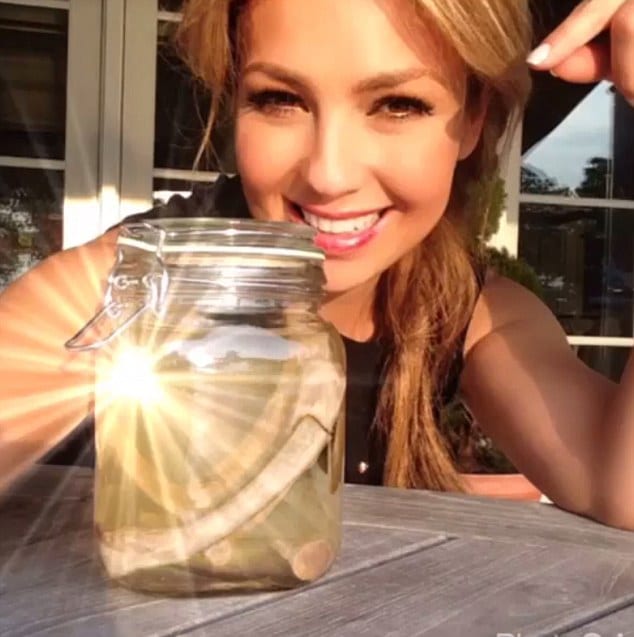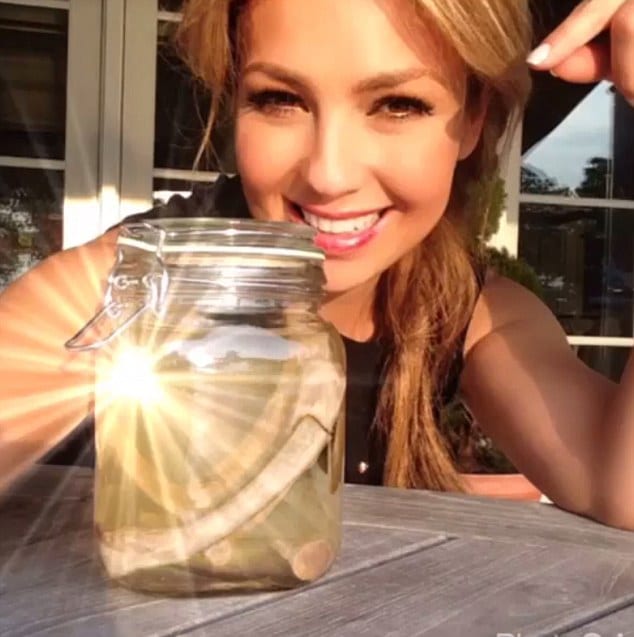 Mexican singer, Ariadna Thalia Sodi Miranda who goes by her stage name Thalia has come to cause some degree of consternation after she chose to proudly pose with her recently removed two ribs in a pickle jar. Removed because the singer had boasted doing so would make her waist thinner.
For a time the 42 year old singer had caused commotion when she would often repeat the assertion that she would take to removing two ribs in order to look thinner, but it wasn't until Thalia reignited the rumor during an interview last week that social media went into overkill.
Deciding to go one further Thalia then posted a video of herself on Instagram, holding her bare abdomen, with the caption: 'You think I removed my ribs? Yes, no? #ThaliasRibs #Myth'
Now, the performer, who has a strong Filipino fan base, has posted another video – of her ribs apparently pickling in a jar.
The teasing vine shows her gasping as she sits on a sunny balcony with the jar on a table in front of her.
Posting it on Instagram, she wrote: 'To all my loving Filipino fans, here is the proof! I love my famous ribs, I kept them with me all these years! And the saga continues…'
According to the Plastic Surgery Portal, rib removal involves extracting the lower ribs to create a slimmer waist contour. Most commonly ribs 12 and 11 – also known as the 'floating' ribs – are removed while the 10th pair of ribs are occasionally removed.
The 'floating' ribs only cover the organs from the back and not the front. This kind of surgery is not commonly performed in the United States.
'Most board-certified plastic surgeons feel that rib removal is too extreme of a procedure to be performed for cosmetic reasons,'  the Plastic Surgery Portal wrote.
It is still unclear whether the video was a joke, or as some have wondered a clever marketing ploy or perhaps even an indictment on women's obsession with their bodies.
Thalía has been dubbed both the 'Queen of Latin Pop' and 'Queen of Telenovelas [hispanic soaps]' during her prolific career as a singer, songwriter, actress, author and entrepreneur.
She first starred in a commercial at the age of one and has sold 40 million records worldwide.
Despite the singer's claims, there is no proof the bones in the image are ribs or that they are her own.  
The myth surrounding her ribs is set to continue, as she teasingly posted on Instagram that there is another marketing ploy video to come.