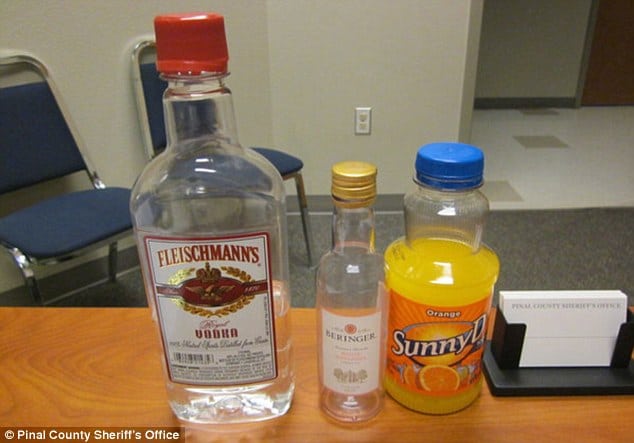 Kathleen Jardine, a 57 year old Arizona math teacher has been arrested for teaching whilst drunk.
Prior to her arrest the Poston Butte High School, San Tan Valley, Arizona math teacher had arrived to school that morning drunk where she proceeded to drink throughout the course of the day until school authorities approached Kathleen Jardine come lunchtime after she continued slurring her words and had by then taking to cursing her students.
Oh really? Lorie Ann Hill, Oklahoma teacher turns up drunk and pantsless on first day of work
Pressed, the teacher would confess she had been drinking the night before. It wasn't until a probing of the teacher's personal belongings turned up a half empty bottle of vodka, an empty single serve wine bottle and a bottle of Sunny D (yes the mixer too) orange juice that the teacher also confessed that she had taken to drinking during class.
A subsequent alcohol reading would reveal the teacher possessed a blood alcohol concentration level of .205. The state legal limit for driving is .08.
In her defense the teacher would tell that she had been too drunk to drive to work, having the temerity instead to have have caught a cab to work instead.
Told Kathleen Jardine: 'I was afraid I was too intoxicated to drive so I took a cab this morning,' 
It would later be revealed that the teacher had come to receive an extreme DUI in Gilbert the day before. Authorities would tell that the teacher had come to be stopped in a school zone while driving home from school at approximately 3:40 p.m. Her BAC was measured at .257 by a portable breath test.
In that instance  Kathleen Jardine was arrested by Gilbert police whilst her vehicle was impounded.
Records would reveal that the math teacher had been fired in 2011 from a school in New Mexico over a similar incident.
In that instance, she taught her class while drunk for five hours before students complained that she was behaving strangely and slurring her speech.
Florence Unified School District officials declined to comment, citing it as a personnel issue.
Jardine has since been released into the custody of her daughter as officials continue to investigate.
Upon her arrest the teacher would be cited for one count of consumption of alcohol in public but could face disorderly conduct charges.

Offered Sheriff Paul Babeu: 'Learning math can be hard enough, I can't imagine trying to learn it from a drunk teacher.'
Florence Unified School District superintendent Dr Amy Fuller released a statement about the incident, praising students who reported the teacher and staff who quickly removed her from the classroom. Nevertheless questions have been asked as to the vetting process used by the school when it comes to the hiring of teachers.
Kathleen Jardine is now expected to attend a school board hearing to decide whether she should continue teaching math at the school.