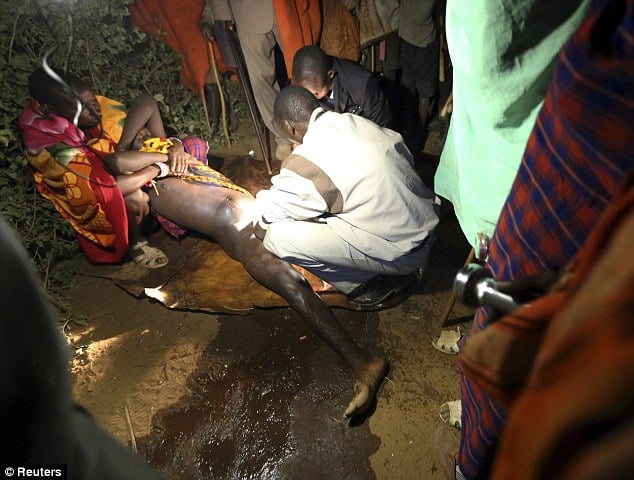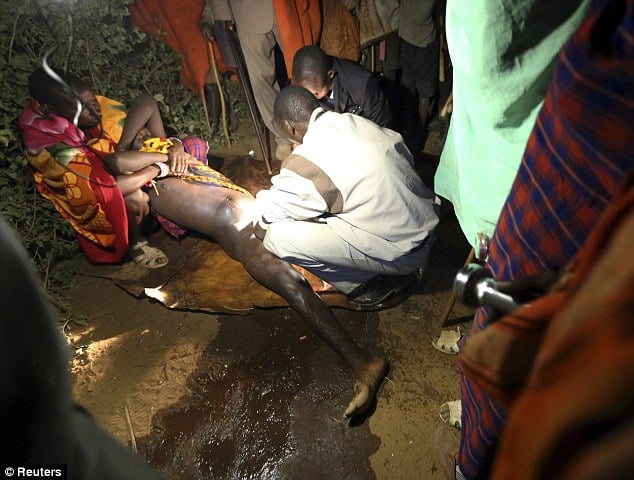 A dozen Kenyan men have been forced to undergo circumcision after they came to be seized and stripped naked as part of a ceremony.
The 12 men, from the Luo, Turkana, Iteso and Luhyia communities, were reportedly subjected to the procedure after their wives revealed they had not had it done previously.
Pursuant to the circumcision, a number of wives would tell that they were pleased the men went through the procedure because it made them cleaner and perform better in bed.
According to Kenyan radio station West FM, the men who underwent the procedure had either previously avoided having it done or had come from a Luhyia sub-tribe which did not carry it out.
A crowd reportedly sung circumcision songs as they gathered the men up before taking them to a nearby medical centre where the operations were carried out.
Told one of the wives, Anne Njeri, who witnessed the incident on Friday: 'We are happy with the move to have such men cut because uncircumcised men are dirty and do not perform well in bed and thus we are sure their wives will now enjoy their marriages.'
The report would add that each of the men have been provided with money by others in the town for treatment.
The men who carried out the procedure have said all the men who have not been circumcised will undergo the procedure in what has been dubbed 'circumcision season', according to the Kenyan Daily Post
The season is said to last for the first three weeks of August, the International Business Times has reported.
Reiterated one of the men, Peter Kariuki performing the forced circumcisions: 'These people have been engaging us in many arguments including competing with us for women yet they are boys and that is why we decided to transform them into men so that they can be worth competing and arguing with us. We are also telling those who have not undergone the cut to do so because it is a good thing you saw how women celebrated it.'
About 50 men have now reportedly asked police for help to protect them from the forced procedure.
Timeslive.co.za reports that the men have taken to camping at the Moi's Bridge police station in fear that they will be targeted next. It is not clear if authorities have necessarily sought to offer the men protection.