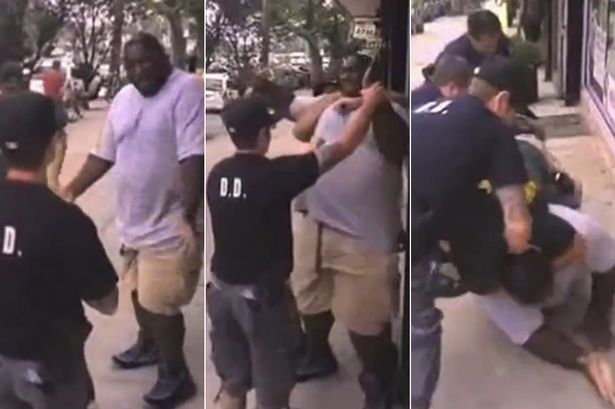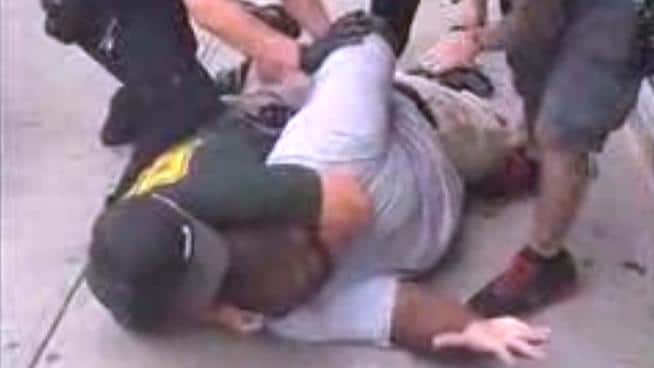 A newly released video (see below) shows cops failing to offer medical aid to Staten Island dad, Eric Garner who came to die at the hands of the NYPD after been placed into a chokehold.
Oh really? Eric Garner police report neglects to mention choke hold. 
Instead the unresponsive man is filmed with cops nonchalantly talking around him he lay unresponsive on a sidewalk, before cops then proceed to empty Garner's pockets.
Overhead on the video, posted on youtube last night is a cop telling: C'mon, guy,"
'Breathe in, breathe out.'
But Garner, on his side with his eyes closed, doesn't move at all — even when the officer slaps him on the shoulder. The side of his head remains flat against the concrete, and his eyes never open.
At one point, another officer is seen taking a cell phone and a pack of cigarettes from the 43-year-old Garner's pants.
But the mayhem only descends when an EMT arrives four minutes into the video, with emergency workers declining to provide the fallen man emergency aid. Inexplicably the Staten Island dad is just loaded onto a stretcher and wheeled off.
Cops would tell that Eric Garner would be  pronounced dead a short time later after arriving at a Staten Island hospital.
NYPD Officer Daniel Pantaleo, caught on another video putting Garner in a chokehold after a confrontation involving Garner purportedly illegally selling loosies (yes 50 cents will get you the attention of the NYPD) on a sidewalk, is seen standing a few feet away chatting amiably with a uniformed colleague.
Near the end of the clip, he gives a satiric wave to the person shooting the second video.
Pantaleo, an eight-year veteran, would subsequently come to be placed on modified duty yesterday as cops and the Staten Island district attorney investigated the case.
Pantaleo would also be stripped of his gun and shield, assigned to work desk duty.
The police union would in turn denounce the move as 'knee-jerk' and 'completely unwarranted.'
But detectives arrived at his Staten Island home Saturday afternoon, leaving about 25 minutes later with one box and three bags taken from the residence.
Another NYPD officer, Officer Justin Damico, on the force four years, the nydailynews would tell was also pulled off the street — but he was not forced to turn in his badge or his weapon.
Outside Damico's home Saturday, an infuriated woman screamed at reporters.
'Get off my f—— property! F—— retards!" she howled. "One picture of me and I'll sue you!'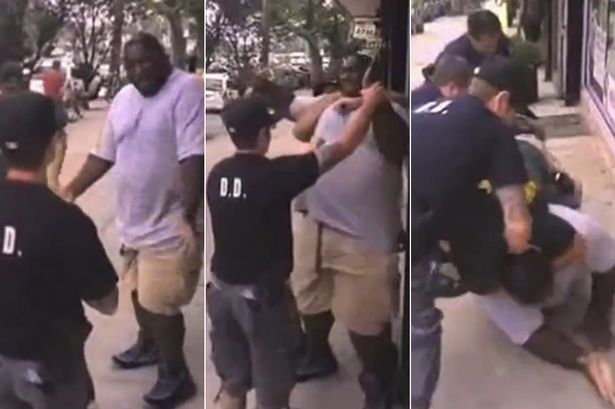 That said there is now debate as to how Eric Garner came to die, with a source telling the nydailynews that there were no signs of neck trauma, such as a crushed windpipe, on the heavyset victim.
'There's no indication this is death by strangulation or asphyxia,' the source said.
Another source said the likely cause of death will be a heart attack, although other actions — including the illegal takedown of Garner — 'will probably go down as contributing factors.'
Which forces the question,  when authority figures decide to apply degrees of actions/duress/violence/heavy handedness on citizens and they come to suffer injury or fatality should we expect authority figures to accept culpability for such measures?
Which also raises other questions, could have cops chosen other less combative ways to respond to Eric Garner and why in the face of no immediate threat or life or death circumstances did cops use such overt aggressive tactics? Or is this just how cops go about business? Especially as some on the web have suggested if one is a minority…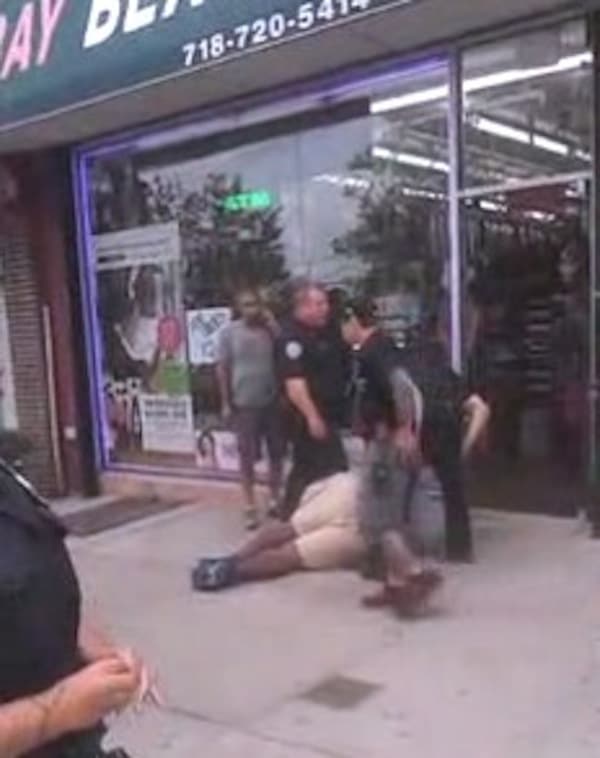 'Tactically, very little was done right,' the source would tell. 'The first two cops (Pantaleo and Damico) didn't engage Garner … They appear to know him. Do something to put him at ease.'
A sergeant caught standing nearby in the video could be nailed for 'failure to supervise,' the source said.
Told Eric Sharpton who at the side of Garner's widow, Esaw Garner at a Harlem rally yesterday: 'There is no justification at all on this chokehold,'
'And there is clearly no reason, when a man is saying, 'I can't breathe, I can't breathe,' that you maintain this chokehold.'
A funeral for Garner was set for Wednesday at Bethel Baptist Church in Brooklyn.