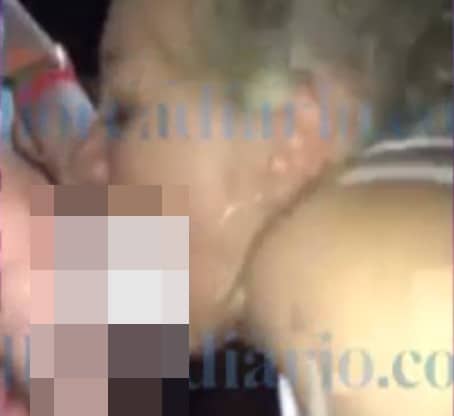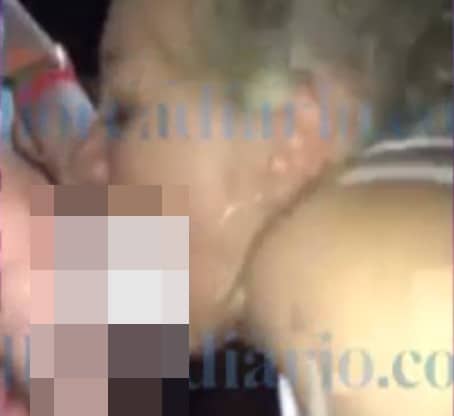 Cerise Davey naked: I went to Magaluf for 25 orgasms a day.
New Magaluf sex video: British couple filmed having sex in broad daylight 
The reaction to the Magaluf sex video (see below, very NSFW) was bound to be predictable as social media and media outlets have taken to ostensibly denigrating a young attractive woman at the center of an admittedly eye opening video.
Emily Gaythwaite naked. Magaluf sex video girl pictures emerge. 
Magaluf sex video slut shaming of women by the media. 
Magaluf sex video girl, Emily Gaythwaite goes into hiding 
Pictures: Emily Gaythwaite is the girl at the center of the mamading scandal 
Party company Carnage Magalluf blames mamading girl. She's a slut 
Magaluf sex video Irish girl identified. Thought she would win holiday 
Video of British tourist performing oral sex for free drinks on 24 men goes viral 
The video said to have been filmed at a local discotheque bar in the resort town of Maguluf, Majorca/Spain depicts a British tourist going from one male club goer to another (24 in all) in the space of 3 minutes, performing fellatio on each man ('mamading') before scurrying of to to the next. The prize? A free bottle of Cava.
Since the video's emergence some have come to wonder if this is a new 'disturbing trend' we all ought to be concerned about and whether the video in some way serves as a reflection of the degree of hate and scorn and derision towards women?
Tweeted one user:  "Disgraced by the girl in Magaluf and her antics with 24 men for a free drink! Morals and self respect should be taught from a Young age. [sic]"
Another added: "Omg that video of the girl in magaluf is shockin!! Dirty whore [sic]"
One more said: "I feel sorry for the next guy that goes near the girl from the Magaluf video.He better hope that she didn't forget her toothbrush at home [sic]."
And still one more added: "Stay classy you British sluts [sic]."
And then there was this particularly damning tweet from a female social media user (which is to say even women have come to believe that there is a standard that they must adhere to or face being condemned): That girl on that magaluf video is actual vermin! Scum of the earth feel sorry for her family and any stink that was cheering her on is vile.
First of one has to imagine that all participants were willing and of their own free will and no one was coerced into choosing to participate, certainly not the young woman.
For all intensive purposes at the time we can reasonably assume the woman probably enjoyed herself and dared herself to go to the limit and if that is the case, that is her business and her prerogative. No one ought to judge her or slut shame her. It is after all her body, her life and as long as she was not coerced, all the more power to her, and this young woman ought not to be disparaged for choosing to participate in sex acts.
Which is to say if the sexes were reversed instead of disgust and concern that this girl is a slut there would probably be a lot of back slapping, congratulating the guy for nailing so many women at once. But sadly that is an 'honor' only reserved for men as men can be 'sluts' (studs) where as women are expected to be virtuous.
Reflects the dailybeast: Ultimately, the moral outrage over mamading is a thin excuse for people to vent paternalistic, unfounded beliefs about how adult women are supposed to behave sexually.
Reflects the closer online.co.uk: Absolutely nobody commented on the fact that 24 men all undid their trousers and allowed a strange woman to suck their penis. No shame for those men for taking part? Or shame on the bar for allowing it happen?
Adding further: Men are called studs, women are called sluts – and this is helping to perpetuate a rape culture in modern society.
And there was also this comment from a reader on the web too that made me think: I don't know why everyone is so up tight about it! and I cant see any of the boys being blamed! they are all quite happily letting her do it, after watching everyone else. O.k there is the scare of spreading STI but other than that it is harmless fun. She doesn't seem forced and probably was laughing about it at the time and through out the night. Maybe had a few regrets the next day. But now there has been a big deal out of it, blow out of proportion, she's probably feeling suicidal. There are woman out there getting violently assaulted who don't get any where near as much new coverage, if any, than this!! Priorities people!!!!
Time will tell if the young woman's identity will be leaked and the almost certain recrimination she will come to face for doing nothing more than enjoying herself the way she saw fit with her body, her sexuality and her life. All the more power to her.