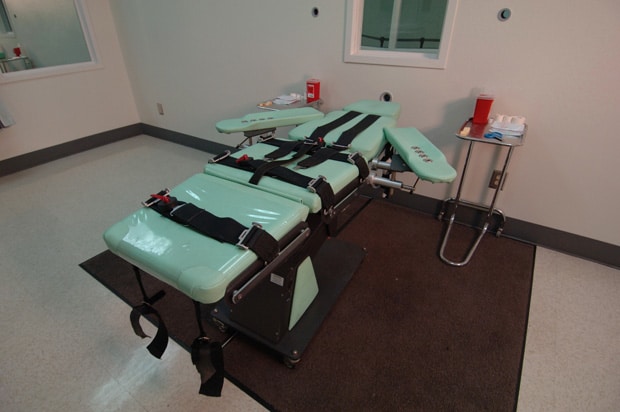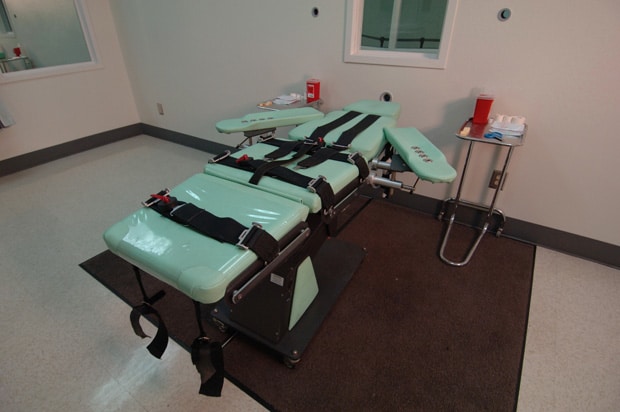 Ethical questions have been raised pursuant to Joseph Rudolph Wood's execution in Arizona yesterday afternoon after it took nearly two hours for the death row convict to die after lethal injection was given.
During Joseph Rudolph Wood's execution, his lawyers would claim that their client was gasping and snorting for an hour, prompting them to file an emergency appeal to have the execution stopped. Wood died before a court could act.
"The execution commenced at 1:52 p.m. at the Arizona State Prison Complex (ASPC) – Florence. He was pronounced dead at 3:49 p.m," Arizona Attorney General Tom Horne said in a statement.
Wood, 55, was convicted in 1989 of killing his girlfriend, Debra Dietz and her father, Eugene Dietz,. His execution came after days of back-and-forth between courts after he claimed that Arizona's secret sourcing of its lethal injection drugs violated the First Amendment.
Told NBC News: An appeals panel agreed with him, but the U.S. Supreme Court lifted the stay of execution. The Arizona Supreme Court briefly delayed the execution on Wednesday morning, but ultimately gave the state the green light.
Lawyers representing two other men executed last month—Marcus Wellons in Georgia and John Winfield in Missouri—also filed appeals demanding that their states reveal where they are obtaining their lethal injection drugs, but were denied.
Pursuant to Joseph Rudolph Wood's execution a relative of Wood's victims said she did not believe the killer had suffered – especially compared to the victims.
'You don't know what excruciating is,' Jeanne Brown told KTLA after the execution. 'What's excruciating is seeing your dad laying there in a pool of blood, seeing you sister laying there in a pool of blood. This man deserved it. And I shouldn't really call him a man.'
Arizona Governor Jan Brewer had told the Department of Corrections to review the process, saying she was concerned by the length of time it took to carry out the injections.
Still, she said, there was nothing unlawful about the death.
Offering: 'One thing is certain, however, inmate Wood died in a lawful manner and by eyewitness and medical accounts he did not suffer.
'This is in stark comparison to the gruesome, vicious suffering that he inflicted on his two victims — and the lifetime of suffering he has caused their family.'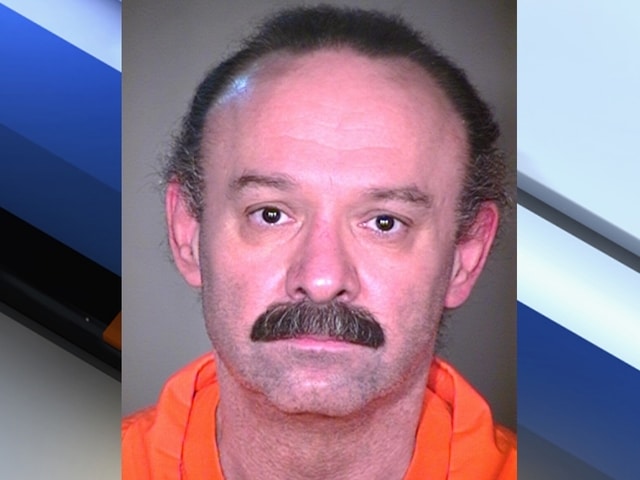 Nevertheless the manner of Joseph Rudolph Wood's execution would raise serious questions as to the ethical dilemma of forcing a man to suffer at the moment of his execution.
Critics would denounce the execution as cruel and unusual punishment and said it raised grave questions about the two-drug combination Arizona uses for lethal injections.
Prior to his execution, Wood had waged an intense, last-minute legal battle challenging Arizona over key information about who supplies the drugs and how they are administered.
The U.S. Supreme Court on Tuesday cleared the way for Arizona to carry out its third execution in the last year following a closely watched First Amendment fight over the secrecy issue.
The UK's dailymail notes that the fight over the Arizona execution has also attracted attention because of a dissenting judge's comments that made a case for a firing squad as a more humane method of execution.
'The guillotine is probably best but seems inconsistent with our national ethos. And the electric chair, hanging and the gas chamber are each subject to occasional mishaps. The firing squad strikes me as the most promising,' wrote Alex Kozinski, the 9th Circuit's chief judge.
'Using drugs meant for individuals with medical needs to carry out executions is a misguided effort to mask the brutality of executions by making them look serene and peaceful – like something any one of us might experience in our final moment.'
And then there were these comments on the web that made me wonder:
America has run out of our supply of the-Kill That Motherfucker Quick drug.
And the country that provides the drug has refused to deliver more bc they now consider capital punishment to be inhumane.
So now….just as we always do as Americans… We bootleg our own version of somebody else's shit and our version sucks ass.
Is a combination between it being difficult to find adequate supplies of drugs and doctors. The drug manufacturers and suppliers don't want to be associated with executions and doctors and nurses who have participated have gotten death threats. The irony is that by striking at the doctors and drug companies people who are anti-death penalty have made the process harder and more painful for the prisoners.
If this pond scum murdered someone I loved, I'd want him to die in the most agonising way possible. I'd torture him to death myself, given half a chance. I'd make it linger.
But in a civilised fucking society, we don't do that. We may want him to suffer, but for christ's sake, we're better than that. Giving in to our most primal, bloodthirsty impulses is a crappy way to dispense justice. Jesus fuck. What are we doing?
All you need to do is find a chemical company willing to risk their entire business supplying chemicals to a few states.
Good luck with that.
A "botched" execution is a execution that didnt work. This one worked. Therefore, not a "botched" execution, just a delayed execution.
My heart bleeds……not