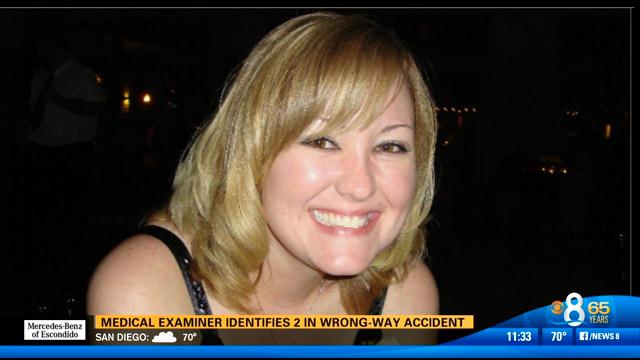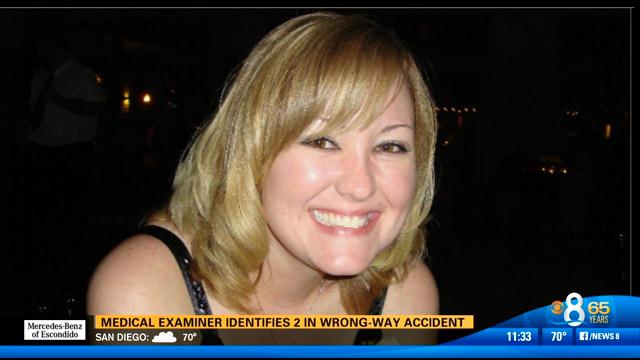 California Highway Patrol investigators believe Trista Lynn Stier, a 29-year-old woman sought to commit suicide when on Friday she got onto the freeway, intentionally driving in the wrong direction, and causing a deadly head-on collision.
Witnesses told that they saw Trista Lynn Stier drive onto Route 67 near Lakeside that afternoon, where she started speeding south in the northbound lane and lined her Ford-150 up with the utility vehicle driven by father-of-two Douglas Menegos, 49.
Told Patrick Vargas via NBC San Diego: 'She got to the middle and squared up facing oncoming traffic and stayed in that position,'
'That tells me that it was deliberate.'
The two trucks crashed head-on at high speed, killing both Stier and Menegos.
Another Ford F-450 was struck in the accident, but the 53-year-old male driver from El Cajon was not injured.
The Medical Examiner's Office have since told that they are investigating the crash as a homicide.
CHP Officer Kevin Pearlstein said Stier was 'just looking for the biggest truck you could find' to hit and that there was no indication that the two victims knew each other.'
That said questions are being raised as to why Stier chose this particular way to die, or if she had also sought to take someone down with her? Others have wondered if the action came spur of the moment, had been planned, was in reaction to something that may have recently happened in Trista Lynn Stier's life? And if so, why nevertheless choose such a horrific way to kill oneself whilst also almost certainly taking other lives too?
Friends have described Mengos, the man killed at Stier's hands as a devoted family man. He leaves behind wife Lisa, 20-year-old daughter Kara and son Jacob, 17.
A GoFundMe account has been set up to raise money for Menegos' funeral expenses, with the leftover funds going to his children's college education.
As of Tuesday morning, the fund had surpassed it's goal of $20,000.
For support on suicide matters call the National Suicide Prevention Helpine on 1-800-273-8255 or go to www.suicidepreventionlifeline.org.

Menegos, 49 (right), leaves behind wife Lisa (second left), 20-year-old daughter Kara (second right) and son Jacob, 17 (left)