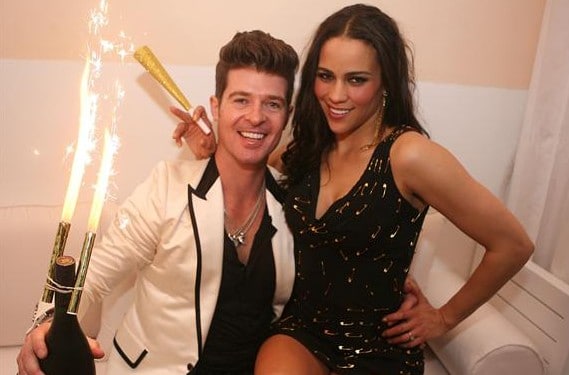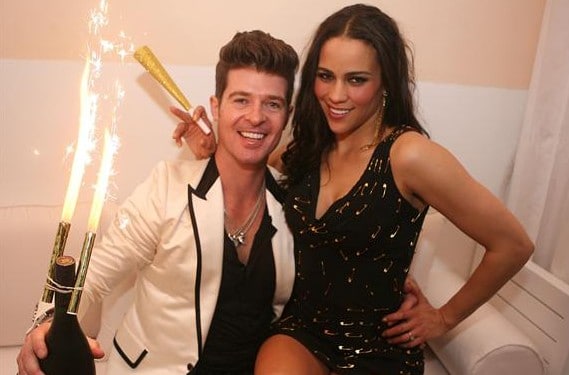 It seems Robin Thicke is not at all very impressed with circulating reports that a three way between himself, his estranged wife Paula Patton and their masseuse led to the dissolution of their marriage after things got a little out of hand.
To date the Blurred Lines performer has avidly denied the report, even motioning that he may take legal action against Star magazine.
Is Lara Scolaro Robin Thicke's mistress?
Thicke's attorney Howard E. King is said to have written a letter to Star, and their sister publication OK, before the article even came out.
King wrote, 'On behalf of Mr. Thicke, as well as [the alleged masseuse], we categorically deny every assertion of fact posited in your email [asking for comment] and are certain there can be no reliable, trustworthy source of any such story, given its gross deviation from the truth. 
'Any purported source of such a story is lying.'
He added, 'Publication of this blatantly false story absent a failure to fully investigate the truth combined with reliance on what has to be a flimsy source, will support a finding that the story is published in wanton and reckless disregard of the truth, leading to a finding of malice and the imposition of actual and punitive damages.'
According to Star, Robin Thicke and Paula had been carrying on a consensual ménage-a-trois with a massage therapist for two years.
But when Patton, 38, allegedly found out the other woman and her husband were having a two-person affair, she called time on her marriage.
Told an insider: 'Paula felt betrayed and humiliated by both Robin and Jasmine,'
'These were two people she thought she could trust the most, but in the end everything backfired on her.'
But the story gets better.
At the time Paula allegedly walked in on Robin and Jasmine, but Thicke reportedly didn't understand why his wife was upset.
Paula supposedly gave her husband of eight years another chance, and banned the woman from their home, but she couldn't put her suspicions behind her and eventually the end of their marriage was announced in February this year.
Neither Patton nor Thicke are wearing their wedding rings and they have yet to begin divorce proceedings. No word yet what the masseuse has to say on the matter…
above image found here