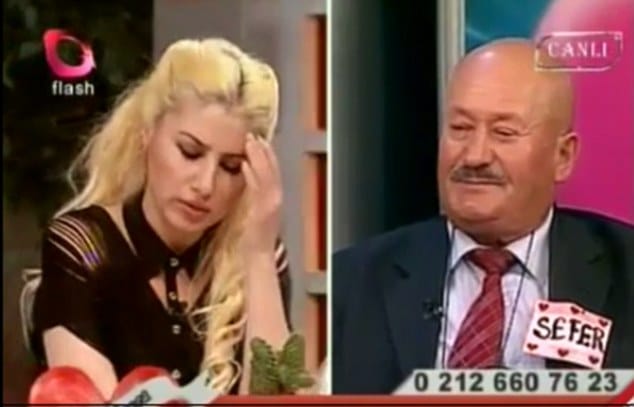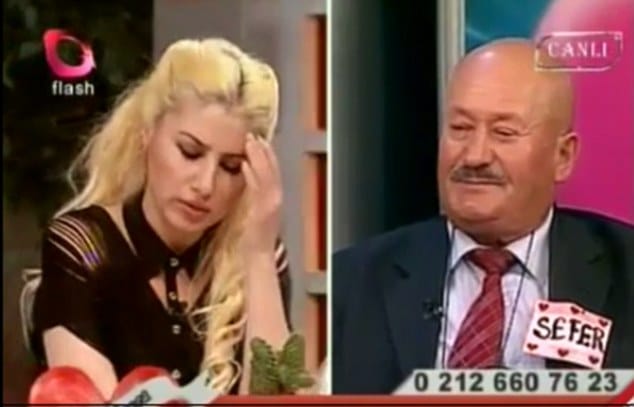 Sefer Calinak, a 62 year old Turkish dating show contestant seeking love caused havoc after nonchalantly revealing that he had murdered his former wife and subsequent lover.
During the live segment the man acknowledged to the show's host on Flash TV's 'Ne Çıkarsa Bahtına' ('The Luck of the Draw' ) that he had served prison sentences for each of the murders and had been released under an amnesty program.
Told Sefer Calinak to an astonished host: 'I'm an honest person looking for a new wife' before adding he killed his first wife because he was 'irritated' by her behaviour and murdered a subsequent partner because he thought she was after his money.
Yes kids, I'm going to take a gentle sip of my chamomile tea sitting idly next to me….
Nevertheless the explanation did little to soothe the nerves of the host who then asked our forlorn love hero to leave the show, prompting wild applause from the studio audience.
Undaunted, Sefer Calinak would later tell that he would leave his search for a wife 'to God.'
It would later be reported that each time the man had gone to prison he had not been required to serve anywhere near his assigned sentence before being offered amnesty.
Gözde Kurt, the show's producer, told that before the program Çalınak had said he murdered one person, and they allowed him to attend as he had served his legal sentence.
His first wife was a cousin named Fadime, who he married when they were both 17, as they tried to escape Fadime's forced arranged marriage to a widower, Hurriyetdailynews.com reports.
He said after five months of living together her behaviour changed.
Telling: 'The nephew of the man who wanted to marry her started to come to our village. I was jealous and I killed her, in a way.'
He said he was released from his 13 year nine month sentence after four years and six months.
He then married another woman, and they had two children, but they separated.
He then embarked on an affair with another woman who said she would leave her husband for him – but he said she did not.
He said: 'I killed her after she attempted to kill me. She was accidentally killed when I swung the axe.'
Çalınak was again sent to prison, but released in another amnesty.
It is not understood why the man was offered amnesty and whether such offering is consistent with the severe patriarchal attitude male citizens have towards women in society.
Gozde Kansu, Turkish tv presenter sacked for wearing a low cut top
Woman shoots and decapitates rapist who made her pregnant. Dumps his head in village square.
Gay men need not serve the army in Turkey. A fool proof way to out you fags!
Turkish women advised to stay home to avoid being sexually harassed.