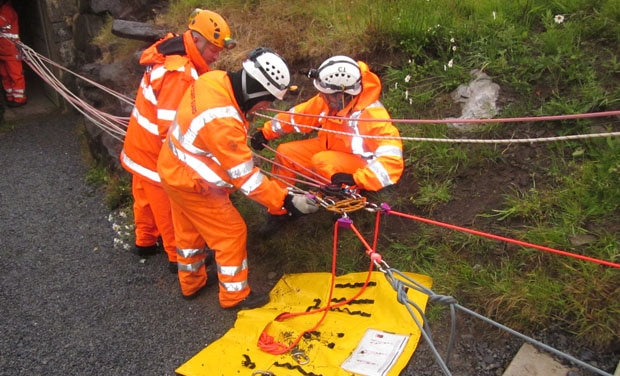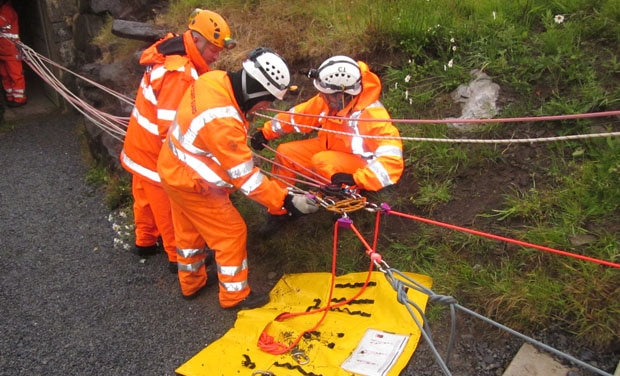 Oh dear, it seems Kim Kardashian has come to find herself having more adventure than she probably envisaged after taking with her new husband, Kanye West on a hiking track through Ireland's Ailwee Caves in County Clare.
waterfordwhispernews: Located in the heart of the Burren, the popular tourist attraction was high on Kanyes to-do list during their five day stay in Ireland, and the couple headed there early this morning following an arrival at Cork airport yesterday. However, during their guided tour of the limestone caverns Mrs. West (nee Kardashian) found herself posteriorly wedged and unable to continue, and with attempts by onsite staff to free her proving unsuccessful the emergency services were sent for.
Kim Kardashian stuck? Could our collective heroine have possibly misinterpreted the likelihood of her newly svelte figure gingerly cascading between the jutting abutments? After all don't mountain terrains know who she is?
Told Burren Tourism chief Adrian O'Meara: 'It was an honour to show the Wests around our caves. Kanye is an avid spelunker, and was as excited as a child to get to explore the geology and structure of the Ailwee network.'
'Mrs.West seemed happy to indulge her husband, but as we neared the end of the tour she began to cry for help having become utterly stuck after misjudging the width of a passageway. Most people utilise the 'cats whiskers' method when exploring caves, whereby if a persons shoulders fit through a gap, the rest should too. Mrs. West is a lady whose proportions are the exception to this rule, and she found herself in a lot of bother.'
Misjuding the width of a passageway? Could one wonder if that is a metaphor to other indelible yummies courtesy of the Kardashian clan?
The faux pas led to pupils from nearby St. Benedicts primary school becoming trapped behind our collective heroine as attempts to free her by Burren safety staff and an E! Network camera crew only exacerbated the tightness of the wedging.
Yes the ignonimity kids. Even heroines have their less than illustrious moments.
But it gets better….
After a fruitless hour of pushing officials made the call to a local unit of the fire brigade to help free the mother of one using specialist equipment, and within fifteen minutes the scene was attended by every fireman in a tri-county area.
An hour later the glamorous couple emerged from the darkness in a somewhat shaken state, and heaped praise on the emergency services for their thoroughness.
To boot the world's newly anointed most glamorous wedding couple were promptly whisked away in a Mercedes Limousine (naturally) to enjoy the rest of their honeymoon, although interestingly decided to later cancelled plans to visit the Newgrange Monument in Meath and the Sally Gap in Wicklow. Can anyone guess why….?
The UK's daiymail has since told the story was fake and light hearted fanfare courtesy of local press seemingly bemused by the couple's visit to their nation. If only some stories were true….