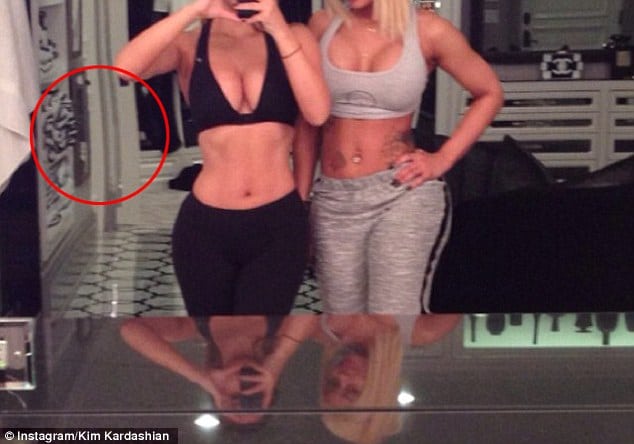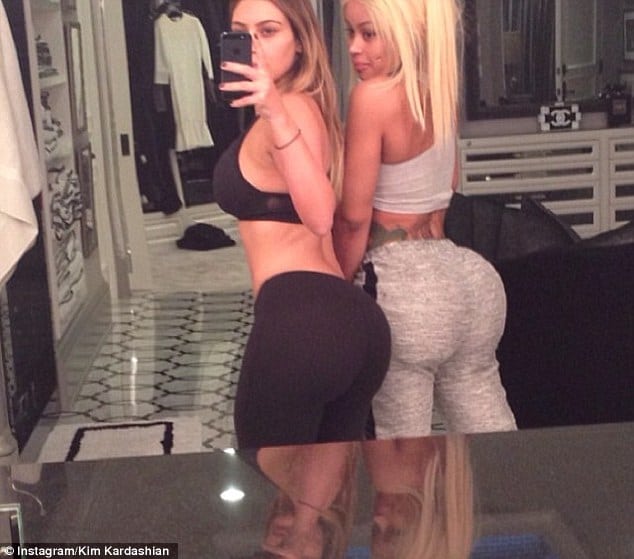 It seems Kim Kardashian might not be the uber champion that she would like to portend to the world she really is after all.
Case in point, the recent Kim Kardashian selflies which show the reality media whore appropriating a much smaller derriere than in previous pictures.
Told photoshop master Peejie T via ld RadarOnline that the recent flurry of post-workout shots Kim and her pal Blac Chyna have been posting may have been 'manipulated' to enhance the media whore's shapely figure.
Do you think kids?
Drawing the background of one of Kim's pics as an example, Peejie T. explained the slight curvature of the door frame could be proof that Kim Kardashian has been digitally doctoring her snaps.
Told Peejie T: 'In the first pic, which I'll call the Booty Pic, I have diagrammed with a red line how the door should look if it was a normal, straight-edged door. You can definitely see a gap at the same level as Kim's chest. This would be caused by using a tool to expand her breasts.'
'There also seems to be a more subtle distortion on the floor. The underlying red line shows how the tiles should be where the blue line follow the actual markings on the floor. You might notice how it follows the same contortion as Kim's waist and hips.'
Peejie T. went on to tell the same principle could be applied to the second snap of Kim and her bum chum, which showcased her 'envy-inducing washboard abs' and a generous amount of cleavage as she posed against a mirror in a plunging crop top.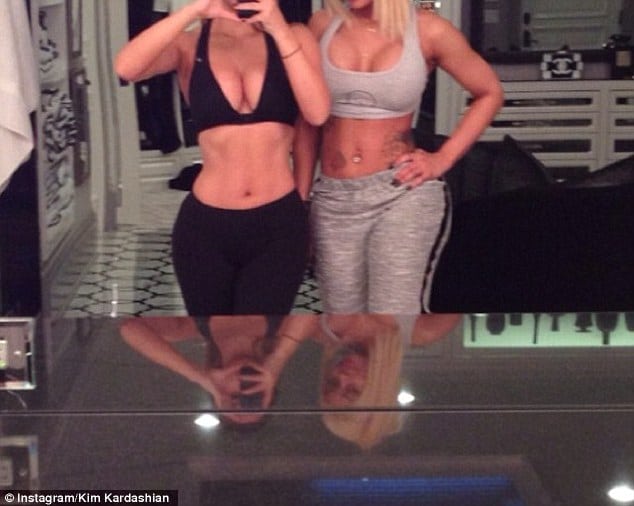 Once again, Peejie T claimed the door curves out again at Kim's middle, something that would occur if she used a Photoshop device to slimline her waist.
To date media requests seeking a comment from her highness have not been returned.
Nevertheless this is not the only time that our collective vixen has been accused of digitally doctoring her image.
Asked recently how she achieved her gym-honed physique our collective hero went on to tell: 'No carbs, workout and dedication!'
Then again define manipulation dedication…