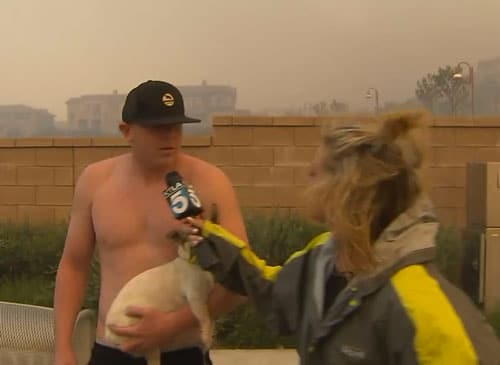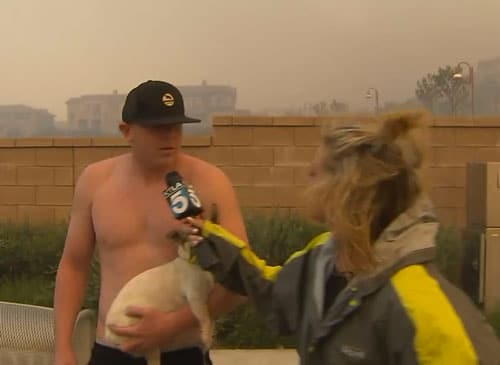 Kids the scene behind us all may be burning to a rapid inferno but don't tell that to one day modern Cyrano who took to ask reporter Courtney Friel out on a date whilst she was interviewing him about the devil claiming the forest behind them.
nydailynews: KTLA reporter Courtney Friel was in Rancho Cucamonga, east of L.A., covering the massive Etiwanda blaze Wednesday when she happened by a shirtless stud holding a puppy.
"Do you live around here?" Friel asked.
"Yea! Wow, you're super pretty, you want to go on a date sometime?" the man said.
Not one to miss a beat and having spent a lifetime knocking back one modern day Cyrano after the other, Courtney Friel told the bare chested man holding a puppy trying to ask her out on a date if he was aware that they were on live TV.
The man would then reply 'Awesome,' before going on to say he lived down the street and was 'checking out the fire.'
Pausing before adding, 'it's pretty cool.'
An eternity almost passes before Courtney continues rambling about the devil causing havoc, barely flinching about the shirtless hero licking his wounds behind her.
Friel, who was tweeting throughout her wildfire reports, later joked about giving her hot and heavy fan the heave ho.
'Clearly he didn't see my ring,'  the married mom-of-two tweeted.
Well of course not Courtney! He was trying to impress you with the devil's forest fire and the puppy rolling its eyes in your direction…