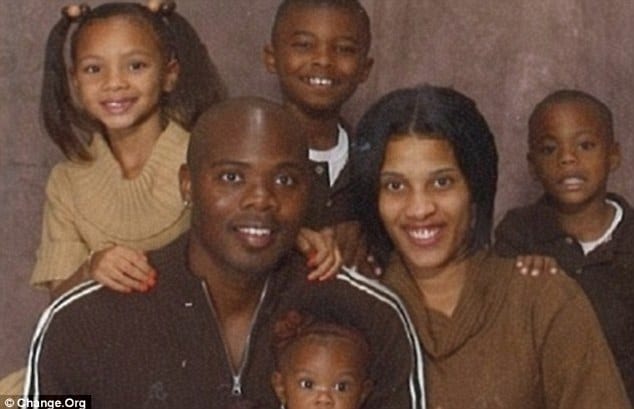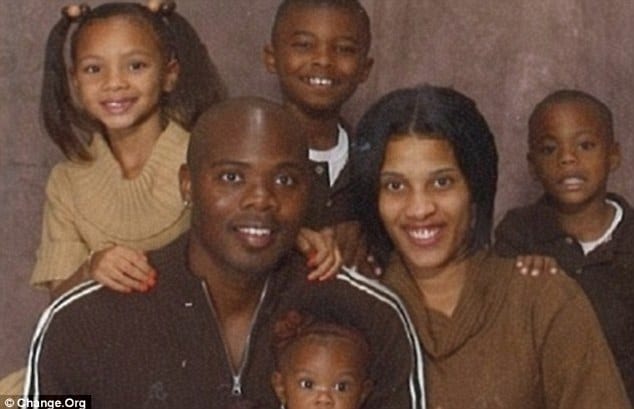 Cornealious Mike Anderson, a Missouri man convicted of robbery in 2000 but never sent to prison until last July because of a clerical mistake this morning walked free after a judge lauded the man's 'exemplary' behavior during his 13 years of freedom.
During this morning's hearing, which lasted a scant ten minutes, Judge Terry Lynn Brown cited Cornealious Mike Anderson's 'exemplary' behavior during his time in society where he would have otherwise have been kept incarcerated as to why she decided to set the man free and not force him to serve time he never got to physically serve.
In the years since his conviction, Anderson started his own construction-related businesses, married and had children. He also coached youth football and volunteered at his church in Webster Groves, Missouri.
Told the judge: 'You've been a good father. You've been a good husband. You've been a good taxpaying citizen of the state of Missouri.
'That leads me to believe that you are a good man and a changed man.'
Prior to today's announcement, Attorney General Chris Koster had told the following in a statement: 'From the outset, I have proposed a solution that balances the seriousness of Mr. Anderson's crime with the mistake made by the criminal justice system and Mr. Anderson's lack of a criminal record over the past 13 years. Today's outcome appears to appropriately balance the facts as we understand them.'
Anderson, 37, had never been convicted of a serious crime before the robbery. He was sentenced to 13 years in prison for the holdup, then told to wait for orders that would specify when and where he was to report to prison. But the orders never came. Anderson suspected that his case had been overlooked and asked his former attorney what to do.
'Day by day, month by month, year by year, time passed, and they never picked me up,' he said in the interview with AP.
A court filing by the attorney general's office said the mistake happened with a trial court clerk failed to inform the Missouri Supreme Court that Anderson was free on bond after his initial conviction.
In July, Anderson's sentence was supposed to end. It was then that someone at the Missouri Department of Corrections realized he had never been put behind bars. It was then when eight U.S. marshals arrived one morning at his home and took him away where he remained behind bars until this morning.
Anderson's attorneys subsequently filed an appeal in February calling his imprisonment unfair and unjust. They had also asked Gov. Jay Nixon to commute the sentence or grant clemency.
Making the judge's decision an easier one was the fact that Anderson never tried to conceal his whereabouts or identity. He had even asked about going to prison, but the order never came.
The judge said rather than Anderson being granted parole, he would get credit for the 4,794 days between when he was convicted and when he was arrested last year.
Anderson's plight drew international headlines last month. An online petition on change.org includes more than 35,000 signatures urging the state to set him free. Even Attorney General Chris Koster seemed inclined to find a solution to resolve what he called a 'difficult situation.'
Since the rendering of this morning's decision, commentators on the web have have overwhelmingly praised the judge's decision, with many arguing that the judge had balanced mercy with justice, and drawing attention to the penal system in general asking to what degree crime and punishment actually works whilst others have wondered if the man despite his good behavior was bound by the laws of the land to serve his obligation to society, which many openly contested arguing was the aim of incarceration to exact punishment or rehabilitation and the fact that Anderson had already showed he had acted in good stead was in itself a strong indicator that he was a rehabilitated man.
And then there were these comments on the web that made me wonder:
So all those in prison right now serving their time are thinking wow I wish they would have forgot about me.We have a legal system in place for a reason. We need to uphold it, and abide by, other wise we are a failure to our own society.
Just because the state of Missouri screwed up doesn't mean the man is dishonest! Obviously, he stayed out of trouble and created a decent life for himself in those 13 years or the state would have a figured out THEIR mistake sooner.
What good will it honestly do for him to serve all that time? This guy is an upstanding citizen. A business owner who is paying taxes and raising children. He's a benefit to his community. His community is suffering directly as long as he is sitting in prison. Seriously, please explain the public benefit of him being in prison right now.
This is ridiculous,a young stupid kid commits a crime,is convicted and sentenced,waits for the incarceration to begin,dreading his fate for all these years should be punishment enough,even his victim agrees.
Putting Mike in prison 13 years later when he is now a husband, a father, and contributing to the society significantly increased the punishment.
It's almost as though incarcerating people for years and years doesn't make them a better person. In fact, in this case, NOT doing that DID make him a better person.
In advanced societies, prison mainly serves to rehabilitate–not to avenge or punish. Clearly, he's rehabilitated. So, prison is unnecessary.