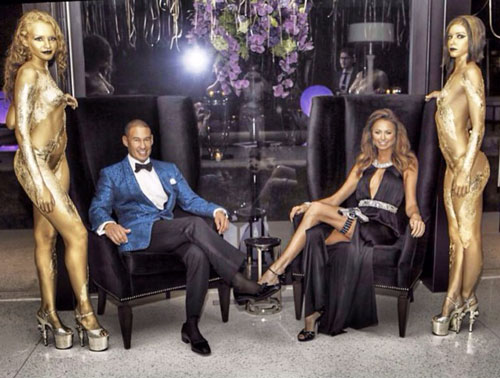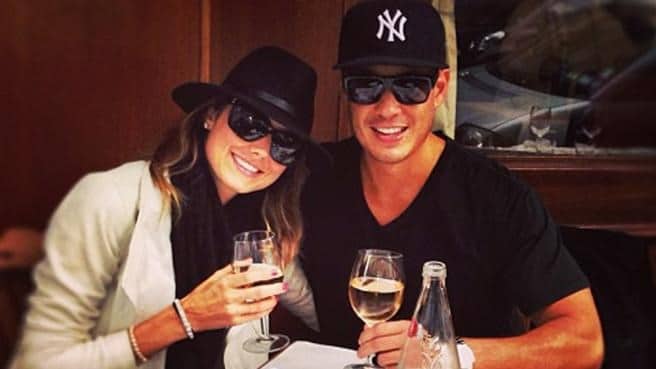 George Clooney must be relieved that he ducked this shit, but never mind it was all for laughs and self promotion as the Hollywood geez buzz's former flame of 2 years (on/off/off) Stacy Keibler announced to the world this weekend that she had married her new trick of 7 days months, Jared Pobre.
Told the happy bride (at last finally, anyone) that sounded like a convoluted Hallmarks gift voucher: 'My happiness is indescribable. Marriage is the ultimate bond of love and friendship. It means putting all your faith and trust into a person that you can't help but believe is your soul mate. Someone who has all of your best interests at heart; someone handpicked for you, to help you grow and be the best person that you can be. Jared is all of this for me.'
George Clooney may have held hands with his ex girlfriend behind Stacy Keibler's back.
George Clooney rumored to split from girlfriend Stacy Keibler.
George Clooney would like to finally introduce to you his new hawt bixch.
George Clooney's girlfriend Stacy Keibler instagrams picture of abs: 'Look- I'm not pregnant!'
Interesting how one can go through one once in a lifetime soul mate to the next in a half a minute, but I'm not a concubine in search of a meal ticket greater purpose in life.
But here's the best part, according to the nypost the wedding came as a shit surprise to visiting family members who had all flown down to Mexico on the presumption that they would all be holidaying (and Jared paying, cause he's a rich business person which probably caughts' Stacie's rearview mirror guard).
Continued our collective pride and joy: 'We both felt strongly that our 'love day' should be intimately special, and that's exactly what it was,'
'It was a blend of romance, tranquility, natural beauty, bonding and overwhelming love.'
Which is all another way of saying George Clooney's trick money finally at last deposited for services rendered…