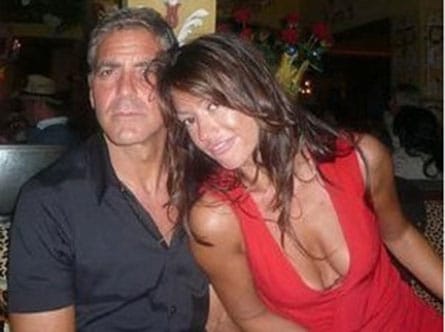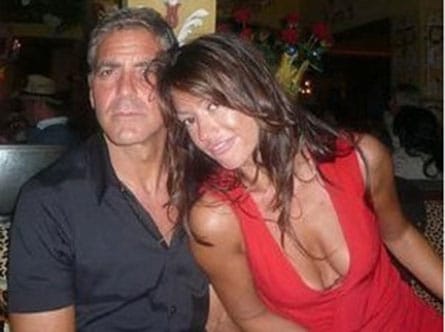 Kids it's time to spin the bottle and figure out if George Clooney and Stacy Keibler and his shiny piece are still an item or not? Depending on whom you ask that shit is way over but if you ask George he reckons it's all hunky dorey even if there are spies telling the tabloids that the actor got cozy with a former girlfriend whom he used to date back for a split second back in 2007. Yes George gets to date often because one can never be short of a shiny piece to bring to a red carpet event.
According to InTouch Weekly our hero was out in London partying it up with former flame Monika Jakisic who he used to swap saliva with and then some before dumping her for something more savory.
According to a source (cause it is always a source) spies saw George and Monika holding hands and not giving a hoot if anyone saw them. Did you hear that Stacy?
"They seemed to be having a great old time together. He didn't seem to care who saw them. He was being openly affectionate. Lots of people were going up and saying hi to George — he didn't leave Monika's side. The place was packed but he didn't seem to care who saw them inside the club. They were laughing and looked very comfortable together and were there 'til very late.
He left first and she left after him. He didn't want to be photographed with her. Maybe she was a shoulder for him to cry on — not that he looked like he was crying. He looked very happy — they were smitten with each other."
Smitten, shoulder to cry on, let me leave first and then you follow after…hmm. Who wants to raise their hand George has played that role before?
For his part George has responded to the new rumor by slamming the tabloids:
"The story is made up. I wasn't holding anybody's hand. Stop trying to sell magazines by creating scandal that isn't there."
So now we will all have to wait along with Stacy if George is now going to dump her ass but at least Stacy can have the knowledge that she will be one of billions that George has had to dump. But let's face it getting dumped for a throwback from 2007 is a bit de classe.
Isn't it time ladies you printed a business card that said something like this:
'I used to be George Clooney's girlfriend too but now I any which way the wind blows….'