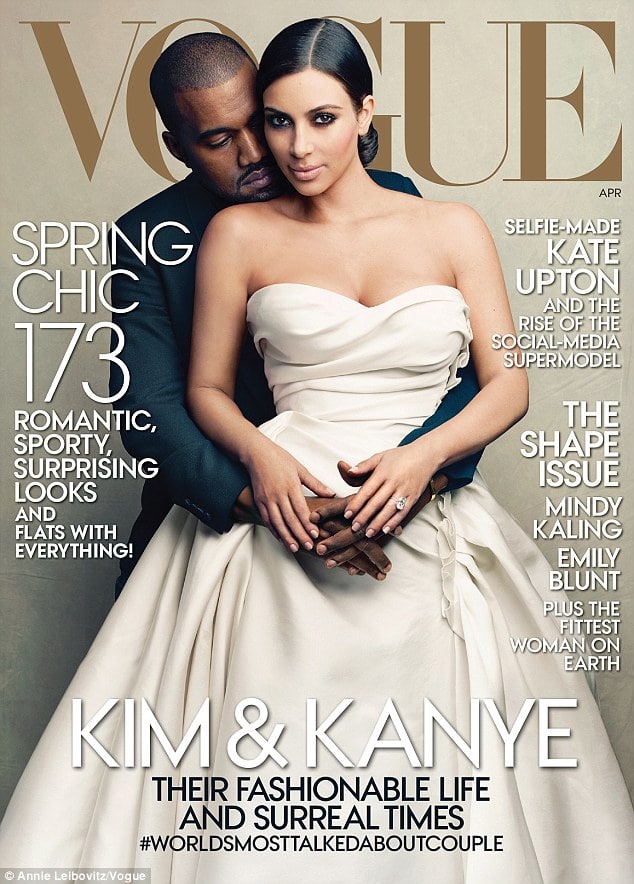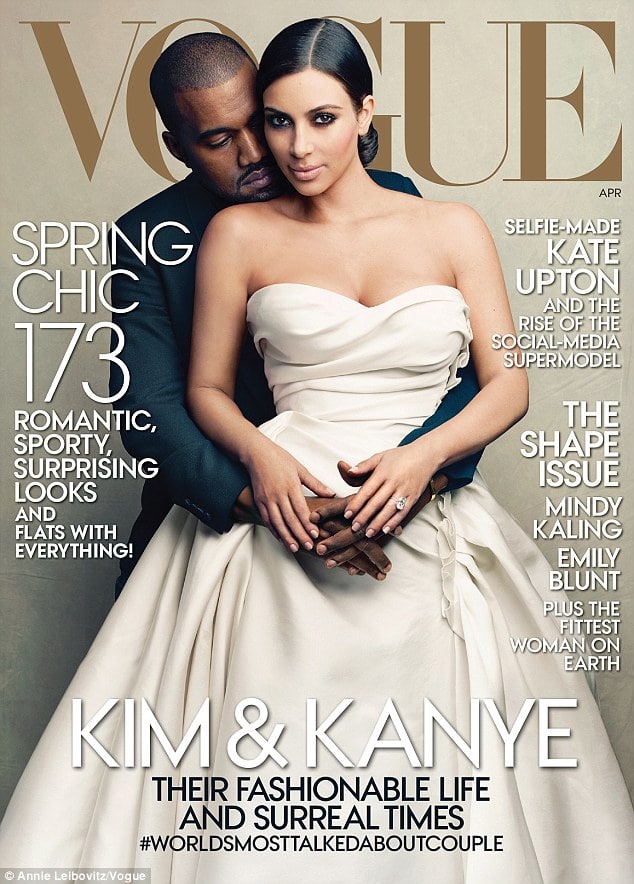 Kim Kardashian Vogue cover wet dream has finally arrived. The end of American Vogue's preeminence?
Kim Kardashian has finally arrived in the high bracket leagues that she has been pining for ever since pimp momma, Kris Jenna purportedly orchestrated her daughter's releasing of her sex tape which brought the reality media whore to our collective attention.
Anna Wintour on why Kim Kardashian got Vogue cover: 'I am a sell out' 
Gracing the April edition of Vogue America with fiancé, rapper Kanye West (who is believed to be good friends with the outlet's editor in chief, Anna Wintour) the omnipresent media whore waxes poetic lyricism as she wantonly stares down the camera lens and into our hearts for high stakes validation.
It has been said the unabashed media whore has sought to appear on the cover of the American stalwart ever since she came into prominence, the mere suggestion of which would reportedly bring Anna Wintour to great wheezing fits of nausea.
It is not exactly understood why the editor in chief who has a reputation of being a cultural gate keeper has this time chosen to allow the monstrosity that is Kim Kardashian to grace the eponymous journal's cover except to suggest that Kanye West kept prodding her with puppy eyes until she relented.
Of course the more conspicuous question, especially over at Conde Naste is by succumbing to the mundane and downtrodden is whether the journal's pedigree by intimation has taken a major tumbling down the aspirational blocks or whether the outlet felt compelled to relent in the hope of remaining tabloid relevant as the media world all round has to reinvent itself given our society's vigilant absorption of the trite and banal?
Lamented one commentator on the web: I thought Vogue was a pile of crap for YEARS now. This cover with these two tools just validate that. Oh well, Anna is making bucket loads of money, so what does she care about class and integrity?
And lest you think Kim Kardashian is ungrateful or presumptuous, the diva has gone out of her way to tweet the following grovel homage to Anna Wintour who by all accounts must be dousing the pangs of disbelief with a few extra lumps of raw sugar in her morning tea:
'This is such a dream come true!!! Thank you @VogueMagazine for this cover! O M GGGGGG!!! I can't even breath!'