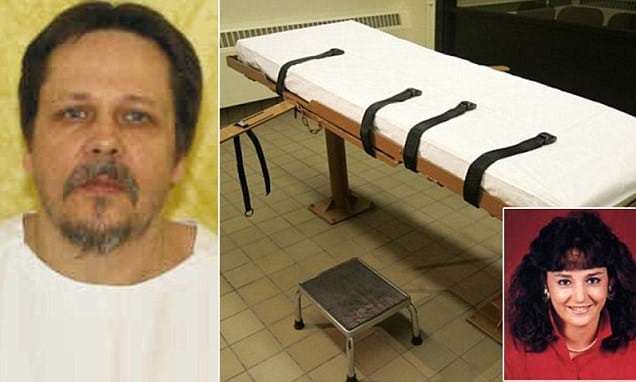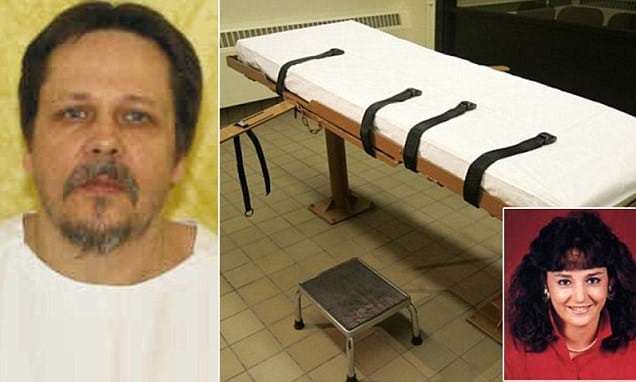 Was the Dennis McGuire execution ethical?
Dennis McGuire a condemned Ohio killer gasped, snorted and snored during a prolonged execution a controversial never before tried lethal injection this morning.
The death row inmate took 15 minutes to die, more than the customary 2-10 minute death that normal lethal injection takes with the never before used technique.
The air hunger execution came to be adopted after supplies of the state's previous drug dried up. Prior to succumbing, McGuire proclaimed that he was on the way to heaven.
Told the man from within a small, windowless room in the Lucasville correctional facility: 'I'm going to heaven, I'll see you there when you come.'
McGuire was pronounced dead at 10:53 a.m., after one of the longest executions since Ohio resumed capital punishment in 1999.
The 53-year-old's attorneys had argued against using intravenous doses of the sedative midazolam and the painkiller hydromorphone, claiming the combination would cause 'air hunger' – where someone experiences immense terror and agony as they strain for breath during the execution.
McGuire's snorts and gasps, and prolonged death, suggest he may have indeed suffered the medical phenomenon and could prompt Ohio officials to review using the drug cocktail.
Leading into his execution, Dennis McGuire thanked his 22-year-old victim's family for a letter he received from them, referring to 'kind words' that meant a lot. Joy Stewart's sister Carol Avery wrote in the note that she had forgiven him but also insisted 'it is time – past time – for him to pay for what he did to my sister.'
He opened and shut his hands as if waving to his adult son, daughter and daughter-in-law sitting a few feet away and a full minute later he stood up and told them, 'I love you, I love you.'
McGuire's family sobbed as they watched him slowly die. At one point, his daughter exclaimed 'Oh my God' as she observed her father's final moments.
McGuire's final meal taken yesterday consisted of roast beef, a cream cheese bagel, fried chicken, potatoes two ways, butter pecan ice cream and Coca-Cola. He skipped a shower and breakfast this morning and had a final visit with his children before the scheduled execution.
On Wednesday, he arrived at the place of execution and spent the night writing letters, phoning his mother and sister and visiting with his son and daughter.
McGuire's attorneys had warned the convicted rapist and murderer would likely suffer from air hunger, which sees a person experience immense pain and terror as they strain to catch their breath before they die. They argued sentencing him to this manner of death was unconstitutionally cruel.
The state presented evidence from its own expert disputing the air hunger scenario, and saying McGuire waited far too long to file the appeal, which came earlier this month.
A federal judge sided with the state and gave the green light for the execution to proceed.
At the request of McGuire's lawyers, Judge Gregory Frost on Wednesday also ordered the state to photograph and then preserve the drugs' packaging boxes and vials and the syringes used in the execution.
Richard Dieter, executive director of the anti-capital punishment Death Penalty Information Center, told NBC News after the execution that McGuire's gasps may lead the state or the courts to rethink the new drug combination.
Told Dieter: 'This doesn't sound like it was a complete disaster but they don't want anything that even has the appearance of someone suffering or a delay in death being carried out,'
 'This is going to be looked at with good concern.'
It is not unheard of for an execution to take 15 minutes or even longer, but Dieter told the network that if the prisoner was physically struggling much of that time, it could be seen as cruel.
'This sounds like more discomfort than they would want in carrying out an execution,' he said.
McGuire was sentenced to die for the 1989 rape and fatal stabbing of Joy Stewart in Preble County in western Ohio.
Stewart's slaying went unsolved for 10 months until McGuire, jailed on an unrelated assault and hoping to improve his legal situation, told investigators he had information about the woman's February 12, 1989, death.
His attempts to blame the crime on his brother-in-law quickly unraveled and soon he was accused of being Stewart's killer, according to prosecutors.
More than a decade later, DNA evidence confirmed McGuire's guilt, and he acknowledged that he was responsible in a letter to Governor John Kasich last month.
'One can scarcely conceive of a sequence of crimes more shocking to the conscience or to moral sensibilities than the senseless kidnapping and rape of a young, pregnant woman followed by her murder,' Preble County prosecutors said in a filing with the state parole board last month.
McGuire's attorneys argued he was mentally, physically and sexually abused as a child and had impaired brain function that made him prone to act impulsively.
'Dennis was at risk from the moment he was born,' the lawyers said in a parole board filing. 'The lack of proper nutrition, chaotic home environment, abuse, lack of positive supervision and lack of positive role models all affected Dennis' brain development.'
Regarding the contentious lethal injection McGuire was given, the victim's sister wrote: 'There has been a lot of controversy regarding the drugs that are to be used in his execution, concern that he might feel terror, that he might suffer.
'As I recall the events preceding her death; forcing her from the car, attempting to rape her vaginally, sodomizing her, choking her, stabbing her, leaving her to bleed out: I know she suffered terror and pain. 
'He is being treated far more humanely than he treated her.'
Ohio lost its previous execution drug when the manufacturer put it off limits for capital punishment.
Intrigued by the general sensibility towards McGuire's onerous death I came across this comment that seemed to sum many commentator's thoughts on the web:
I really don't care if he suffered. In fact I have no problem with anyone suffering during a death penalty execution.