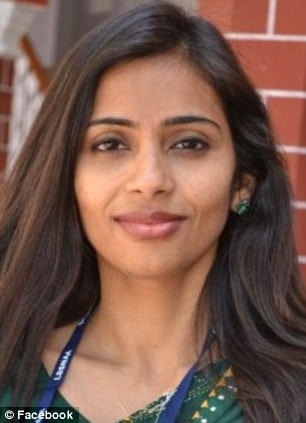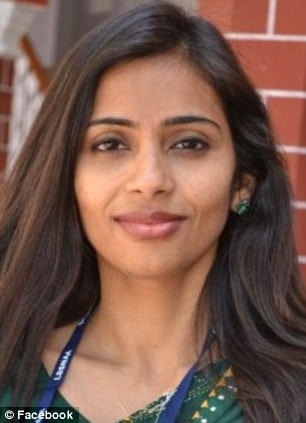 Should the US apologize to Devyani Khobragade?
US Attorney Preet Bharara tells Devyani Khobragade was given special treatment.
Devyani Khlobragade, Indian diplomat called cops on maid cause she was extorting her.
It seems Indian politicians have taken extreme offense to the way Devyani Khobragade, 39, India's deputy consul general in NY went on to be recently treated by cops after allegations that she had abusing her housekeeper.
Claims of hostile reproach of Khobragade has now led to Indian politicians canceling meetings with US delegations, going on to assert that the diplomat's treatment was 'despicable and barbaric,' after the Indian diplomat was forced to succumb to a strip and a cavity search.
The 'barbaric' treatment of the Indian diplomat came after Devyani Khobragade was arrested in relation to claims that she kept a live in house keeper a virtual slave.
The diplomat's arrest took place last Thursday at the gates of her daughter's top tier Upper East Side school.
At the time Khobragade was charged with submitting false documents to obtain a work visa for her Manhattan housekeeper. Prosecutors tell the maid received less than $3 per hour for her work.
From there, Khobragade was handcuffed, strip-searched, swabbed for DNA and held in in a cell with sex workers and drug addicts before posting $250,000 bail.
In an email she went on to send to higher ups in India, Khobragade went on to reveal she 'broke down' during the experience and that she felt she was treated like a common criminal.
The email has since been published by Indian media and led to national scorn at the way she was handled.
Told part of the email:
'I broke down many times as the indignities of repeated handcuffing, stripping and cavity searches, swabbing, in a holdup with common criminals and drug addicts were all being imposed upon me despite my incessant assertions of immunity.' 
Since her arrest, Khobragade has been transferred to her country's Permanent Mission to the United Nations – ensuring her complete immunity from US prosecution.
India's national security adviser has since condemned her treatment as 'despicable and barbaric'. Protests have broken out in India over her treatment, where there is fury that she was subjected to the humiliation of a cavity search.
As Deputy Consul General, Devyani Khobragade enjoyed 'consular immunity' which is limited and related to her official duties. Under the 1963 Vienna Convention on Consular Relations, consular officials can still be arrested for acts committed outside on official job functions.
Despite Khobragade's arrest many have gone on to criticize the diplomat for allegedly paying her housekeeper a salary of $3.31 an hour, well below the minimum wage. Why that is the case is not entirely sure, assuming that indeed the housekeeper was indeed paid such a paltry rate.
In reacting to the snub of Khobragade,  the Indian government has threatened to downgrade privileges of American diplomats there as well as announcing a freeze on duty-free alcohol.
Yet in understanding why Khobragade's purported mistreatment by cops has led to such disconcert by Indian officials, one ought to bear in mind Khobragade's lofty connections.
Her father is a powerful Indian government official and her uncle once served as India's deputy consul general in New York.
Her father, Uttam Khobragade, told the TimesNow TV news channel yesterday that his daughter's treatment was 'absolutely obnoxious.'
Khobragade's husband, a philosophy professor, is believed to have stayed in India while she took up the post in New York as deputy consul general for political, economic, commercial and women's affairs  with their two children, aged six and three.
She has been painted as a fighter for women's rights. 'I come from a family where our parents always encouraged that women must be economically independent,' she told The Indian Panorama newspaper in April. An assertion that many might come to wonder duly about given the current fracas.
To date prosecutors in New York have told that Khobragade claimed she paid her Indian maid $4,500 per month but actually paid her less than the U.S. minimum wage. The house keeper is said to have been paid circa $600 a month.
In order for diplomats and consular officers to get a visa for their personal employees, known as an A-3 visa, they must show proof that the applicant will receive a fair wage, comparable to employment in the U.S.
In defending Khobragade,  Indian diplomatic corps have argued that the diplomat's salary of approximately $6,500 a month would not have allowed her to hire a housekeeper on the U.S. minimum wage — about $4,500 a month. Then again one wonders why feels the need to hire a housekeeper if one can not afford to fairly pay for such services, unless of course mistreatment of such personnel is of little or no consequences to those in positions of power and authority.
Khobragade has pleaded not guilty but if convicted, Khobragade faces a maximum sentence of 10 years for visa fraud and five years for making a false declaration.
Her case quickly became a major story in India, with politicians urging diplomatic retaliation and TV news channels showing the woman in a series of smiling family photos.
The case touches on a string of issues that strike deeply in India, where the fear of public humiliation resonates strongly and heavy-handed treatment by the police is normally reserved for the poor.
For an educated, middle-class woman to face public arrest and a strip search is almost unimaginable, except in the most brutal crimes.
Perhaps what has vexed Indian politicians is  treatment and pay of household staff, which is largely seen as a family issue, off-limits to the law. Something that portends to the degree of prejudice prevalent in Indian society. An attitude that may pass muster in India but one that can not be acted on in the US given guarantees that all employees irrespective of their faith, color of skin, gender or social cache be afforded their due rights. A point of view notably absent in Indian society despite pledges to address such disparities.
Nevertheless, Indian political leaders from both the ruling party and the opposition have taken the handling of the diplomat to heart and have refused to meet with the U.S. congressional delegation in New Delhi. The Indian government said it was 'shocked and appalled at the manner in which the diplomat had been humiliated' in the U.S.
That said one wonders if Indian politicians ought to be shocked by the way the housekeeper has been purportedly said to be treated. Then again perhaps such matters might not resonate with higher ups in India….
'It is no longer about an individual, it is about our sense of self as a nation and our place in the world,' Khurshid told parliament, whose usually fractious members showed rare unity on the issue ahead of elections due to be held by May next year.
Nevertheless, aware that attention has now been cast on labor practices, Indian External Affairs Minister Salman Khurshid said work conditions of Indians employed in U.S. consulates in major Indian cities would be revised, to root out any violations of labor laws.
Reacting to claims that India provides too many unilateral perks to U.S. diplomatic staff, Khurshid has also now reined in some of these as of today, saying passes giving consulate staff access to airport lounges had to turned in by Thursday.
Similarly on the web, many have gone on to claim that US diplomats in India are afforded many privileges and treated with the highest caliber, something that may have treated Indian politicians who feel that Khobragade ought to be afforded. Then again the issue does raise concern as to the way diplomats are in fact treated, ought to be treated and why for that matter the US snubbed the Indian diplomat….?
And then there was this comment on the web that made me wonder as well:
I shall be MOST interested to see just how much the U.S. Embassy staff in India do indeed pay their own staff of Indian citizens.