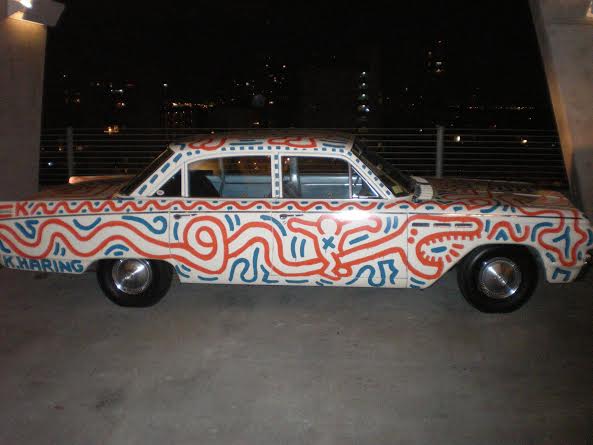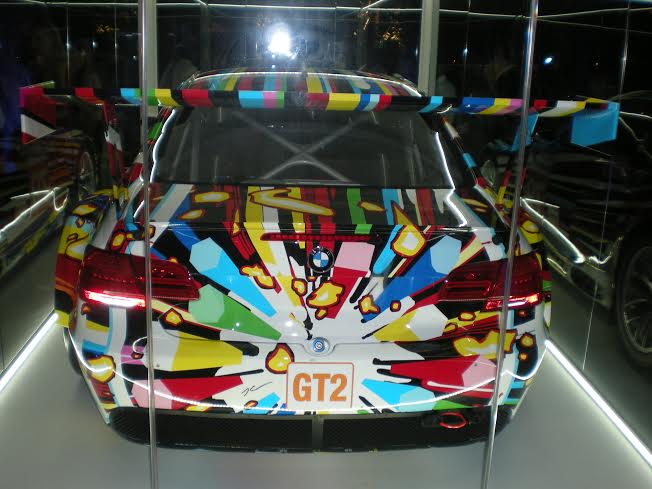 Art Basel Miami 2013. Here we go again…
Our party posse crept stealthily into Miami's South Beach over the MacArthur Causeway as the moon rose over Biscayne Bay looking like a half-rotten mango. Our intended destination, Art Basel Miami 2013, the  international art expo that has metastasized into a party slash ultra  klusterfuck where the worlds of international art, fashion, music, film and commerce randomly collide with occasionally  amusing results.
Our first stop was the Ferrari art car party at  1111 Lincoln Road, the parking garage/mall/event space. The centerpiece was, of course, the mild hybrid LaFerrari supercar, a formidable phallus on wheels doing 0-60 in G force-numbing 2.8 seconds. For the under-endowed art-collector crowd, this beast boasts 963 horsepower (who needs penile enhancement?).
Also on display were a Keith Haring painted vehicle and other assorted art-enhanced cars. The crowd was a diverse mix of wealthy art nerds, models/hos-on-the-make and motorheads. The Veuve Clicquot flowed liberally, but the only solid sustenance provided was popcorn (insuring lots of tipsy behavior). You'd think that the Ferrari folks might have provided better nibbles to halo a seven-figure conveyance — perhaps something less French and American like a 15-year-old Barolo and white-truffle pizza. Sure the car's the star, but viewers should drool over the car and not from starvation.
Waking the next morning in the Portofino Tower's master  pad of our congenital host and pal J.J. who has done well indeed in the complex world of private equity, we managed to make a brief appearance at the ungodly early 10 a.m. Art Basel press reception. There we were welcomed and watered by the powers that be and the ubiquitous sponsor and unfortunately named Ruinart champagne. Beating a hasty retreat to the satellite and slightly puny Ink Art Fair VIP reception at the Dorchester, we happily  hoovered delicious Cuban sandwiches and chugged Perrier water 'til noon.
After a much needed afternoon spa session at the Portofino, our entourage trundled up to the Miami Botanical Gardens where BMW was revealing the Jeff Koons painted art car. The neo-psychedelic  dream machine, a GT2 which actually raced at Le Mans, is one of a long line of "art cars" from the likes of Calder, Lichtenstein, and Warhol first commissioned in the '70s. Karolína Kurková, the waning super model, handled the reveal after an intro from the affable Koons and numerous BMW brass. Afterwards we fed ravenously at venerable Joe's Stone Crab with securities lawyer extraordinaire Jake the Snake and hobbled back to JJ's for a long winter's nap.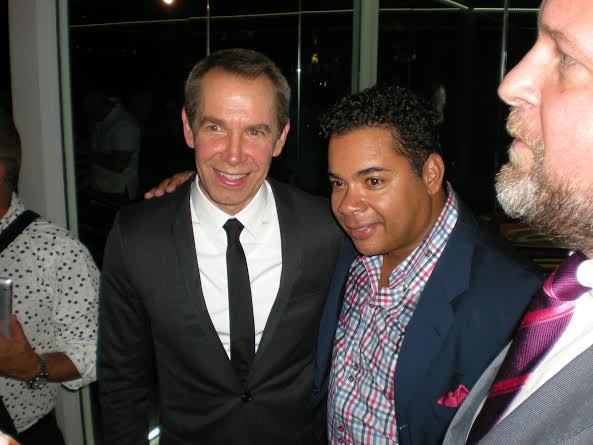 Up at noon and off to the Raleigh Hotel for the Louis Vuitton Collection Icon honoring the visionary architect, designer and photographer Charlotte Perriand.  The door is tight and the crowd is Euro-fab with gaggles of press and fashion dames smoking heavily and inhaling stone crabs, barbecued lobster, and filet mignon.  We ate our fill and chatted with a dubious gentleman from Houston (he showed us his fake CBS credential) pumping us shamelessly for upcoming party information.Finally, we exited, our vision slightly clouded as if emerging from an over- chlorinated swimming pool.
The evening commenced at yet another BMW event at the SLS Hotel touting the i8 supercar (am I at Art Basel Miami or the New York Auto Show?). This futuristic plug-in hybrid looks Sci-fi sculptural developing 600 horsepower and going a miraculous 95 miles on a gallon of petrol.
We attempted Aby Rosen's annual sit down dinner at the W Hotel and were told politely that there were no seats available for our entourage (which now included Hollywood power producer John J. of Family Guy and Ted fame). As consolation, we were invited to return in a hour for the apres dinner fete. Thanks but no thanks, as we  were summoned to the penthouse of the Delano Hotel for the launch of Jankele Swim for Art Basel. There were no less than 12 stunning models circulating on the roof, decked out in extraordinary custom made swimsuits that evoked the golden age of old Hollywood. Our producer pal was a happy man as he collected digits and dreamed of the proverbial casting couch.
First stop on Friday was the super dry store press reception on Lincoln road. The British based company combines vintage American styling with Japanese graphic design( think Godzilla T-shirts). More importantly, the event was nicely catered by Sushi Samba and the press was gifted with bathing suits and flip flops (spare no expense).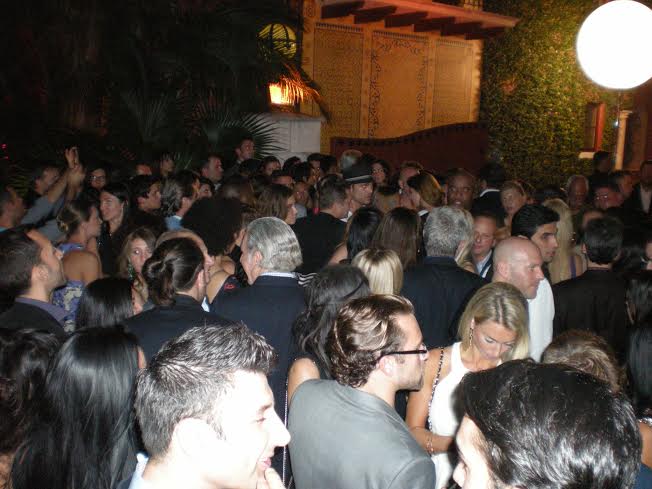 Next we piled into JJ's vintage Hudson Hornet and motored to tony Hibiscus Island for the niche Media/ Merrill Lynch fete. Since our friend Jason Binn left the company to launch Dejour Magazine, the level of amenities (everything in trade deals) has severely diminished. Jersey born cover-girl/actress Zoe Saldana (remember the films Avatar and Crossroads) was the guest of honor. She sat with husband/ pretty boy/dishwasher/ artist Marco Perego in a bodyguard protected VIP area looking bored. At the exit, we were presented with a commemorative crystal Merrill Lynch Bull (the perfect re-gifting item for the broker who lost us all that cash on JDS Uniphase).
Finally, we tootled to nouveau riche Star Island (home of Diddy, Russian oligarchs et al) for the abortion that was the Haute Living Magazine party. The mag, allegedly funded by dirty laundered Russian Rubles, is the consummate aspirational blowjob. At the door of appropriately dubious and cash challenged former tycoon Thomas Kramer' estate, members of the press and other invited guests were told that the only way to gain access was a $200 contribution to an unknown charity (perhaps the Kramer home for unwed mothers), Furthermore, the folks who did get in were a motley crew of club kids, unsavories  and ladies of the night. We beat a hasty retreat from the ugly mob that was forming. A friend who ponied up the $200 reported that chef Todd English cooked, Jaden Smith spun, Lenny Kravitz hung, Thomas Kramer letched.and Dom Perignon flowed. Home James…
Saturday began at the Sagamore Hotel Brunch. This annual station of the cross draws a broad ranging crowd of fossilized retirees, schnorrers (hi Shaggy, Arnie, and Drew) and actual artists, dealers and collectors who stood in long lines awaiting crepes sipping mimosas.
Follow the Leder, Marc Leder that is to the Sun Capital billionaire's Saturday night blowout at his posh new digs at Ocean House South Beach.
Marc, a nice Jewish Boy from Long Island, NY became a playboy of the western world when he divorced wife Lisa for allegedly schtupping a tennis pro.  His Art Basel fete took place around the pool, where guests guzzled Vieuve  and the host was surrounded by numerous hotties hanging on his every word, hoping to land this very big fish. We have attended several of his Hamptons blasts over the years where he was unjustly pilloried by the local government and Page Six for having too much fun. We can report that he is a gentleman and a most excellent host. Party on Marc.
The evening concluded at yet another congenial billionaire' s extraordinary shindig. Michael Saylor encored his annual monster soiree at historic Villa Veccchia on the inter-coastal. Guests caught the water launch near the Fontainbleau  Hotel and made a red carpet entrance to the magnificent property.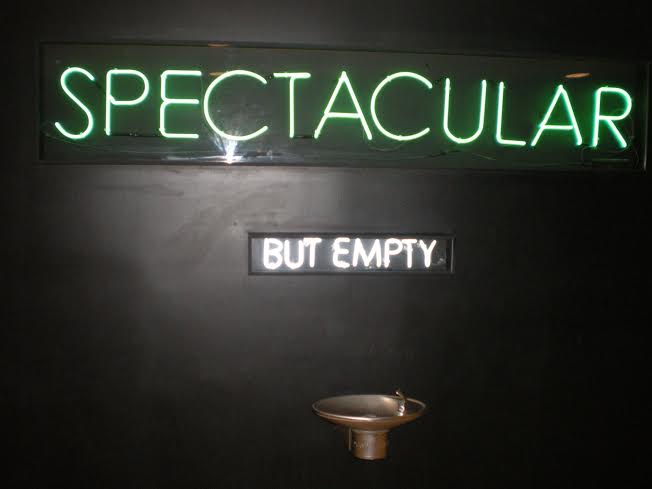 Miraculously the event was sans guest list ensuring a large beggars banquet. The alcohol flowed endlessly and when food ran low, the host ordered hundreds of pizzas to keep the hungry hordes happy and soak up the booze. Scantily clad lovelies in spandex danced to a smokin' hot band and the evening could not  be dampened by occasional squalls. We left around 2AM with guests still arriving. Hey Saylor! Thanks again.
Sunday dawned at the Fairchild Tropical Gardens Brunch in Coral Gables. This  very civilized and waspy affair is the traditional conclusion of our Art Basel Miami meanderings. Uptight guests looked askance at our gal pal's rather sexy and revealing attire. No matter, this is Miami. Get over it. We contented ourselves walking among the exotic foliage and admiring the magnificent flora and fauna.
Our Gulfstream chariot awaits at the private airport and we muse wistfully on the future delights of Art Basel Miami 2014 dreading the cold winter winds of NYC.