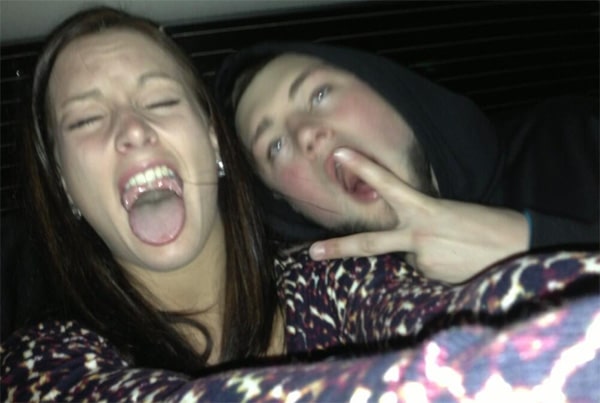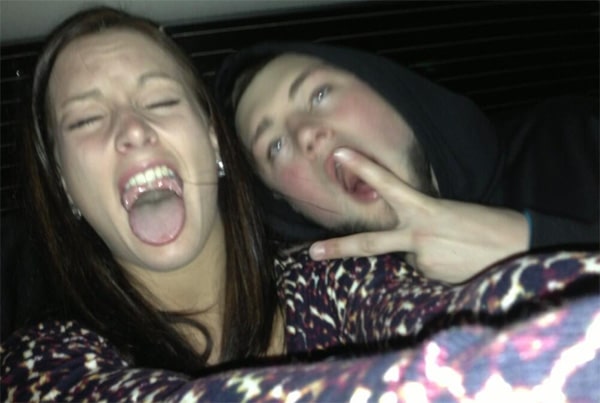 Alyssa Jo Lommel, the eponymous tequila shot Minnesota college student may go on to pay for her hard partying adventures by forfeiting her limbs after being left on a freezing porch after a night of hard drinking.
The 19 year old now stands the very real prospect of losing not just her hands but her feet after going on to experience extreme hypothermia after being left unconscious on a local Duluth, Minnesota, home porch.
In fact her condition may have been even more critical had she not been discovered the following morning by passerbys after spending hours outside in subzero temperatures.
At the time of her discovery, 9.30 am, the young woman was said to be unconscious and her limbs oversized due to the extremities and splitting.
It all came to be after having been dropped off at her college home earlier circa midnight after having spent an evening with friends doing tequila shots.
At the time of her unconsciousness Alyssa Jo Lommel went on to be exposed to local temperatures which had dipped to -16- 18 with a -36 windchill.
That said the girl's parents who are prepared for the worst have told that things are a 'very much wait and see thing.'
Told the girl's mother, Teri Lommel: 'We are hopeful that her body will heal itself.'
The parents have since set up a page on CaringBridge.org offering updates on Alyssa Jo's condition.
Lori Lommel has since written that doctors have been testing the circulation in her daughter's limbs in order to reduce swelling and hopefully avoid amputation.
Alyssa Jo Lommel has already undergone surgery to restore blood flow to one of her arms, and she may require skin grafts to repair the damage to her extremities.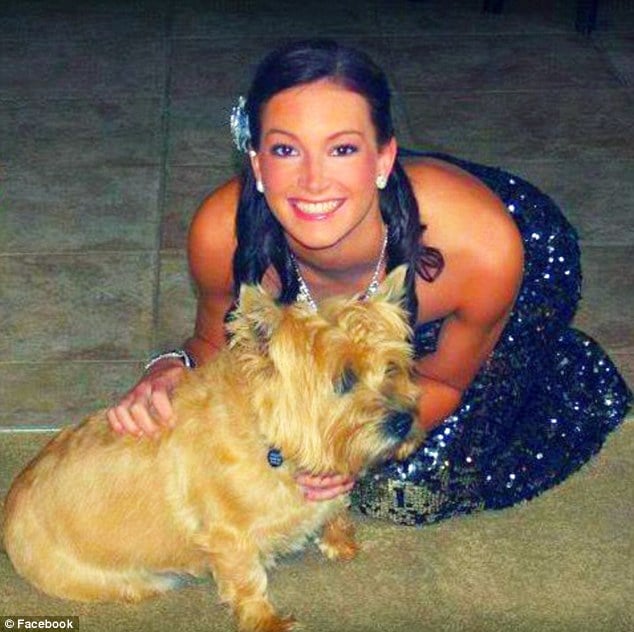 The Lommels also posted a note on the site thanking the couple who spotted their daughter lying on the porch.
Told the note: 'We owe Alyssa's life to you two. Our family cannot be grateful enough that you happened to see her,'
She could not have survived much longer out in the elements. You two will forever be in our hearts and prayers and we cannot thank you enough for what you did.'
This past Friday, Alyssa Jo Lommel, a sophomore majoring in psychology and sociology, posted a message on her Twitter account that said, 'tequila shots tonight.'
The posting interestingly has since been removed.
According to Minneapolis Star Tribune citing a police report, the 19-year-old got home from work at around 5.30pm and had a bagel for dinner.
The UK's dailymail goes on to tell that around at around 10.30pm, she and a roommate went to a friend's house, where they played a drinking game with cards called 'ride the bus.'
The report states that the underage girl lost several rounds and had to take shots.
Police reported finding a Twitter message on Lommel's account stating: 'Yum Yum 10th shot of tequila,' Grand Forks Herald reported.
Her roommate told police that Lommel had been taking medication for an unspecified illness every day.
At around 11pm, the sophmore was picked up by her friends, who drove her home and dropped her off outside her front door at 810 Woodland Avenue, but left without waiting for her to go inside.
Alyssa Jo's companions later told investigators that the 19-year-old was tipsy but not intoxicated to the point of falling down. She was said to have her keys and cell phone in her possession.
Two of Lommel's roommates returned home a few hours later without noticing that the girl was not there. Neither reported hearing knocks on the door.
Then at around 9.30am the following morning, Ellen Johnson and her boyfriend, Sam Salo, were driving down the street when she spotted a woman lying on a porch and called police, Duluth News Tribune reported.
Officers who responded to the scene at 808 Woodland Avenue discovered Alyssa Jo lying unconscious on her right side.
To date authorities have told it was an unfortunate incident and all parties had meant well, although many on the web have gone on to question the judgement of friends who did not wait for the young woman to enter the house before driving off given the severe extremities at the time and the fact that the 19 year old was inebriated, something that they ought to have been aware of.
Alyssa Jo Lommel has all her fingers and toes amputated. Yet to be told.