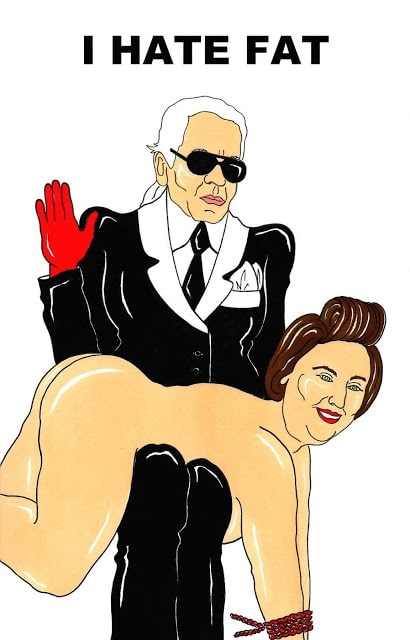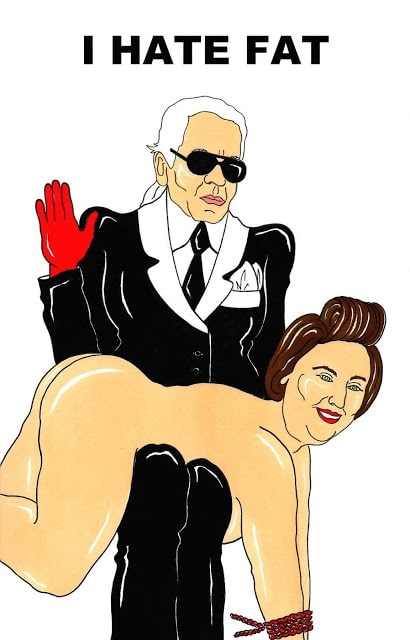 Karl Lagerfeld has found himself in another shit storm as it is now being said that the eponymous designer faces the potential of legal action in France after telling that 'nobody wants to see curvy women on the runway.'
Making matters worse, cause Uncle Kunty always knows best, Karl Lagerfeld went on to  recently blame 'fat people' and their associated illnesses for his adoptive country's vast public health deficit. A claim that health statistics in France do not necessarily corroborate.
That said, one group who is finding disdain for Uncle Kunty's views, 'Belle, Ronde, Sexy et je m'assume' (Beautiful, Rounded, Sexy and fine with it) now want to the fashion keiser held accountable by having him fined.
Of course one also wonders if one can be fined for having a viewpoint no matter how disingenuous some may find it. At least in a democratic society such as France.
In wishing to address their concerns, spokesperson Betty Aubriere went on to tell local media that they have a filed a defamation complaint, telling that Chanel's creative director had displayed a 'discriminatory' attitude towards those with fuller figures.
During one recent television outing, Karl Lagerfeld went on to tell that 'nobody wants to see curvy women on the runway.'
A statement which may or may not necessarily be true but speaks volumes when fashion's greatest purveyor testifies it as fact and the end and the be all, serving to implicitly influence the fashion world's perception of 'curvy' women and by extension their general ability to attain work in the field.
Reacting to Uncle Kunty's most recent claim, Betty Aubriere went on to tell the following:
'These insults by celebrities must stop. We're sick of it.
'There are a lot of young girls who don't feel comfortable in their skin, and for them to hear comments like that is terrible for them.'
She went on to tell 'it might only be Lagerfeld who finds us offensive today, but who will be it be tomorrow?'
From there Betty Aubriere went on to tell that to date 500 people had signed a petition against Karl Lagerfeld's views, many of them happening to be plump young women who felt stigmatized.
Added the spokesperson: 'We've received messages from poorly young girls who are victims of insults at school and sometimes have to leave school.
'We want to see preventative measures in schools so that people understand that curves are often an illness or are genetic, and are not a symptom of poor diet.'
The latest fracas comes after Uncle Kunty went on last year to disparage British pop singer Adele, when he went on to tell: 'Adele is a little bit too fat, but she has a pretty face and a divine voice.'
At the time the statement went on to cause wide criticism amongst many who felt the singer was being singled out and essentially demonized because she did not fit into the fashion icons preferred vision of 'beauty.' A comment perhaps out of context considering that Adele's profession is that of a singer and not a glamorized fashion model beholden to hyper stringent body shapes. Or rather lack of.
Responded the singer at the time: 'I've never wanted to look like models on the cover of magazines. I represent the majority of women and I'm very proud of that.
'I'd lose weight if I was an actress and had to play a role where you're supposed to be 40 pounds lighter, but weight has nothing to do with my career.'
Despite the latest outcry one ought to wonder to what degree coronary diseases and heart problems, which are the leading causes of death in most Western societies are necessarily related to being 'curvy' and whether thin people are just as susceptible to such ailments? Of course one ought not forget that for a period Uncle Kunty carried a rather large amount of heft himself and one naturally wonders if his outspoken criticism of 'curvy' people has a lot to do with a latent feeling of unworthy towards himself….?
above image found here