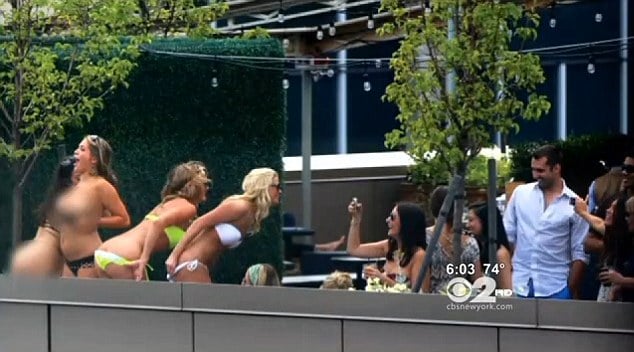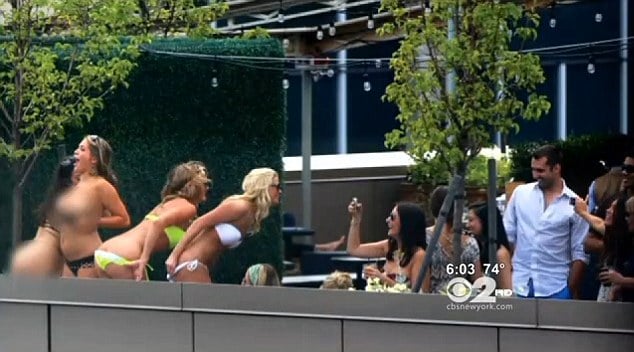 Bikini clad revelers at trendy NY hotel top pool parties driving neighbors mad.
Kids it's this time of the year that we go all go back to kvetching about annoying fraternity and Euro trash types having too much of a good time at your expense. The location, as usual, the Gansevoort Park Hotel where the weekly summer parties have come to annoy nearby midtown residents once again…
Explains the UK's dailymail; The pool on the roof of the Gansevoort Hotel on Park Avenue near 29th Street has become a summer weekend hot-spot for late-night, booze-infused parties that started off just being too loud for the neighbors but escalated into something that resembles a Girls Gone Wild video.
Because of all the noise and alleged indecent exposure, the 29th Street Neighborhood Association have demanded that the hotel's liquor license be revoked.
What do you think kids? Is everyone having too much fun at nearby neighbor's quaint Sunday afternoon expense?
Told Neighborhood Association chairman Mario Messina: 'They're coming to the city to be wild. They don't care who is living there. It's the wrong place and the wrong time to do something like that.'
The neighborhood association also says it has met with hotel management repeatedly, but that the hotel has not done enough to address their concerns.
Who else is not taking the summer fun in stride happen to be hotel guests (where rooms nonchalantly begin at $400 a night).
Told one family with kids on the hotel's review board:
'The main problem we had was the swimming pool — pool bar and area — which was ridiculously over-crowded and pretty much unsuitable for children after lunchtime.'
Then again a bit of cursory investigation may have had this family thinking of checking into a more family friendly orientated venue too one wonders…
Tells gothamist: Neighbors say the guests are just too naked to be tolerated, and they've been snapping photos of rooftop revelers baring their breasts and bottoms (you know, for evidence). And naturally, these parties aren't just naked—they're also loud. "Sometimes in the middle of the night you hear a lot of screaming, like maybe drunk people," a neighbor told CBS News. Well, it's certainly a possibility!
Which is just another way of saying if you're rich enough to live within the cross hairs of the brouhaha you're probably rich enough to make for a Sunday afternoon get away too.