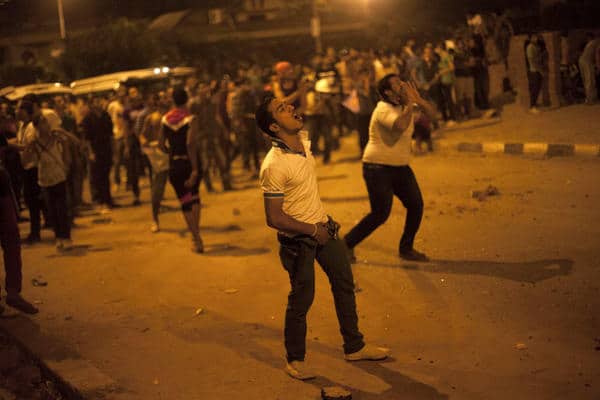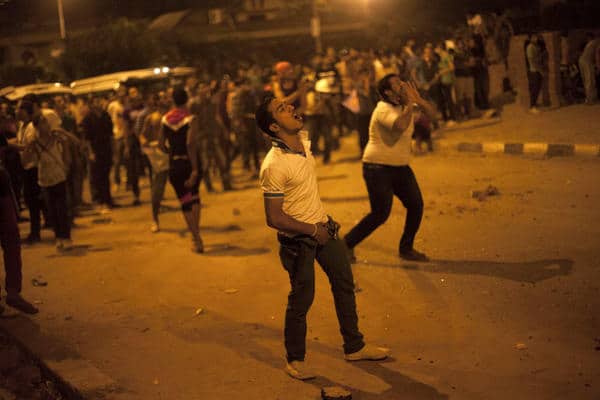 Is this the tape showing the rape of Dutch Journalist in Egypt?
Egyptian women are just sex objects. Assaults skyrocket.
Egyptian sheikh reckons children as young as 9 years old should be able to have sexual relations.
Sixteen year old Egyptian girl shot dead after resisting groper.
A Dutch female  journalist has been raped whilst she was covering events in Egypt during that nations call to have the current President Mohammed Morsi and his backers removed during mass protests.
The news came to light after a journalist reporting for the "Egypt 25″ news channel affiliated with the January 25 revolution, shared the incident on her Facebook page Sunday: "A Dutch journalist in Tahrir was raped by men who dub themselves revolutionists. Her condition is severe and she is hospitalized."
The hospital where the woman was admitted went on to say that the woman had been raped by up to 5 men, treated for lacerations before eventually being released after a number of days of observation.
Local media outlets have also gone on to note that the woman was interviewed after Egypt's Prosecutor General Talaat Abdallah ordered his staff to go to the hospital to hear the woman's story and reveal the circumstances behind the violent attack against her.
Ynetnews goes on to note Egyptian women face sexual harassment and assaults on a daily basis. During and after the revolution, the outlet goes on to tell that there have been a number of case of foreign reporters who were sexually assaulted, such as Sonia Dridi and Lara Logan.
Sexual harassment is not new within the conservative Egyptian society, yet the extent of this phenomenon has grown and become more violent and visible. The Egyptian law defines assault as a crime, but not sexual assault.
The United Nations claimed last month that it holds some 25 sexual assault reports that occurred in Tahrir Square, the center of the protest, in one week in the beginning of the year. The organization dedicated to preventing sexual assaults, whose activists patrolled Tahrir Square, reported 19 assaults on January 25 alone – the second anniversary of the uprising against Hosni Mubarak. Among the reports was also a case of a girl who was raped by a sharp instrument.
According to a report by the UN, the Cairo Demographic Center and Egypt's Institute of National Planning, more than 99% of the hundreds of Egyptian women who participated in the study reported  some kind of sexual harassment or assault, from verbal abuse to rape. The women came from seven of Egypt's 27 provinces.
This morning women's activists said at least 43 females, including a foreign journalist, suffered organised sexual assaults by gangs of men in recent days.
Presidential spokesperson Ehab Fahmy yesterday went on to hold a press conference in which he directly addressed the rampant sexual harassment and sexual violence that plague the protests. According to Daily News Egypt, Fahmy said that "any Egyptian condemns these shameful acts" and added that such vile behvaior was not characteristic of the Egyptian people.
Meanwhile as the turmoil within Egypt continues, Egypt's military has given its president and his opponents a 48 hour 'last chance' to reach an agreement to 'meet the people's demands' before it intervenes in the dispute.
Observers have gone on to note that the massive protests come at a time when the ruling Muslim Brotherhood has gone on to not only alienated liberals and secularists by seeking to entrench Islamic rule but has also angered millions of ordinary Egyptians with economic mismanagement.
That said one is at a loss why the street demonstrations were used as a guise to rape the Dutch journalist and whether the brutal act against her really just mirrors the discord, conflicted stasis of a patriarchal society that still sees women's rights as an incidental by product as it seeks to once again re affirm its rights and general economic viability in new rounds of demonstrations.
In the end one wonders how serious the new attempts at reintervention and equanamity really are…
above image found here
.