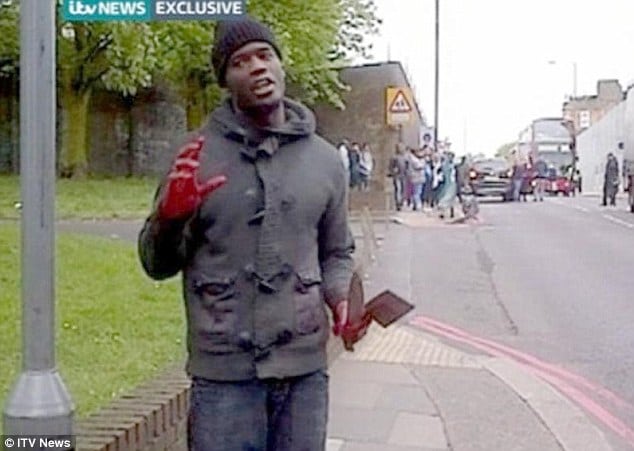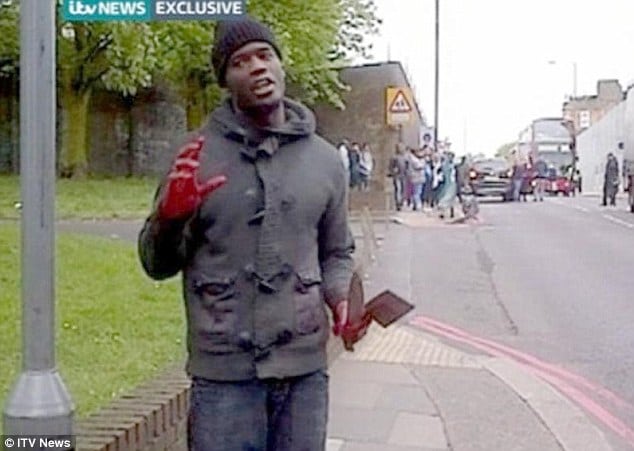 Here is a video of Michael Adebolajo dancing over Lee Rigby's dead body
Michael Adebolajo: A misguided sense of narcissism?
Ingrid Loyau-Kennett is the woman who calmed down the London soldier hackers.
London Soldier hacked: Is there more to come?
In the aftermath of yesterday's London hacking of a soldier questions are being asked as to what inspired the actions of the man who has since been identified as 28 year old Michael Adebolajo.
Tells the UK's dailymail: ….at 15 he descended into a world where he was consumed with Jihadism and later joined several Islamist groups banned in Britain because they are considered so extreme.
His parents, whose home in Lincolnshire was allegedly raided by terror police today, moved him away from east London because they feared he had been radicalised.
'He was a Christian. A nice, normal guy. All his friends were white and used to go round to each other's houses all the time', a former friend told the Evening Standard.
'He started getting involved with Islam aged about 15 or 16, and that is why his parents moved him away out of the area. It is utterly shocking to see what he has done. It's unbelievable.'
What is known about Michael Adebolajo  is that he is a British citizen of Nigerian descent was born in Lambeth, South London, in 1985, and then moved to Romford, East London.
In 2003 he converted to Islam and began calling himself Mujahid, which means a Muslim who takes part in jihadist actions, while at Marshalls Park School.
Reiterates the UK's dailymail:
Adeboloja is said to have joined the banned Islamist organisation Al Muhajiroun, which promotes Sharia law, and other controversial groups banned under the Terrorism Act.
He is said to have been well-known on the Islamic extremist scene in Britain and may have been stopped or arrested on his way to join the militant Islamist group Al Shabaab in Somalia in the past year.
However, the two suspects are not thought to have links to terror groups based in Nigeria, such as the jihadist militant organisation Boko Haram.
And perhaps in getting a clue as to what may have inspired Adeboloja there's this via Anjem Choudary, the former leader of Al Muhajiroun who regarded the suspect to be a  'pleasant, quiet guy'.
'I knew him as Mujahid. He attended our meetings and my lectures. I wouldn't describe him as a member [of Al Muhajiroun]. There were lots of people who came to our activities who weren't necessarily members.
'He was a pleasant, quiet guy. He converted to Islam in about 2003. He was just a completely normal guy. He was interested in Islam, in memorising the Koran. He disappeared about two years ago. I don't know what influences he has been under since then.'
Which of course raises the question what exactly did influence his course of behavior?
Choudary suggested that it was possible the attack was motivated by British Government foreign policy in the Muslim world, and that this may not have been an isolated incident.
He said: 'We are a very politicised community. Some people are angered by draconian measures such as 'stop and search' and restrictions on free speech.
'There is a chance of more lone wolf attacks happening again due to these draconian measures.
'If you want to condemn anyone it's the British Government, this is one death but if you add up the number of people killed and tortured by the British government it is in the millions.'
What though was of note is how witnesses went on to say that he appeared as if he was on drugs of sorts and one is inclined if that may have also preempted his behavior?
Witnesses said the terror suspects then 'hacked and chopped' at his body like 'crazed animals', before dragging his corpse into the middle of the road leaving a trail of blood.
As they apparently tried to decapitate him they were chanting 'Allah Akbar!' – an Islamic phrase meaning 'God is great' – and yelling 'this is what God would have wanted'.
Others have gone on to assert that it was a revenge attack:
The secretary of the mosque in Braintree, Sikander Saleemy, told Channel 4 News: 'The police said it's too early to try and link it to what happened in Woolwich, but those of us who were here feel that it was some sort of revenge attack. It was clear from the man's behaviour. We absolutely condemn what happened in Woolwich, but it had nothing to do with us.
'It was an appalling act of terror – but it wasn't "Islamic" in any way. I wish it wasn't described like that, because sadly people will now start to blame Muslims.'
Could Michael Adebolajo have simply been attempting to serve the notion that he was a kind of freedom fighter and be the one to install validation and consciousness to the plight faced in the Muslim world? Or was this in the end a man's attempt to install fear in the community as a last desperate resort to avail himself of his own fear?