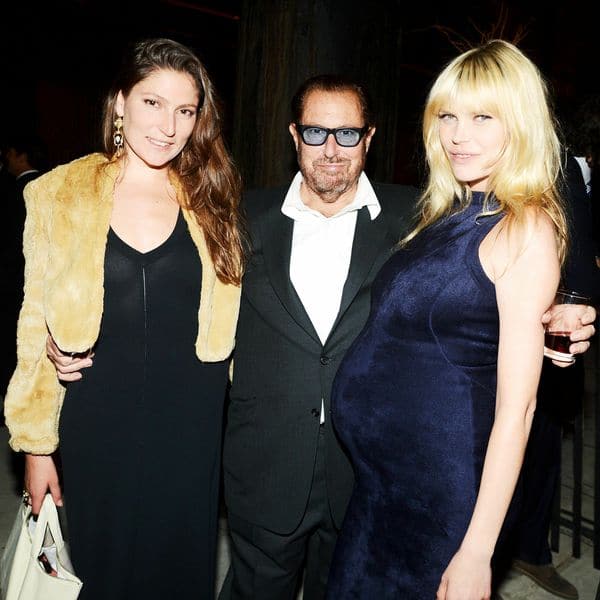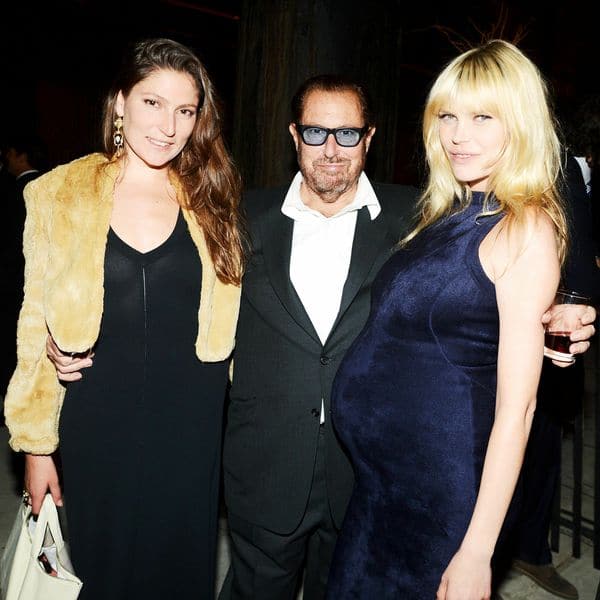 NYC. Williamsburg, Brooklyn April 30.
Creative Time honored renowned artist, filmmaker, and New York cultural fixture Julian Schnabel at its 2013 Spring Gala, held at Williamsburg's iconic Domino Sugar Factory. Nearly 600 guests attended  the Gala—one of the most anticipated art-world events of the year.
Guests began their evening with specialty cocktails by Patron and Ultimat and hors d'oeuvres on the banks of the East River, with spectacular views of the Manhattan skyline, the River, and bridges, and then enjoyed an indoor feast of seasonal Tuscan fare designed by chef Mario Batali, paired with Ruffino Riserva Ducale and Lumina Pinot Grigio wines.
Upon his chic late arrival the artist himself (with pregnant girlfriend May Anderson in tow) was accosted by paparazzi who busily snapped away.
Asked how he felt about being honored the artist sheeply retorted "Yep, I guess it feels good."
Asked about the influences behind some of the large images hanging inside the former sugar factory, Julian Schnabel once again uttered 'Yeah I guess you noticed too,' before being further swarmed by the paparazzi and well wishers.
The evening continued with a tribute to Julian by Dick Cavett, special performances by Laurie Anderson, Francis Farewell Starlite, and Loren Kramar, and a night of dancing to tunes by DJ Nick Cohen. A limited-edition set of dinnerware, designed by Julian in collaboration with famed porcelain-maker Bernardaud, was available for purchase during the event, with all proceeds benefiting Creative Time.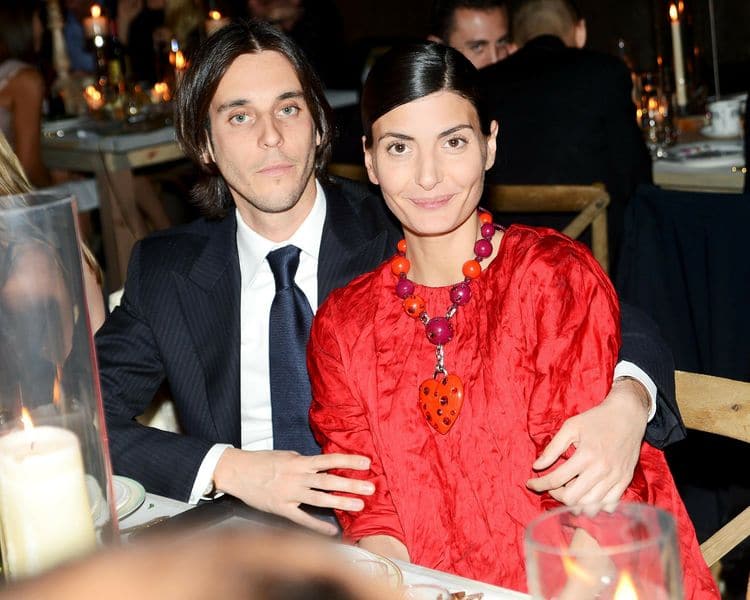 The Gala went on to raise close to $1.1 million for Creative Time's programming initiatives.
Guests included Waris Ahluwalia, Laurie Anderson, Donald Baechler, André Balazs, Mickey Boardman, Marianne Boesky, Marco Brambilla, Fred Brathwaite, Bob Colacello, Casey Fremont Crowe, Ingrid Sischy, Bruce High Quality Foundation, Dick Cavett, Lyor Cohen, Cecilia Dean, Beth Rudin DeWoody and Firooz Zahedi, Kyle DeWoody, Lex Fenwick, Urs Fischer, Katie Ford, Nikolai Fraiture, Audrey Gelman, Thelma Golden, Agnes Gund, Albert Hammond, Jr., Rashid Johnson, Nanette Lepore, Patrick Li, Theophilus London, Helen Marden, Jon Neidich, Shirin Neshat, Bill Powers, Alban de Pury, Renee and Mark Rockefeller, Jeanne Greenberg Rohatyn, Vladimir Restoin Roitfeld, Samantha and Aby Rosen, Ippolita Rostagno, Cynthia Rowley, Tom Sachs, Lauren and Andres Santo Domingo, Julio Santo Domingo, Lola Montes Schnabel, Stella Schnabel, Vito Schnabel, Tony Shafrazi, Anne Slowey, Josh Smith, Mario Sorrenti, Melissa and Robert Soros, Liz Swig, Doug Starn, Mike Starn, Donald Sultan, Eve Sussman, Jamie Tisch, Kate and Jed Walentas, Gus Wenner, Theo Wenner, Lily Johnson White and Sandy White, Lindsey Wixson, Arden Wohl, Brian Wolk and Claude Morais, Jason Wu, Dustin Yellin, Olivier Zahm, and Ali and Jeff Zalaznick, among many others.
GALA CHAIR | Creative Time Board Member Liz Swig

HOST COMMITTEE | Azzedine Alaïa, Laurie Anderson and Lou Reed, Antony, Mario Batali, Bruce High Quality
Foundation, Dick Cavett, Bob Colacello, Giada Colagrande, Willem Dafoe, Katherine Farley and Jerry Speyer, Urs
Fischer, Diane von Furstenberg, Mark Grotjahn, Agnes Gund, Al Pacino, Aby and Samantha Rosen, Lola Montes
Schnabel, Stella Schnabel, Vito Schnabel, Josh Smith, Sir David Tang, The Strokes, Calvin Tomkins and Dodie
Kazanjian, and Jeff Zalaznick.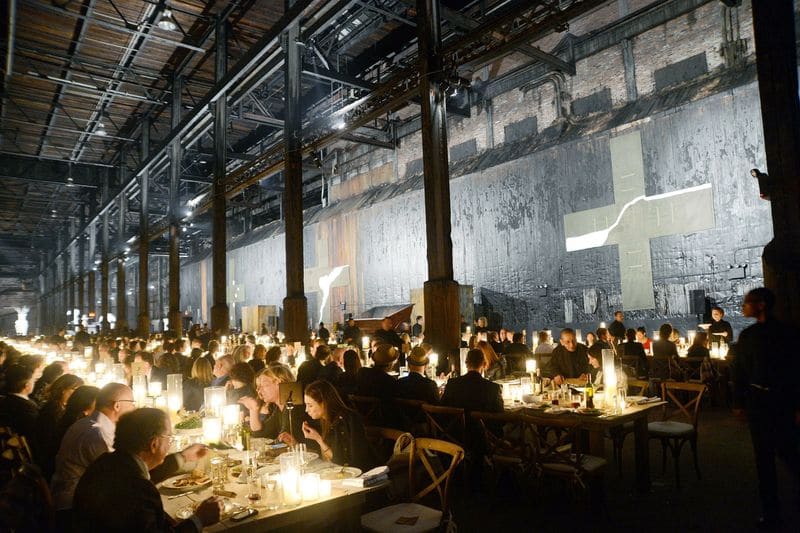 ABOUT THE BERNARDAUD COLLABORATION | In honor of its 150th anniversary, celebrated French porcelainmaker Bernardaud has partnered with a variety of multi-media artists, including Julian. The artist's Ogni angelo ha il  suo lato spaventoso ("Every angel has its terrifying side"), a specially designed, limited-edition, porcelain placesetting, was available for sale onsite at the gala. 100% of the proceeds from sales, which totaled more than $40,000, benefited Creative Time. Bernardaud will continue to donate 10% of the proceeds of the plate sales through the month of May. 
SUPPORT | In-kind support generously provided by Two Trees Management, Patrón Tequila, Ruffino, BYCO, Works
in Progress NYC, and Uber.
ABOUT CREATIVE TIME | Since 1974, Creative Time has presented the most ambitious art in the public realm. The New York-based nonprofit has worked with thousands of artists to produce more than 350 groundbreaking art projects that have ignited the public's imagination, explored ideas that shape society, and engaged millions of people around the globe. For more information, visit www.creativetime.org.