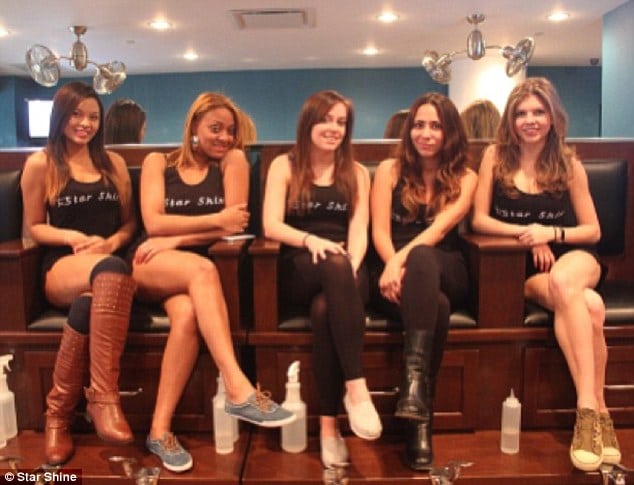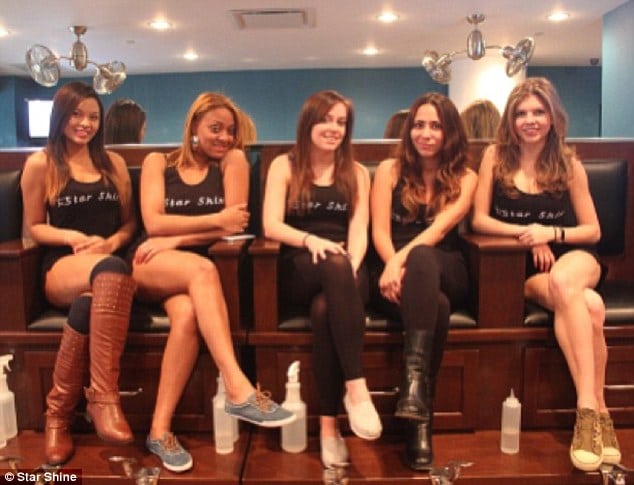 Here's a novel concept that is catching on rather well down there by Wall st (40 New st to be exact). It involves scantily clad hawt bixches being employed to shine and buff up the overwhelmingly male clientele's shoes, most of whom happen to be Wall st bankers and traders.
The brainchild of Kevin White Jr, 30, who launched the operation with his father not just three weeks ago, Star Shine has already seen an overwhelming positive reaction.
Tells White: 'We thought it could be a successful twist. Finance guys are so busy and stressed, this is a chance to unwind and relax. It's definitely an upgraded shoe-shine experience.'
Goes on to tell DNAInfo.com:  Star Shine markets itself as a destination for Wall Street lawyers, traders and bankers looking for the ultimate shoe shining experience provided by a team of five statuesque ladies dressed in tight, low-cut tank tops and matching skimpy shorts.
Far from the basic shoe shine stand of yesteryear run by an unkempt street urchin or a balding middle aged man, White's establishment is packed with such upscale features like large leather chairs and flat-screen TVs.
And how much does all the good shit cost you wonder?
'….single shoe shine, which takes about five minutes, costs $7, but customers who come in before 11am can get their footwear buffed for $4.'
Of course one might also have to factor in the tip that one ought to suspect might be a bit heftier than the one normally offered to fat balding shoe buffers, not that too many of the male clientele will mind as one imagines they happily look for that spare $20 bill…
Yet not everyone it seems is necessarily thrilled with the new venture with some claiming the venture essentially gives men the license to ogle at women as they go about the busy task of 'buffing' up their shoes. Some have even gone the extra mile and gone on to call the service degrading. Then again one can assume everyone is there of their own free will and accord and whilst taking off one's top and dancing for dollars may be one way to earn a living for some women it may be just enough to gently buff and apply and smile and wait for that very handsome tip.
Aren't you glad sexism is now a convenient way to have your shoes buff clean too…?