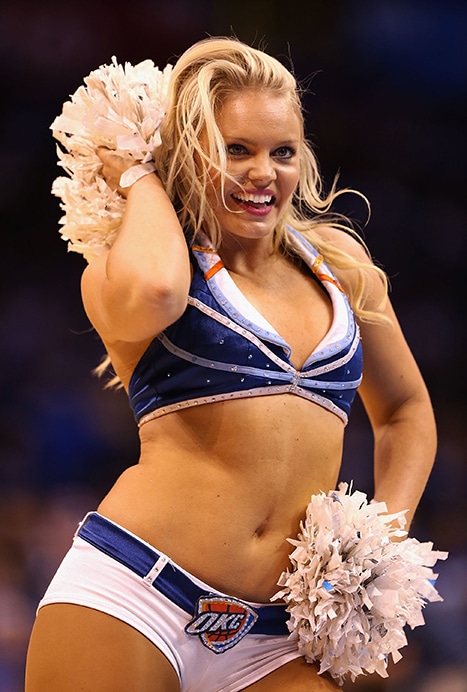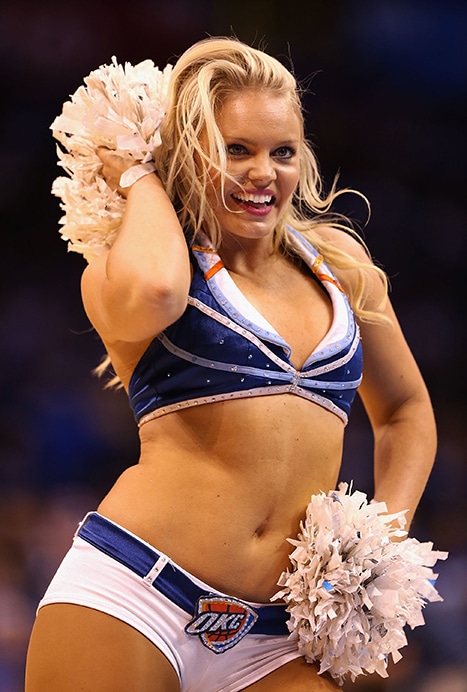 Blogger calls NBA Oklahoma City Thunder cheerleader, Kelsey Williams chunky and mayhem ensues.
CBS has announced that they have gone on to fire CBS Radio 610 digital content manager, Anna-Megan Raley (who goes by the pen name of 'Claire Crawford') after an article she wrote asking readers to opine whether NBA Oklohoma City Thunder cheerleader, Kelsey Williams was too chunky caused reader backlash.
In their reasoning, CBS has gone on to say that in their assessment they have come to see the article which they soon removed after wide dissent as a 'hateful attack.'
The firing came after outraged commenters on CBS Houston called for Anna-Megan Raley to be fired, with many writing, 'This is a disgusting waste of an article,' News 9 has now reported that she has indeed been let go.
At the time when the article was published, Raley posited a poll asking visitors to the site to weigh in on Kelsey WIlliams, who has cheered for three-years on the squad, and was pictured in the article 'at a bad angle' argued some commenters.
Three choices were offered: 'She has the perfect look to be an NBA cheerleader,' or 'She could use some tightening up in her midsection,' and finally, 'She has no business wearing that outfit in front of people.'
At the time the post garnered a degree of reader hostility including these remarks:
'You should be ashamed of yourself… This is disgusting… You're cruel. GROW UP.'
Added one commentator,
Kathy Koehn Hessel
: '
I find this offensive and rude. How would you like this written about someone you know or care about?'
Another commenter remarked:
'It's a hateful attack on a beautiful, talented, motivated woman, and articles like this contribute to the degradation of society, as well as the negative body image so many women struggle with BECAUSE of media outlets. Claire, shame on you.'
Originally, the article calling the cheerleader "too chunky" concluded with the writer further questioning Kelsey Williams' appearance.
"Either way, I wish she had a little more up on top, if you know what I mean…" the story concluded.
However, this was apparently changed and replaced with a sentence complimenting Kelsey Williams' on her looks.
Since the article first came out Kelsey WIlliams has remained positive on her own Twitter account.
On April 24, she tweeted: 'To be womanly always, discouraged never.'
She later thanked her fans for their support, tweeting: 'We wouldn't know what blessings were if we didn't go through trials. Thank you to EVERYONE for the compassion and love today. I'm in awe.'
Nevertheless there have been some in the media, this author included who have gone on to wonder whether Anna-Megan Raley was heavy handedly treated as members traditionally have enjoyed the privilege of freedom of expression even in the face of reader dissent who find some subject matter not always in the best of taste. Which of course brings up another question, was Raley choosing to affect a provocative dialogue with respect to women's body image or was she in the end just disguising her thoughts as an underhand attempt to have a go at the cheerleader that she may have personal bitter reservations towards? Something that many commentators wondered given Raley's own failure to once make it as a cheerleader during tryouts.