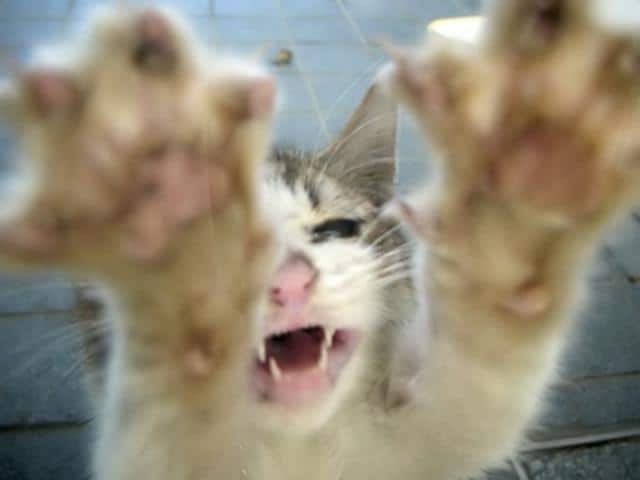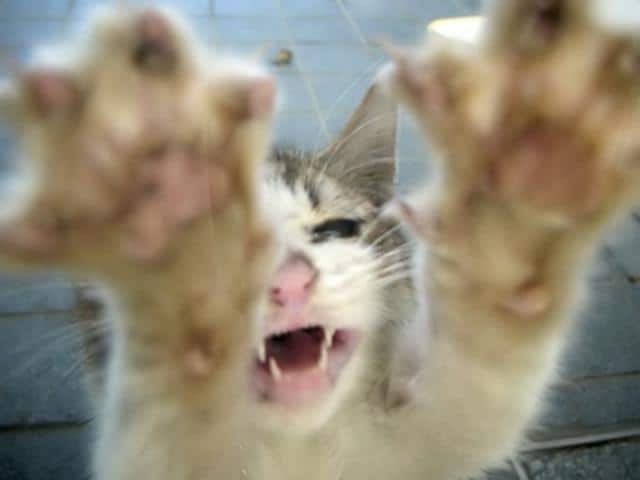 Illinois cat attack beware! An Illinois man is suing his neighbor, who may also happen to be his wife (yes this sh*t is nice and weird) after her cat allegedly attacked him whilst looking after at his home.
William Baxter says he was caring for Christine Bobak's cat in April 2011 when the feline attacked him unprovoked as he tried to feed it.
Baxter has gone on to recently file a lawsuit against Bobak, seeking $50 000 on each two accounts.
Tells southtownstar: According to the lawsuit, the cat "viciously attacked, bit and clawed" Baxter, who claims to have suffered serious injuries from a bite on his ring finger and the clawing of his left arm.
Bobak should have known the cat was dangerous, the lawsuit states, as it is believed to have attacked at least one other person before.
The lawsuit states that both Baxter and Bobak lived in Homer Glen, Illinois, at different residences when the alleged attack occurred.
But there may be more to the story.
Tells the Chicago Sun-Times: 
Two separate Facebook pages show a 'Billy Baxter' and a 'Chrisy (Christine Bobak) Baxter' as a happily married couple. 
William Baxter's attorney in Chicago, Michael Shammas, declined to comment on the case.
'That's not something I really want to get into and talk about,' Shammas told the Star. 'I'd rather keep it in the courthouse.'
Baxter and Bobak could not be reached for comment and no one answered the doors at their residences when a Star reporter tried to investigate the case further.
A court date is set for July 10, according to Baxter's lawsuit.
One also has to wonder if there is also an impending divorce date around the corner too? Or is this just a scheme to get at some home insurance money by the couple?
And then there was this comment that made this author wonder as well:
Please tell me this is a April Fools joke. Seems to me that Americans sue at the drop of a hat for a quick easy payday, At the end of the day the only real winners are the lawyers who get get paid to take the case on.
above image found here