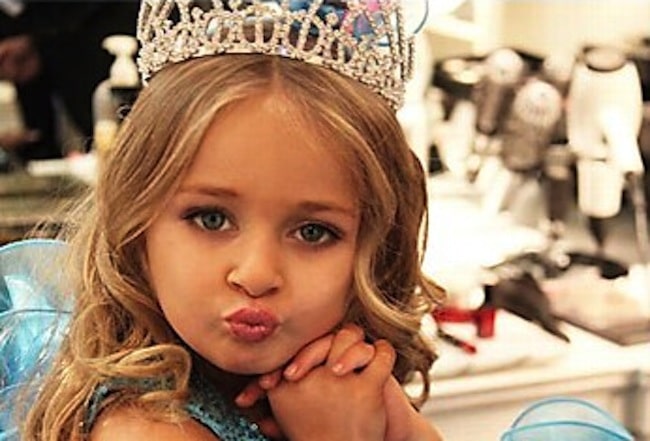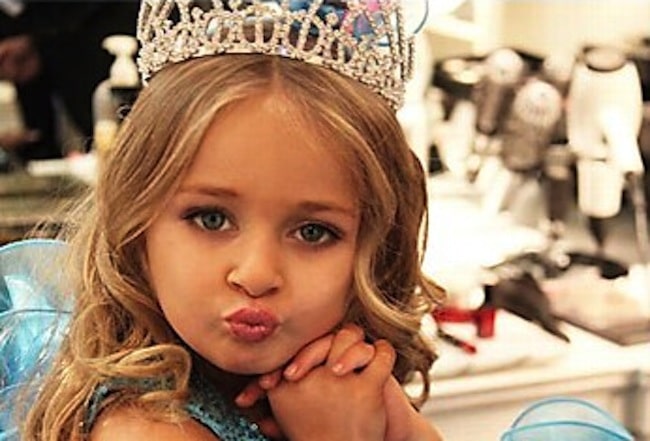 Are these 6 year old toddlers a tad too dressed up? Turning 6 year old toddlers into pageant queens…and fashion accessories.
Out of the UK's mirror this weekend comes the story of beauty pageant Queens, but not just your ordinary pageant beauty but rather that of one six year old girl, Isabella Barrett who in a short time in her foray of beauty pageant participation has managed to find herself becoming a multi millionaire. Which is another way of saying not bad work if you can get it, then again that too may present a dilemma of sorts as well…
mirror.co.uk: Thanks to wins in beauty pageants which led to stardom on hit US TV reality show Toddlers and Tiaras, she now has own range of jewellery and has already raked in more than most of us could dream of earning in a lifetime.
Instead of clamouring for trips to McDonald's or the sweet shop, Isabelle likes to order filet ­mignon steak or lobster from room service in five-star hotels and her wardrobes are stuffed full of custom-made $10,000 dresses and ­designer shoes.
"What's not to like about being a millionaire?" she says. "I'm a superstar, I have my own ­jewellery line and I just love being the boss. I never lose at anything and ­almost every pageant I enter, I win. But what I love more than anything is shoes. I have over 60 pairs."
60 pairs? Not bad going right? And such a defiant attitude. Not one loss. Kids tell me that Isabella Barrett doesn't remind you of most six years old out there cavorting in lala land? Then again who has time for their childhood and innocence when there is so much at stake…?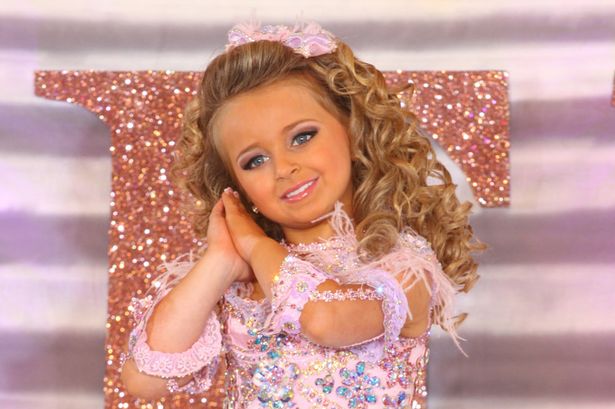 The mirror goes on to describe how Isabelle's mother first entered her youngest daughter at the age of four in a local beauty pageant contest, ended winning it and since then has gone on to on a relentless winning streak. Which probably isn't a bad thing considering that Isabelle's mother was suddenly now kicking an added rush at seeing her daughter living out her dreams, assuming that a six year old has aspirations of being a beauty glitz winner in the first place.
Explains Susanna: "Now she owns her own business and already has enough money in the bank to secure her future."
Which of course augments the question for whose sake was Isabelle really competing for anyway?
"At a certain point at the start when Bella was winning all the time, I'll admit I did get caught up in it all and had to stop and say to myself, 'Am I doing this for myself or for Bella?'"
"The whole pageant world is so addictive, especially when your daughter wins so much. But then I looked at Bella and realized she was loving it every bit as much as I was."
Despite pledging not to spoil Isabella, Susanne and her husband Antonio have nonetheless gone on to treat their daughter with some of the niceties of her spoils. Spoils that most six year olds and then again most of us could ever dream of….
But Isabella's biggest extravagance is room service at luxury ­hotels. "We travel so much to enter pageants, she really has developed a taste for five-star hotels and loves being waited on," says Susanna.
"She can go a little crazy though and once ordered $2,200 [£1,450] worth of food. It's ­never cheeseburgers and fries, always the most expensive like filet mignon and lobster. I know it seems pompous, but to us it's just funny and part of her personality."
Fillet mignons and lobster? Kids tell me you don't remember also looking for a finely lacquered toothpick when you were six years old to wedge out those lobster bits too?

Goes on to tell Susanna: "I'll admit when it comes to Bella's wardrobe, there is no expense spared. That means a voice coach, make-up artist, regular spray tans, hair extensions, acrylic nails and even made-to-measure fake teeth which cost us $500.
"Each performance needs to be like a Broadway show and every single outfit is custom-made, costing up to $10,000. We must have spent around $50,000 entering pageants in the last two years alone, but look where she is now. It's been more than worth it."
But is it really worth it? Then again who are we to judge how Isabelle and her family go about living their life? After all she's simply living every little girl's fantasy. Right?
The mirror goes on to extol how Isabella's success has led to her launching a lucrative jewelry line, 'Glitz girl,' which has really seen Isabelle pull in some major bank.
Reflects Susanna further: "The next goal is to be a Disney star and knowing Isabella she will get what she wants. She would love to be the next Selena Gomez."
Insists Susanna: "I am not a pushy ­parent, I just help Isabella achieve her dreams. If she told me tomorrow she didn't want to do it any of it any more, then that would be fine."
And what does Isabella Barrett herself think?
"I love all of it and never want to stop. I just love being a star."
What do you think kids, does Isabella really love being a star? Or is she simply the new breed over achiever six year old that you and I wish we were once too?