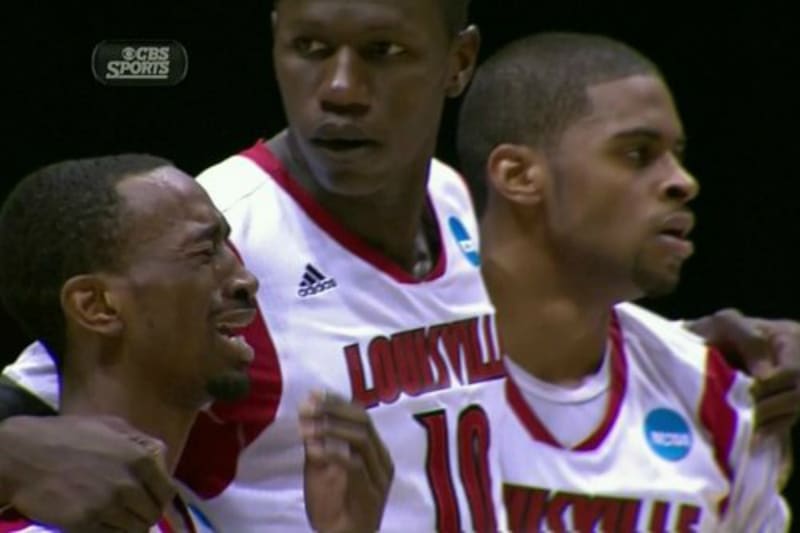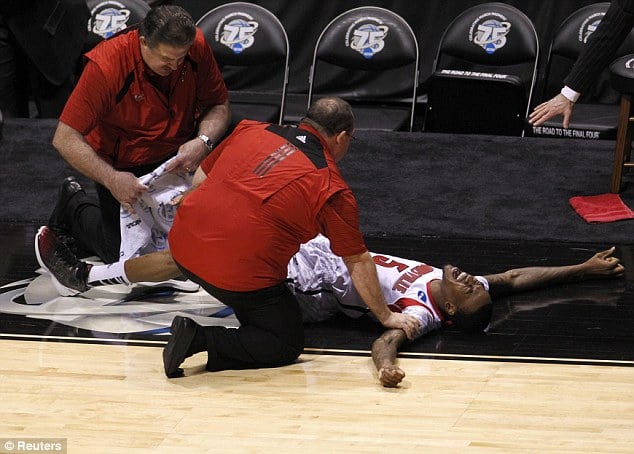 It's hardly for the feint of heart but millions of audience viewers got to watch an excruciating moment when Louisville player, 20 year old Kevin Ware suffered a broken leg during a game against Duke in the NCAA tournament.
The injury came after contesting a shot which saw Wade shattering his shin and to the horror of court side fans and viewers at home exposing his bone and flesh as he howled in anguish.
At the time some of Wade's team mates crumpled to the ground and hid their tear-stained eyes in their hands or jerseys to keep from looking at Ware. Players on the Cardinals bench also recoiled in horror.
An official went on to tell several reporters that a bone snapped. Trainers immediately covered the leg with a towel and placed Ware on a backboard, then lifted him onto a stretcher.
The game came to be stopped as players on both sides came to grips with the severity of Wade's injury before eventually reconvening.
ESPN.com reports that Ware could undergo surgery tonight at Methodist Hospital in Indianapolis.
Team officials say his pain is 'under control.'
Wade's team mates perhaps inspired his injury went on to win the game 85-63.
Update: Ware had the bone reset, and a rod was inserted into leg during the operation that lasted about two hours. The wound caused by the bone puncturing through his skin in his lower leg was closed.
U of L's late-night release said no timetable for recovery has been set, but the early prognosis from U of L sports medicine director Fred Hina – given right after the game while Ware was in surgery – was that Ware is bound for a lengthy recovery, but the injury is not likely a career-ending one.