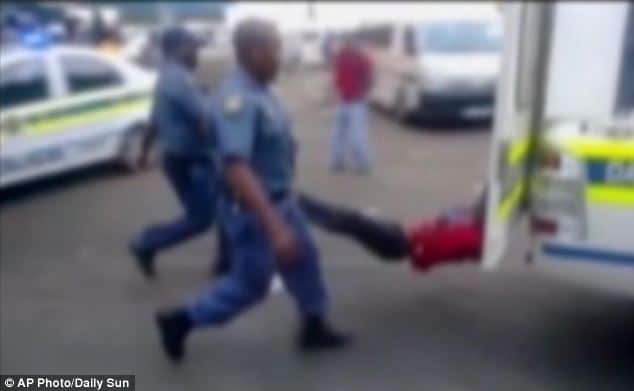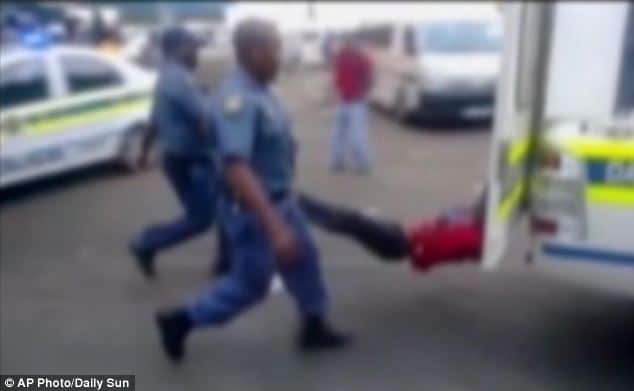 Eight South African police officers have been arrested and suspended after being linked to the death of a Mozambican taxi driver, 27 year old Mido Macia after he was hauled by police officers and handcuffed to the back of a moving police van. At present it is not yet understood if the man died whilst being hauled by the van or later in a police prison cell where it has been said he was brutally beaten.
The incident came to light after a parking dispute which saw the Macia purportedly parked on the wrong side of the street and officers then attaching the man to the back of a police van after a dispute and then brazenly driving off before a crowd of horrified onlookers.
The taxi driver was later said to be found dead in a police cell two hours later.
Unbeknownst to the police officers, one onlooker captured the incident on a mobile phone which has since gone viral and has served to once again cause locals to consider the dynamics of authority in a nation which to date continues to deal with the stigma of paralyzed race relations and a high rate of enduring violence.
General Riah Phiyega, South Africa's police chief who has come under fire has gone on to express that she fully supports an investigation by a local police watchdog agency (South Africa's Independent Police Investigative Directorate) as well as adding that the rights of Mr Macia were 'violated in the most extreme form.' 
"When dealing with 200,000 employees, it is never an easy environment," Phiyega said. "There will always be incident such as this."
Adding to the fissure are assertions that Macia initiated the fracas when he purportedly struck one of the arresting officers and took his gun. Yet that claim has now come under investigation as revealed video footage taken of the incident appears to contradict officer's version of events.
In fact the video shows the cab driver arguing with police officers with his hands by his side, before he is manhandled to the ground by up to five men in uniform.
The UK's dailymail goes on to note that the scandal is only the latest to undermine confidence in South Africa's police, heaping yet more shame on a force that opened fire on striking workers at the Marikana platinum mine in August last year, killing 34 people.
The incident It also comes as the Oscar Pistorius murder trial puts the country's criminal justice system in the spotlight.
Reflects Canada's theglobeandmail: President Jacob Zuma's government has long been aware of the brutality of its police. The massacre at the Marikana platinum mine, where 34 protesters were shot dead by police last August, was only one example of an ill-disciplined police force that seems to operate with few controls or limits.
In recent years, an average of 700 to 900 people have died annually in police custody or as a result of police behaviour, according to reports by official South African agencies and independent institutes.
Told an anonymous witness told a local newspaper: '[Police] argued with Macia and then they beat him up.
'They handcuffed him to the back of the van and slammed the door in his face.
'With blood running down his face they drove off. He was in pain. He cried and asked the cops to stop but they continued anyway.'
Asserted one prisoner who was in the police station at the time Macia was brought in: 'They killed him. They beat him up so badly in here.' 
Then there were the following comments across the web that caused me to wonder as well:
How can you expect law and order to prevail when the police have lower morals and standards than the criminals.
No respect for human life unbelievable corruption starts at the top I hope this is investigated properly but I would not hold my breath, SA in fact many parts of Africa are going to miss out on so much if they don't get their house in order they have an abundance of wealth, oil, gold, diamonds,minerals which the people should be benefitting from not outsiders.
COPS! World's largest gang, working for governments which are controlled by the elite 1%. When caught beating and killing people, which they do all the time, all over the world, they always get suspended with pay. Then they go to court and lie and get off. Every institution which was originally designed to look after the people's interests and safety has now been corrupted and there is nobody looking out for the rights of the rest of 99%. Therefore, we've got to do that ourselves – care for ourselves and each other while disconnecting from this mainstream madness.
What's interesting to note is the blatant disregard police officers have for those protesting the way the man was violently attached to the van which raises some disturbing questions. Is this just par for the course in South Africa? Does anyone really care? Are there any real attempts to deal with these issues or is this just symptomatic behavior that only reflects endemic violence in the nation and brazen disregard for life, especially colored life….?
As a person who was born in Afrika and lived in SA as well I believe this even if i did not see it
Its the same as before Nelson came home and NOTHING has changed Uncle thom Afrikans are just as bad as the Boer   
Ex-terrorists make very poor administrators.  800 people a year die in S A police custody while 100 S A policemen a year are unlawfully killed while working, and black South Africans are openly saying now, as recorded in the mass media even here in the UK in a recent documentary, that, "Things were so much better when the white man was in charge".
YOU WOULD HAVE THOUGHT THAT WHEN THERE WAS A CHANGE FROM APARTHEID, IT WOULD HAVE GOT BETTER, THESE COPS TODAY, SINCE 1994 HAVE KILLED MORE OF THEIR OWN PEOPLE VIOLENTLY THAN THE WHOLE OF THE OLD GOVERNMENTS TIME IN OFFICE AND THAT WAS FROM 1948 UNTIL 1994, AS BAD AS THE COPS WERE IN THOSE DAYS, TODAYS COPS ARE ILLITERATE FOOLS, MOST OF THEM CANNOT READ OR WRITE, BUT THEY STILL DRIVE AND CARRY GUNS, WHAT SORT OF PEOPLE EMPLOY THESE INGRATES. THIS PRESENT GOVERNMENT JUST DOESNT HAVE A CLUE.