Richard Chai's front row was appropriately filled with hipster beauties and indie goddesses like Christina Ricci, who created quite a stir watching her future uniforms walk down the runway.
The palate of this show lends itself to a uniform- it's the type of collection that a wide variety of women and men could build an entire wardrobe out of, whether they're a fashion challenged financier or an understated street style blogger. The palate consisted of black, white, grey and an array of greens and purples: dusty green, forest green, lavender, royal purple. The colors stood on their own in monochromatic cocktail dresses and gorgeous flowy evening gowns, and were also mixed to form muted, autumnal floral patterns.
One lilac and green floral suit with a surprisingly flattering peplum waistline drew approving murmurs from the audience. Most of the suits were a little more subdued, but they all helped to sell this long-skeptical author on the idea of peplum. Chai's construction managed to streamline a woman's hips instead of widening them. And the grey tweed pencil skirts lent a chic silhouette to the women, while the men looked like British mod boys in the best possible way.
These classic silhouettes were paired with very modern jackets and parkas that will certainly provide many a fashionista protection against the bitter wind.  After such a long, cold winter, seeing a collection that is both chic and cozy is a  breath of warm air.
Notable Guests besides actress Christina Ricci included actress Maggie Grace, actress/Singer Ashlee Simpson, musician Theophilus London, DJ Leigh Lezark, filmmaker Andrew Jenks and performer Ladyfag.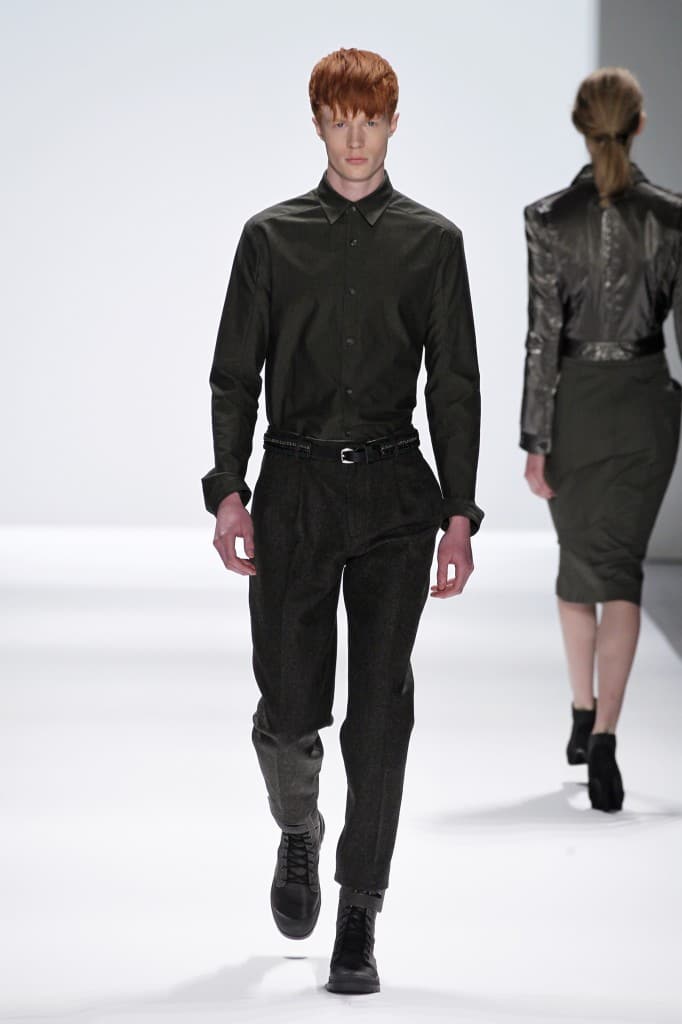 Richard Chai Fall/Autumn 2013/14