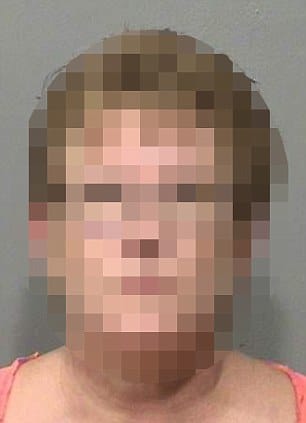 A top lawyer has been found guilty of using her 14 year old daughter to entice other men for the sole purpose of engaging in threesomes and then using the content to produce child pornography.
The shocking case comes as a result of a born again Christian(yes the irony is too palpable) who to date has only been publicly identified as 'L" is said to be a reformed drug addict.
According to the UK's dailymail the mother was convicted of eight counts of child sexual exploitation, transporting a child across state lines to produce child pornography and possession of child pornography, and was convicted on all of them after the jury deliberated for less than an hour.
As well as exploiting her daughter, 'L' – who is divorced – forced her to drink and smoke marijuana.
During the trial, a Canadian man by the name of Kevin Watson testified that he met the girl online in 2012 where he proceeded to have explicit conversations with her before plans were arranged for the child, her mother and himself to congregate at a motel over one holiday long weekend.
The man went on to say that the mother disclosed that it was her daughter's first time she had intercourse and that she insisted on videotaping it. It wasn't clear if the man was aware that the girl had only just turned 14 when he first 'engaged' her.
Another witness, Brandon Ore testified that he met the mother and daughter after responding to a personal ad which read 'two girls, 18 and 33, looking to party.'
He moved in with them in July 2012 and said it was weeks later that he learned they were mother and daughter, and that the girl was 14.
He moved out two months later and turned himself in to police, triggering the lawyer's arrest.
Said Ore: 'The partying was out of control, the sex was out of control and she was charging high rent.'
During court proceedings the court heard how the 43 year old mother was valedictorian of her college's graduate and professional studies program in 2005. In her address, she credited Christianity with saving her from a life of drugs, alcohol and abusive marriages.
Reports the dailymail: As jurors watched recordings of various sexual encounters, the defendant averted her eyes from the laptop screen in front of her and dropped her head into one hand.
The final video, prosecutors said, depicted the woman having oral sex with her daughter.
Before introducing it into evidence, prosecutors had the girl's father – the defendant's ex-husband – identify the voices captured on tape. 
He wept uncontrollably after identifying the voices as his daughter's and his ex-wife's, and he left the courtroom before the tape was played for the jury.
Hardly the coming of age he would have wished for his daughter. Which begs the question did the daughter have no inkling that her mother's actions were wrong, unsound and predatory and had she nevertheless decided to go ahead with her mother's plans. Which also raises the question what informed the mother that she could choose to take advantage of her daughter on this level, abuse her daughter's trust and push her into a type of disposition that she must have been aware was unnatural, solicitous and harming her child irrevocably?
Interestingly when the guilty verdict was read in court neither mother or daughter showed any visible reactions. The mother now faces 25 years in jail upon her sentencing this upcoming April whilst the child is now in foster care.