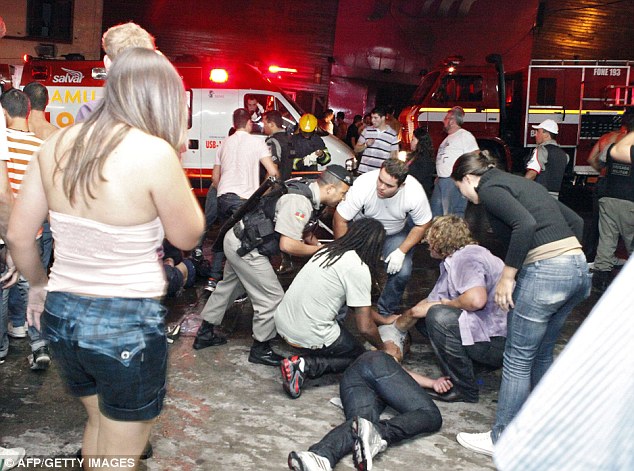 Brazilian nightclub fire leads to arrests as security guards are also blamed for barricading exits.
Revelers at one Brazilian nightclub, the Kiss club are now dealing with the aftermath of the display of fireworks during a performance of a local band that went horribly wrong.
At present it is understood that at least 245 people have been killed with scores still unaccounted for with authorities estimating that at least 200 individuals have been injured.
The incident is said to have happened in the early hours in the packed club in the city of Santa Maria, a mostly college town, 550km from Porto Alegre, southern Brazil, while the local band was performing.
As soon as the blaze began the venue which was packed with up to some estimate 2000 individuals became a sea of pandemonium as individuals began desperately pushing to escape the inferno.
Television images showed smoke pouring out of the venue as shirtless, young male partygoers joined firefighters in wielding axes and sledgehammers, pounding at windows and walls to break through to those trapped inside. Teenagers sprinted from the scene desperately trying to find help – others carried injured and burned friends away in their arms.
Revelers who did manage to escape blame locked security doors and overwhelming smoke which mitigated visibility with many asphyxiating in ill ventilated club.
Reiterated 23 year old Ezekiel Corte Real:  "I just got out because I'm very strong."
Told Luana Santos Silva: "There was so much smoke and fire, it was complete panic and it took a long time for people to get out, there were so many dead."
Offered another survivor Michele Pereira: "The band that was onstage began to use flares and, suddenly, they stopped the show and pointed them upward. At that point the ceiling caught fire. It was really weak but in a matter of seconds it spread."
Tweeted Tarso Genro, the governor of the southern state of Rio Grande do Sul: 'Sad Sunday.'
Local press agents are also reporting  Genro went on to say all possible action was being taken and that he would be in the city later in the day.
With a body count of up to 245 and the real likelihood that number would rise as authorities secure the area the mishap  would make it one of the deadliest nightclub fires more than a decade in the world.
Reflected one reader on the web: This event is predictiable. I predict that all emergency exits were locked, and there was no fire extingishers no where in sight. I stand to read this acticle as more information comes in. Business and Fire Departments in foregin countries don't follow safety rules, even after something has happened elesewhere.