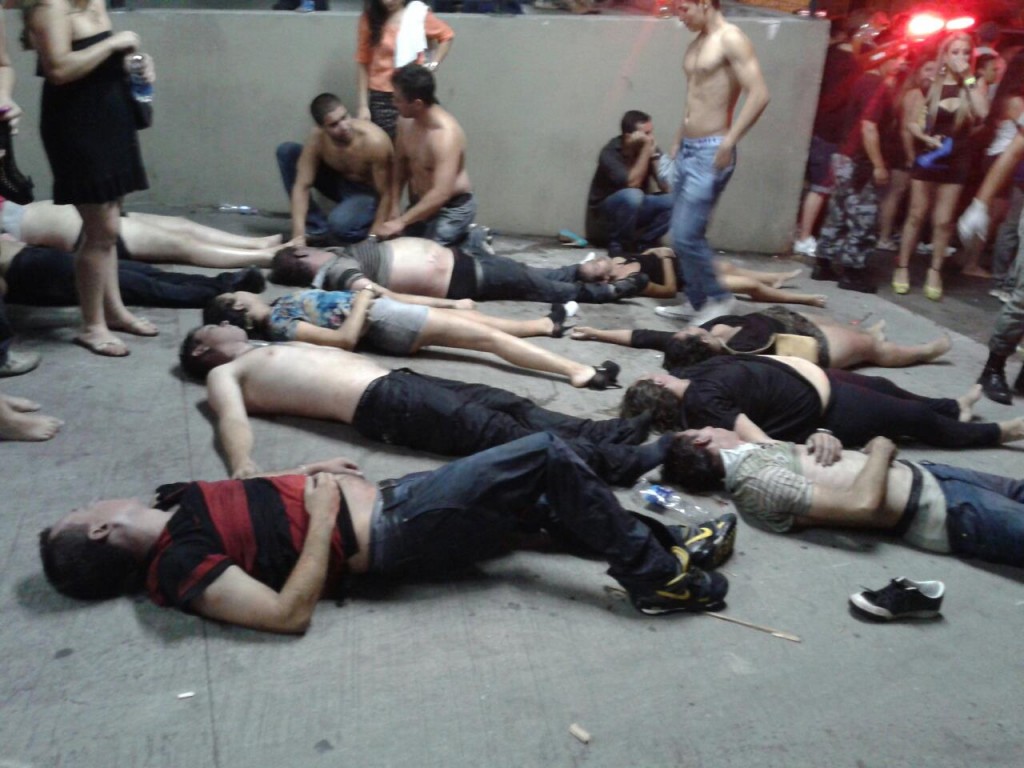 Brazilian nightclub fire. At least 245 dead, locked fire exits blamed as firework go wrong.
As authorities begin to sift through the series of events that led to up to 233 revelers losing their life after a fire works display gone wrong at Santa Maria, Brazil nightclub, Kiss it is now understood that they have detained 3 individuals for the purposes of 'investigative discussions,' as reiterated by Inspector Ranolfo Vieira Junior.
One of the individuals at present detained is co owner Elissandro Spohr as well as the lead singer of the band, Gurizada Fandangueira playing at the time as well as a security guard. It is understood that the blaze was the result of the actions of a local band booked that evening that led to the fire blaze occurring after they set off pyrotechnics in the enclosure during their performance. It is not understood at this moment whether the band had permission to set off the fireworks.
An arrest warrant has been issued for the other co-owner of the Kiss nightclub Mauro Hoffman, who is now considered a fugitive of justice.
Conflating matters during Sunday morning's fire are reports that security guards had delayed scrambling patron's exit from the single lone exit that existed at the club as they made sure patron's bar tabs were paid before allowing them to leave the premises. An assertion that forces one to wonder to what degree management put profits ahead of the imminent demise of patron's life who were at the time literally running for their lives.
Local authorities indeed have gone on to report the degree of dismay firefighters experienced after coming up against a pile of bodies stacked along the lone single exit.
Said police inspector Sandro Meinerz: "It was terrible inside — it was like one of those films of the Holocaust, bodies piled atop one another. We had to use trucks to remove them. It took about six hours to take the bodies away."
Adding to the woe of the evening are reports that many revelers in their desperation to flee had confused toilet signs as emergency exits as they inadvertently piled into the bathrooms and their perilous deaths. Once again this raises the specter of whether emergency exits even existed given at this time that only one solitary exit from the venue existed for patrons.
The fire which broke out at 3 am local time also left up to 100 other individuals injured, with 80 critically.
The first batch of funerals in this largely college town are expected later Monday day.
via usatoday