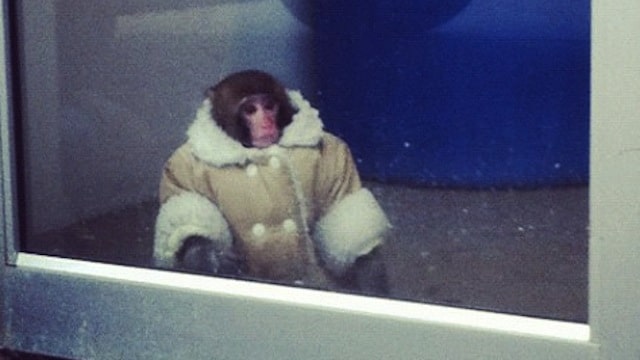 Isn't it time you dressed the family monkey up too?
Seems like one monkey has caused some to wonder out aloud how it came to find itself casually sauntering the interior of one Canadian Ikea store this weekend. Which would be one thing in and of itself, but add a well fitted shearling coat (and a diaper, cause one ought to be safe) to the mix and you have the prodigal hawt bixch monkey causing havoc with bemused onlookers (see flurry of twiiter pictures).
theglobeandmail: Dressed in a shearling coat and a diaper, the monkey managed to open its crate, unlock the car door and go for a stroll in the Ikea parking lot – clearly a "smart monkey" for having managed all that, said Toronto Police Staff Sergeant Ed Dzingala.
The monkey was ushered into a corner of the store by Ikea employees and police until animal services arrived. The monkey was unharmed, although it was a bit alarmed with all the attention, police said.
Alarmed cause that bixch was only just getting used to all the attention and if you think being cooped up in an office is hard work, try being cooped up in a shearling coat, diaper and a crate box too. This was after all meant to be Jr's big chance at public fame. At last.
"It was pretty scared. It was a tame monkey," Sgt. Dzingala said. "Nobody got hurt. The monkey was a little scared, that's all."
Scared? Or just plain infuriated that it's slumming on the highway act had to be quickly put to pause?
Since the half hearted outbreak, the monkey's owner has been fined $240 for possessing a species of monkey (rhesus macaque) that is illegal in Ontario, Canada. Of course you know the hawt bixch would always be quite welcome in its rightful homeland of downtown Hollywood were many 'illegal' species prowl the outskirts in dire want for their own smidgen of fame.
Isn't it time you dressed up the family monkey for their own big discovery day too…?
update: the monkey will not be returned to its owners which can only mean it's imminent arrival in Hollywood…
Visit NBCNews.com for breaking news, world news, and news about the economy