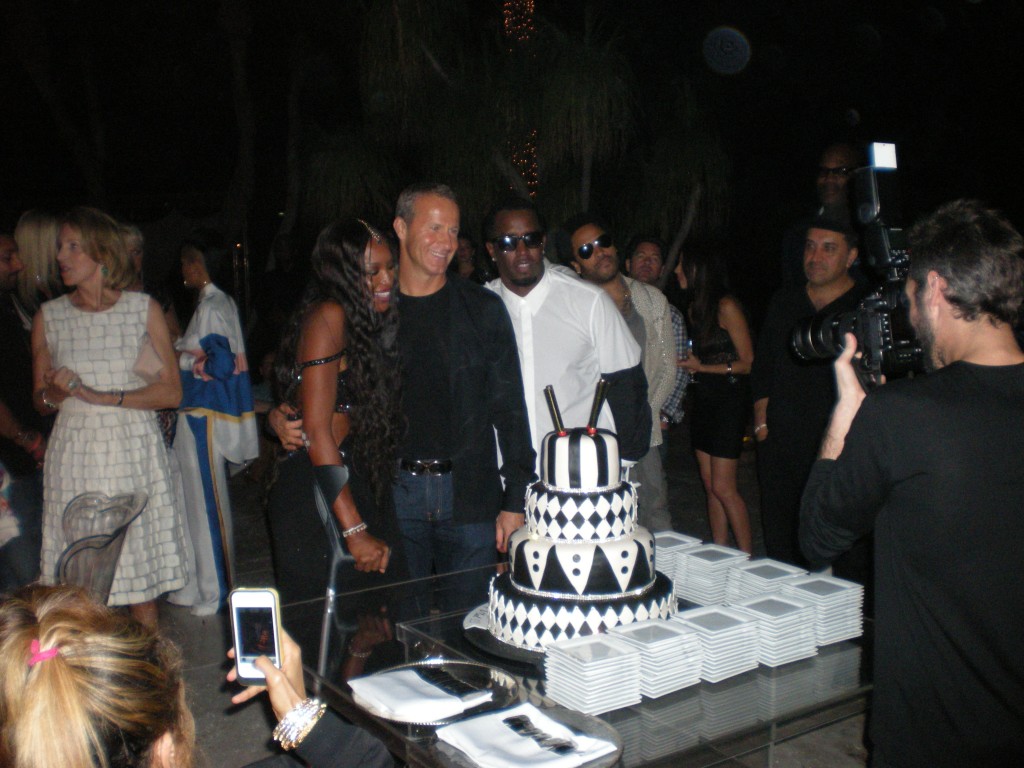 Sometimes the planets align perfectly and we find ourselves in circumstances almost beyond the comprehension of mere mortals. Friday night on toney Star Island Miami was one of those rare occasions.
A brief cab ride across the MacArthur Causeway  and we arrived at the Niche Media Ocean Drive Magazine party for Art Basel. Our friend the ever hospitable Jason Binn's former publication rolled out the red carpet for 800 vulgarians from all walks of life. We fought our way to the sushi bar and were rewarded with toothsome spicy tuna maki and California rolls. The event had the usual bar mitzvah vibe with an eclectic mix of hucksters, grandmas, and aspirational types vying for free food and drink. A band called "Downtown" played credible synth rock dance music and middling prosecco was served. The vile Ann Coulter was rumoured to be in attendance.
Just when it seemed like another middling Friday, the call came from our Aspen based buddy to join him down the street for something truly special. Our friend was in negotiations to sell his 42 million dollar self-designed dream house to Russian oligarch Vladislav Doronin. Vlad had just celebrated his fiftieth with girlfriend haute mess Naomi Campbell at an ultimate party in Jodhpur, India for 300 close friends who were flown in from far flung places.
Not to be outdone, P Diddy decided to throw Vlad a little post  birthday soiree for about 250 A-listers at his recently purchased Star Island mega pad. Not since attend Sean's legendary first "white party" years ago in the Hamptons, have we experienced the moguls awesome hospitality. After clearing tight security (none of the usual Art Basel crashers in attendance), we began to notice familiar faces. Kanye West and uber ho Kim Kardashion and her famous derrière waited with us in the opulent buffet line. Lenny Kravitz and the down cycling Demi Moore swanned through the beautiful landscape.
Scary NYC publicists and promoters made there noxious presence felt. Diddy proteges Russell Simmons, Missy Elliot and our fave rapper criminal Lil Kim were also gettin down. The Didster promoted his flagging Ciroc vodka as well as pouring endless quantities of Veuve Cliquot. The smell of el supremo permeated the humid Miami night air.
P Diddy gallantly toasted Vlad and Naomi C who was heard to say, "I live in fuckin' Russia now bitches ". At 4 AM we made our way off island and back to dull reality never having to unholster our glock 9mm.
Stavros Niarchos and Vito Schnabel introduce Dom Perignon Luminous Rose at Miami Art Basel 2012.
CHANEL hosts soiree with Art.sy to Benefit the Dash Snow Initiative for the Henry Street Settlement.
Miami Vices Art Basel dispatch.
Paint it Black: Miami Art Basel 2012.
VIP opening of NADA, Art Basel Miami.