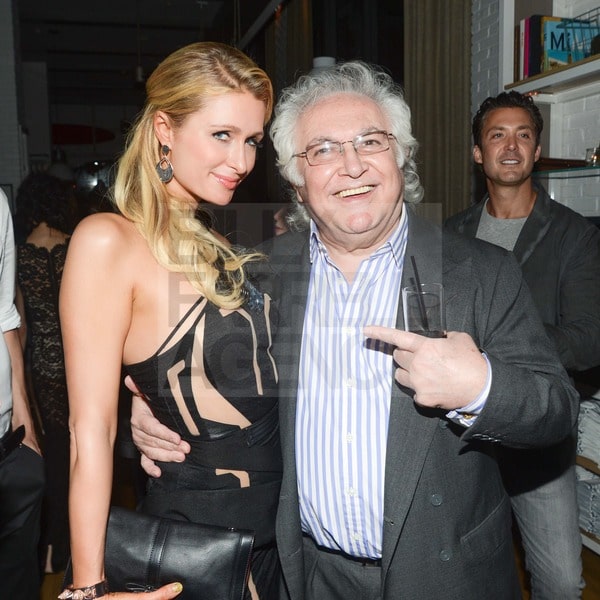 December 7th, 2012 – Miami, FL – Last night, Thursday, December 6th, Stavros Niarchos and Vito Schnabel hosted, in collaboration with Dom Pérignon, an after party at The Wall following an intimate dinner hosted by Aby Rosen & Samantha Boardman at The Dutch.
Dinner guests, including Alexander Acquavella, Nick Acquavella, André Balazs, Maria Bell, Stacey Bendet & Eric Eisner, Nicolas Berggruen, Klaus Biesenbach, J. Darius & Jill Bikoff,  Derek Blasberg, Peter Brant, Peter Brant Jr, Harry Brant, Eli Broad, Thomas Campbell, Ginevra Caltagiorone, China Chow, Sante D'Orazio, Laura de Gunzburg, Simon & Michaela de Pury, Jean Charles de Ravenel, Jeffrey Deitch, Scott Disick, Steven Dorff, Jose Pepe Fanjul Jr, Frederic Fekkai, Agnes Gund, Chelsea Handler, Jessica Hart, Sandy Heller, Nicky Hilton, Paris Hilton, Damien Hirst, Stellan Holm, Dayssi Olarte de Kanavos, Kim Kardashian, Kourtney Kardashian, Alberto Mugrabi, David Mugrabi, Jared Najjar, Jon Neidich, HRH Princess Firyal of Jordan, Lisa Perry, Alex Rodriguez, Jeanne Greenberg Rohatyn, Vladimir Restoin Roitfeld, Andres & Lauren Santo Domingo, Allison Sarofim, Patrick Seguin, Tony Shafrazi, Bob & Eva Shaye, PC Valmorbida, Leo Villareal & Yvonne Force, Vera Wang, Kanye West, Owen Wilson and Torrie Wilson,  joined Niarchos, Schnabel, and after party guests, which included Carmelo Anthony, Gavin DeGraw, Kellan Lutz,  Brian Atwood,  Isabelle Bscher,  Joshua Kushner, Lady Liliana Cavendish, Brandon Davis, Casey Fremont Crowe, Kim Heirston, Mia Moretti,  Marco Perego, Bill Powers, Richard Phillips, Beatrix Ruf, Justin 'Jus ske', Amy Sacco, Liz Swig, and Poju Zabludowicz, to listen to the music stylings of DJ Nick Cohen and experience Dom Pérignon's new Luminous Rosé Label.
Since its introduction as the world's first prestige Vintage Champagne, Dom Pérignon has become synonymous with innovation. With the launch of Dom Pérignon Luminous Rosé, it continues to redefine luxury and creativity. This modern rendition features a button wired to make the iconic crest glow for hours in the dark. The mechanics, which are strategically hidden under the bottle, are waterproofed ensuring the bubbles can be chilled while illuminated. Lighting up the night Dom Pérignon Luminous Rosé pays homage to creator Dom Pierre Pérignon's famous quote "Come quickly, I am drinking the stars!"
Dom Pérignon Rosé provocative elegance it has been said is the perfect match for a transgressive, burlesque atmosphere. Dom Pérignon Luminous Rosé embodies the spirit of challenge, magnetism and timelessness.
Dom Pérignon Luminous Rosé is not available at retail and can be found at select nightlife venues across the United States.
DOM PÉRIGNON LUMINOUS ROSÉ 2000
TASTING NOTES BY RICHARD GEOFFROY, CHEF DE CAVE
The year 2000 was warm, with cooler-than-average temperatures in the month of July and frequent storms that brought significant amounts of rain and hail. The initial tastings revealed that the Chardonnay grapes harvested last were supple, ample and complex; the Pinot Noir harvest was structured and offered great length. In contrast to prior vintages, a qualitative homogeneity was found in the two grape varieties harvested, conferring on Dom Pérignon Rosé Vintage 2000 its well-defined classical balance.
Paint it Black: Miami Art Basel 2012.
CHANEL hosts soiree with Art.sy to Benefit the Dash Snow Initiative for the Henry Street Settlement.
VIP opening of NADA, Art Basel Miami.
Miami Art Basel preferred stylish hawt bixches….
Miami Vices Art Basel dispatch.